Meet Mansa Musa : The Richest Man In History
Am sure you know of Bill gates, the current richest man alive, who at height of his power was able to reach $100 billion net-worth. You may also know of John D. Rockefeller, the richest man in living memory with an estimated wealth around $250 billion. Both these men are from United states.





But what you may not know is the Richest of them all. And most surprising, he is an African, by the name of MANSA MUSA.
African King Musa Keita I is thought to be the richest person of all time — "richer than anyone could describe," reports Time. His wealth was incomprehensible.

Musa Keita I came into power in 1312. When he was crowned, he was given the name Mansa, meaning king. It is said that Mansa Musa had conquered 24 cities, each with surrounding districts containing villages and estates, during his reign.
Mansa Musa was in charge of a lot of land. To put it into perspective, he ruled all (or parts) of modern day Mauritania, Senegal, Gambia, Guinea, Burkina Faso, Mali, Niger, Nigeria, and Chad.

His wealth was made known to the world during 1324 pilgrimage to mecca, crossing a distance of nearly 4000 miles. His procession reportedly included 60,000 men, including 12,000 slaves who each carried four pounds of gold bars and heralds dressed in silks who bore gold staffs, organized horses, and handled bags. Musa provided all necessities for the procession, feeding the entire company of men and animals. Those animals included 80 camels which each carried between 50 and 300 pounds of gold dust. Musa gave the gold to the poor he met along his route. Musa not only gave to the cities he passed on the way to Mecca, including Cairo and Medina, but also traded gold for souvenirs. It was reported that he built a mosque each and every Friday.
But Musa's generous actions inadvertently devastated the economy of the regions through which he passed. In the cities of Cairo, Medina, and Mecca, the sudden influx of gold devalued the metal for the next decade. Prices on goods and wares greatly inflated. To rectify the gold market, on his way back from Mecca, Musa borrowed all the gold he could carry from money-lenders in Cairo, at high interest. This is the only time recorded in history that one man directly controlled the price of gold in the Mediterranean.
After reigning for 25 years, Mansa Musa died in 1337. He was succeeded by his son, Maghan I. "The king's rich legacy persisted for generations and to this day, there are mausoleums, libraries, and mosques that stand as a testament to this golden age of Mali's history.
His wealth is estimated at $400 Billion.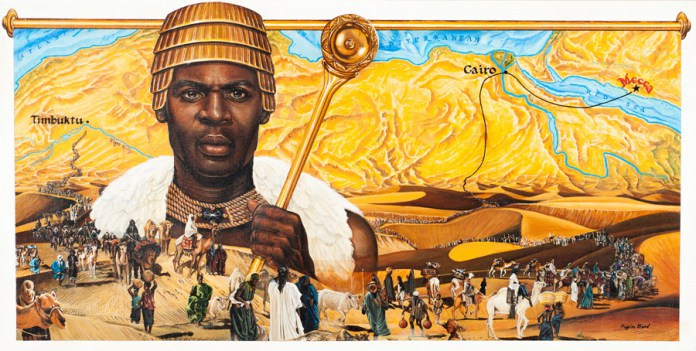 Tunisia: former President Ben Ali confirmed dead
All time, former Tunisia's President Zine el-Abidine Ben Ali has died in exile aged 83, his family says.
Ben Ali led the country for 30years and was credited with delivering stability and some economic prosperity.
But he received widespread criticism for suppressing political freedoms and for widespread corruption.
In 2011, he was forced from office following mass street protests. This triggered a wave of similar uprisings across the Arab world.
At least half a dozen countries in the region saw their president fall or conflicts break out in the wake of the former Tunisian leader's downfall, in what became known as the Arab Spring.
Gantz refuse's Netanyahu offer on unity government
After a vote tally showing Prime Minister Benjamin Netanyahu tied with his main rival.
Israel's weakened Prime Minister Benjamin Netanyahu saw his offer on Thursday for a coalition with his strongest political rival,  Gantz, swiftly rebuffed after failing to secure a governing majority in a tight election.
Netanyahu's surprise move was an abrupt change of strategy for the right-wing leader. Its rejection could spell weeks of wrangling after Tuesday's election, which followed an inconclusive national ballot in April.
Gantz's centrist Blue and White party emerged from the second round of voting this year slightly ahead of Netanyahu's Likud, but also short of enough supporters in the 120-member parliament for a ruling bloc.
Netanyahu, Israel's longest-serving leader, said in a video clip in which he urged Gantz, the country's former military chief, to meet him "as soon as today", that he had pledged during the election campaign to form a right-wing, Likud-led government.