Myanmar Child monks become royalty for a day (Photos)
The whole village of Myinkabar, nestled among the centuries-old pagodas of Bagan city, turns out for an annual lavish feast in their honour.
Riding elephants and horses in heavily bejewelled costumes, thick eyeliner and rouged lips, boys in central Myanmar parade through their village as ancient princes in a ceremony to mark their passage to monkhood.
The whole village of Myinkabar, nestled among the centuries-old pagodas of Bagan city, turns out for an annual lavish feast in their honour.
Everyone pays respects to the children giving up their worldly belongings — at least for a few days.
Buddhist tradition in Myanmar requires youths to spend some time in a monastery or nunnery before the age of 18 in what is viewed as an important coming of age ritual.
Most people undertake this at least once in their lives.
The first step for both boys and girls is to have all their hair shaved off.
They adjust to a demanding daily schedule of alms collecting, chores, study and worship.
But perhaps the hardest aspect is not eating from 12 noon until sunrise the next morning.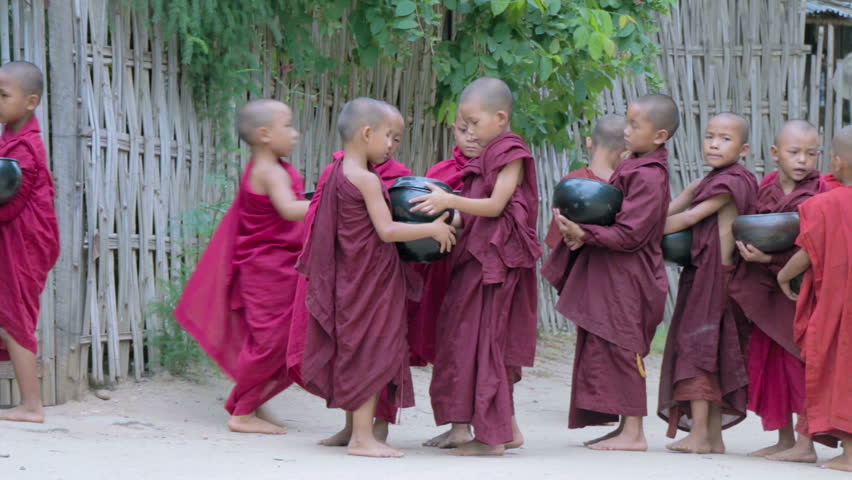 Many 'novices' are happy to exchange their robes — maroon or saffron for monks, pink for nuns — at the end of the week for their normal attire and return to their families.
Others, however, are there for the long-term, destined for a monastic life.
"Sometimes I want to play football like other children in Yangon but I can't," says 13-year-old Tate Tha, who has been a novice monk in Yangon for five years already.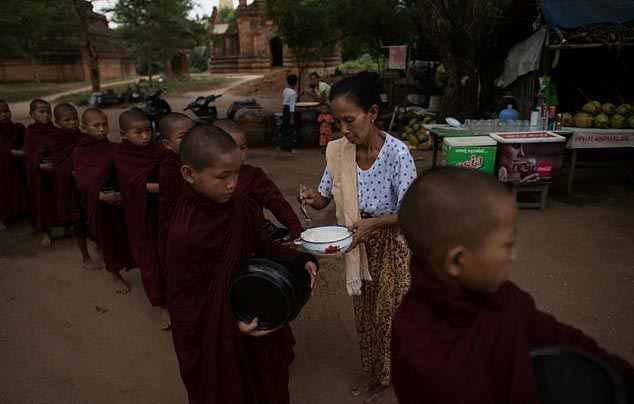 "I'm envious of them but I'm doing good things in life and I am happy for that."
Traditionally monasteries and convents have offered the chance for children, particularly from poorer backgrounds, to receive an education in the country which is 87 percent Buddhist.
But as free places in government schools have become more widely available, the number of novice monks and nuns is in decline, a trend that worries some Buddhism experts.
"It is like a tree whose roots are being destroyed," says Mya Thein, 50, a scholar at Yangon Buddhist University.
"We need to take care of it and we also need to find a solution. It is now in danger."
Tunisia: former President Ben Ali confirmed dead
All time, former Tunisia's President Zine el-Abidine Ben Ali has died in exile aged 83, his family says.
Ben Ali led the country for 30years and was credited with delivering stability and some economic prosperity.
But he received widespread criticism for suppressing political freedoms and for widespread corruption.
In 2011, he was forced from office following mass street protests. This triggered a wave of similar uprisings across the Arab world.
At least half a dozen countries in the region saw their president fall or conflicts break out in the wake of the former Tunisian leader's downfall, in what became known as the Arab Spring.
Gantz refuse's Netanyahu offer on unity government
After a vote tally showing Prime Minister Benjamin Netanyahu tied with his main rival.
Israel's weakened Prime Minister Benjamin Netanyahu saw his offer on Thursday for a coalition with his strongest political rival,  Gantz, swiftly rebuffed after failing to secure a governing majority in a tight election.
Netanyahu's surprise move was an abrupt change of strategy for the right-wing leader. Its rejection could spell weeks of wrangling after Tuesday's election, which followed an inconclusive national ballot in April.
Gantz's centrist Blue and White party emerged from the second round of voting this year slightly ahead of Netanyahu's Likud, but also short of enough supporters in the 120-member parliament for a ruling bloc.
Netanyahu, Israel's longest-serving leader, said in a video clip in which he urged Gantz, the country's former military chief, to meet him "as soon as today", that he had pledged during the election campaign to form a right-wing, Likud-led government.