8 Of The World's Weirdest Beauty Standards Ever!
In some parts of the world, cultures and languages have melted away and history is now the only thing left to illuminate what happened in the past. In some other places, the cultural significance of their traditions is yet to be on the wane.
Many existing cultures might seem interesting and captivating but some of them involve extreme body modifications, terrible beauty standards and weird rituals and traditions. The weird cultures seem so normal to those who practice them but will shock the rest of the world and are frequently viewed as strange by many.
However, it only reminds us of the cultural and traditional diversity around the world and shows how humans interact with different cultures to explain different behaviours they engage in.
Even though we might see these 8 weirdest beauty standards as insane, awkward, extreme and silly, we don't need to despise them for being a little different. After all, there are a lot of modern trends that we are yet to understand likewise.
Long Earlobes – Maasai Tribes of Kenya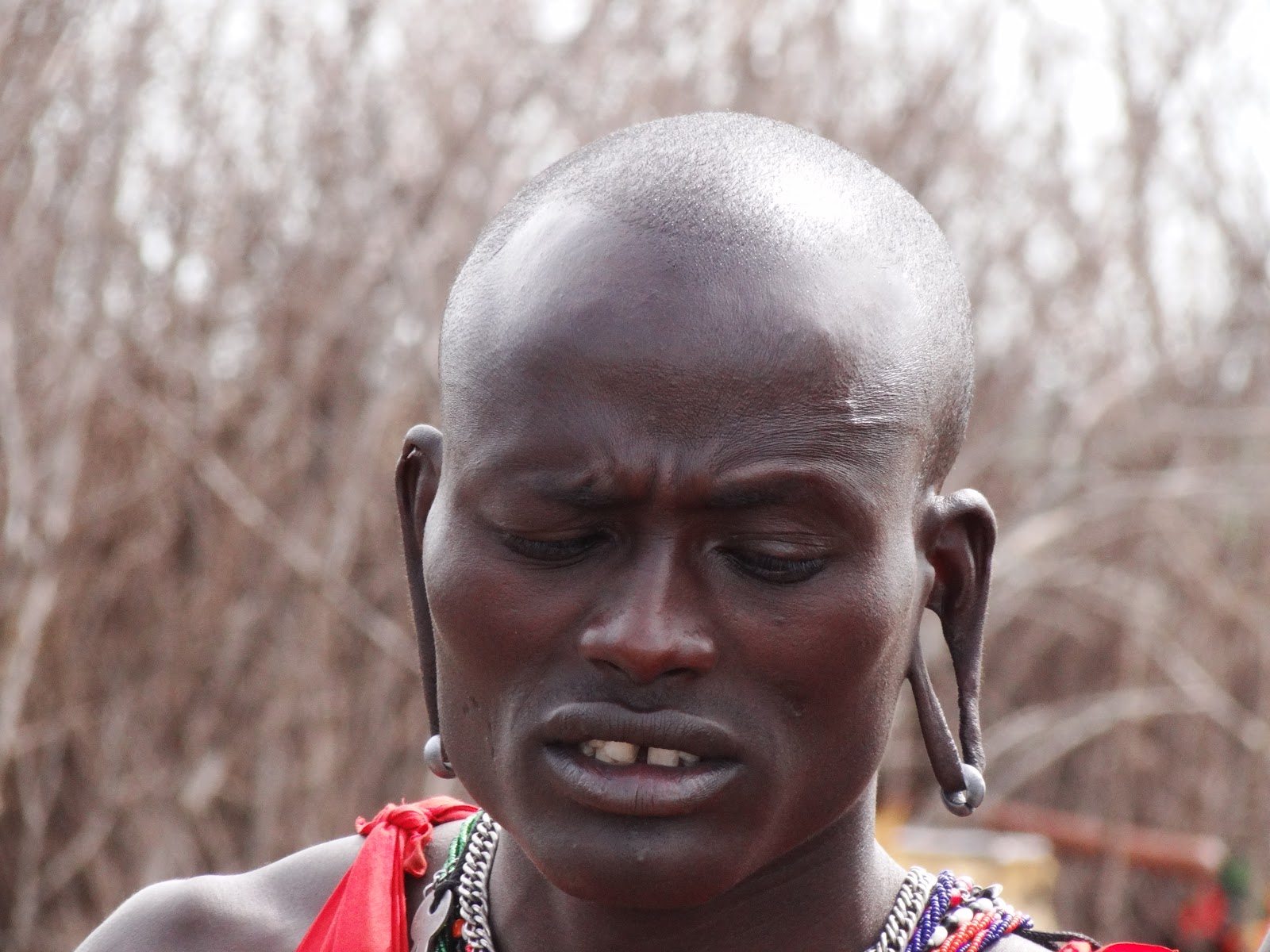 Maasai people pierce long earlobes as pictured above. Known for their long preserved culture, Maasai men, as well as women, see the need to be beautiful and regard beauty as a necessary part of their lives and this seemingly extreme body modification adds to their beauty. After piercing and stretching the earlobes which they do with different materials including thorns for piercing, bundles of twigs, stones, the cross-section of elephant tusks and empty film canisters, the women wear various forms of beaded ornaments in both the earlobes and smaller piercings at the top of the ear. The oldest tribe members have the largest earlobes. Though fewer and fewer Maasai, especially boys, now follow this custom, it is still a common practice and thus, it happens in the region till date.
Yaping Hullo Nose Plugs – The Indian Tribe Apatani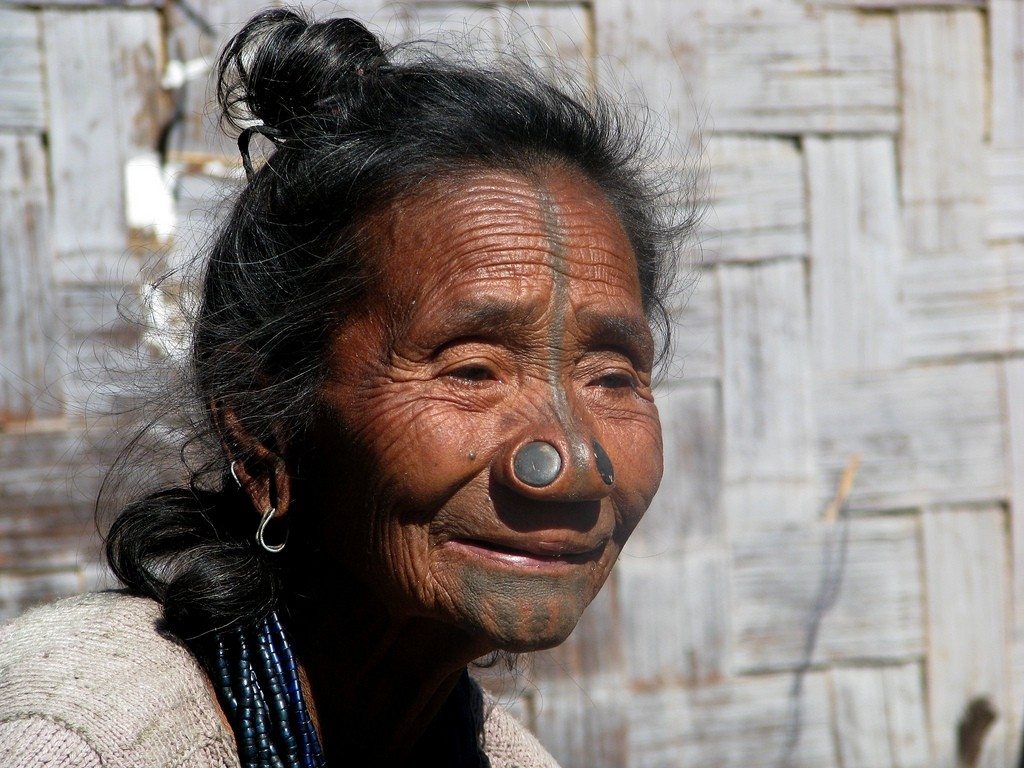 Yaping Hullo is similar to the normal piercing, just that bamboo strips are replaced to make the hole bigger. The moment this nose-hole is big enough, a cane plug is set to be inserted. Many older women still retain this strange fashion thing as a significant part of their roots, but modern women have dropped this practice. However, it is believed that women of the Apatani tribe wore the yaping hullo to appear undesirable to men from other tribes.
Yaeba Teeth (Double Tooth) – Japan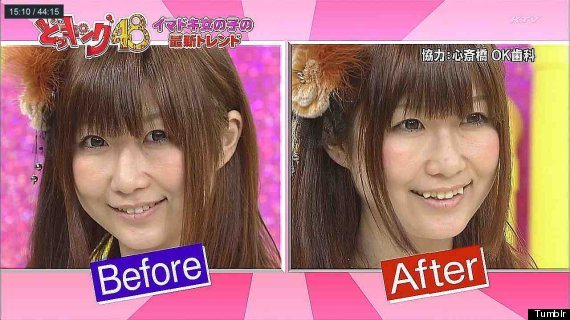 Yaeba which translates literally as the double tooth is a dental method where the upper canines are capped either permanently or temporarily to create a fanged look. Well, you don't have to be scared, it's not a severe dental deformity, and it costs between £130 – £340 for each tooth. This trend was invented by Japanese pop stars and many people in Japan think it's stunning. Plus women with crooked snaggle teeth are considered to be alluring. The whole idea is to turn an unattractive thing into something famous and beautiful.
Stretched Lips – Mursi Women of Southern Ethiopia
This is arguably the most extensive fashion trend worn for centuries in various African and South American communities. Stretching of the lips is common just among women from certain regions (mostly popular among tribal groups of Ethiopia, a tribe in Southern Ethiopia near the border with Sudan). Girls rock these accessories from their teenage years and it is, in fact, a way they mark a girl who's going to be a woman. They begin the process of stretching their lower lip when a girl turns 13 and more. Strangely, the Mursi believe that the size of a dinner plate fits the best.
It's a painful and awful practice but it evolves a girl into a woman. It is a process that starts with an initial piercing done as an incision on the lower lip of about 1 to 2 cm length, and a simple wooden peg is inserted. Following the healing of the wound, they replace one peg with a bigger one, and the stretching process begins all over again.
When the hole becomes big enough, they put the first wooden plate, and it's about 4cm across. But it is the right of the women to choose how long they wish to stretch their lips.
In a case where the plate is more than 20cm, women can opt to remove part of their lower teeth (painful). Each woman takes pride in crafting her own plate and including some ornamentation. The final diameter ranges from about 8 cm to over 20 cm.
This practice has a great significance and is part of their wedding ritual. Plus, married women put some food on their plates when serving their husbands a meal. You might find this practice, awful, awkward, and gross but something tells me these women also find the women who paint their lips just as gross as you find them.
Today, the custom is still maintained but by a few groups in Africa and Amazonia.
Kayan Long-Necks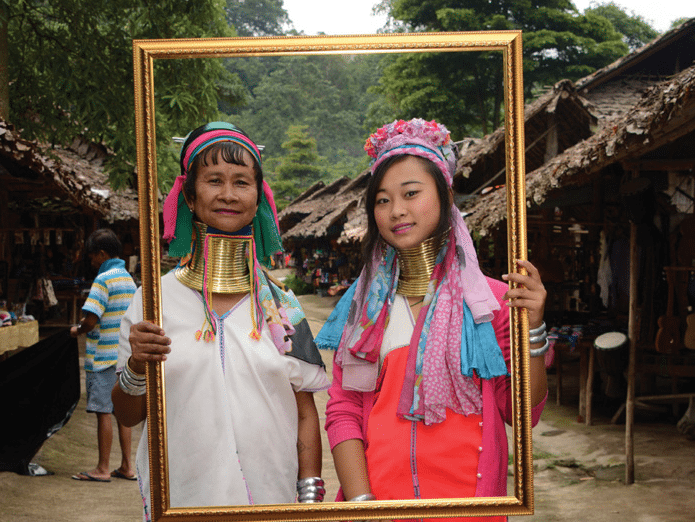 Kayans' live in northern Thailand in villages that are open to visitors. Women in the region put on these insane brass neck coils from their childhood starting from age four or five, replacing it with a longer one and adding more turns. They don't get to remove their rings even while sleeping. These rings are creating the illusion of a longer neck and women wearing these coils are known as "giraffe women" to tourists.
There are many stories surrounding the neck rings including one about a legend who says these rings protect women from a tiger's attack, another one suggests the neck rings protected women against becoming slaves by making them less attractive to other tribes, there's also one that said that the coils give the women resemblance to a dragon, which is an important figure in Kayan folklore and also one that says it's only another beauty tradition.
But in all, women with long necks seem to be more attractive in the region than the ones without neck rings. However, many of the women decline wearing or practising this tradition today.
Lotus Feet – China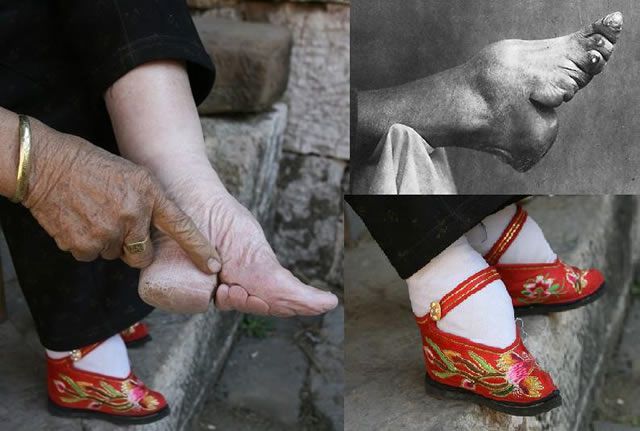 Here is another one of the weirdest beauty standards and extreme body modification practised in the world. In imperial China, people did this painful beauty procedure involving a girl's feet being bound tightly with cotton strips, wrapping them when they hit the age of five.
The wrappings were made as tightly as possible so as not to allow the feet grow. After the entire process, the feet are not able to get their regular shape, making it easier to spot women with lotus feet by the manner of their walk. Girls with lotus feet were regarded as more sexually pleasing than girls without and they had more chances of having a prestigious marriage. This crazy fashion trend was finally banned in 1912.
Face Tattoos – The Maori
While tattoos are still in vogue among the modern people, this unique culture still makes the list of weirdest beauty standards because of the way it's done.
While a smooth, clear face without tattoos is considered a fairly universal standard of beauty, Maori people think otherwise. Maori practices a strange face tattooing, traditionally called Ta Moko.
This face-inking can be done to cover the whole or part of the face. Also, the patterns and positions in which they appear vary (can be curved shapes and spiral-like patterns) depending hugely on rank, social status, power, and prestige. It's not just about getting a face tattoo which can be gotten from anywhere around the globe, the great thing about Maori tattoos is that to this day, no two tattoos are alike.
Maori tattoos are one of a kind and contain a lot of tribal messages although different people tell different stories about the Maori tattoo, including believing it has a direct link to beauty and a sense of belonging. Some say it has deeper myths than the ink on their skin, it sure draws attention to the eyes, lips and creates the illusion of beauty. Moko is about uniqueness, glamour, and beauty, it's like a tattoo masterpiece on their skin till they bid this planet their last farewell.
And they are always highly intricate as well as detailed, displaying the craftsmanship and artistry of not only the artist but of the Maori culture.
Scarification – Ethiopia's Karo Tribe
Most people around the globe often times, use their bodies to express their cultural identity, status or connection to their gods, but scarification process is terribly long, painful and seems somewhat extreme. This is in every sense, one of the weirdest beauty standards in the world.
This process consists of cutting the skin with a sharp instrument, (usually some sort of knife or cut glass) in such a way to control the shape of the scar in order to create certain patterns.The process is believed to be a form of art, like body decoration. Keep in mind that more and more designs or scars could be added throughout the year. Scarification involves opening of the flesh, application of powerful plant juices and dark pigments onto the wound, such as ground charcoal or, sometimes even, gunpowder. So when the scar heals, it is raised and dark which is called keloids. Normally, Karo women among other reasons, scar their chests to look more beautiful, and it's a part of the ancient ritual. In fact, women confess they do it basically to attract men.
While most people would classify the aforementioned cultures as some of the weirdest beauty standards that ever existed, the people who practise them treasure them with everything they have.
Fear grips Health officials as fresh DR Congo Ebola outbreak kills 41
An ongoing Ebola outbreak is spreading across the Democratic Republic of Congo's North Kivu province, and it has health officials gravely concerned as the outbreak has left 41 people dead, according to the World Health Organization.
The country's Ministry of Health announced Monday that 57 cases of hemorrhagic fever have been reported in the region: 30 confirmed and 27 probable.
WHO Director-General Dr. Tedros Adhanom Ghebreyesus visited the city of Beni and the Mangina area in North Kivu. Mangina, which is about 30 kilometers or 19 miles from Beni, sits at the epicenter of the outbreak.
"After the visit, I am actually more worried," Tedros said to newsmen on Tuesday.
"What makes actually the outbreak in eastern DRC or northern Kivu more dangerous is, there is a security challenge. There is active conflict in that area. Since January, there were 120 violent incidences," he said.
FOLLOW US ON:
Thousands in the region have been displaced by fighting between rebel groups and government forces.
"That environment is really conducive for Ebola actually to transmit freely, because in that area, there are places called red zones, inaccessible areas, because there are many armed groups that operate in that region or in that province," he said.
This new outbreak is the second of the summer for Congo.
Cases in the new outbreak emerged last month, just about a week after the government declared that a previous Ebola outbreak had ended. The previous outbreak was the country's ninth on record since the virus was discovered in 1976 near the Ebola River in what is now the Democratic Republic of Congo.
Officials are working to control the new outbreak as a total of 3,220 doses of an investigational Ebola vaccine from the pharmaceutical company Merck, called rVSV-ZEBOV, are available in the country, and some supplementary doses have been requested, according to WHO.
The vaccine is being administered using a ring vaccination strategy, in which groups of people who were in close contact with each Ebola case, as well as the contacts of those contacts, get vaccinated.
TO DOWNLOAD OUR MOBILE NEWS APP CLICK HERE
Easy Desserts You Can Make In Few Minutes
For those who look forward to dessert after dinner every single night, you need these recipes in your life.
There are options here for everyone — healthy, gluten free, vegan — but the recurring theme is 'no-bake and quick' because ain't nobody got time for baking and faffing about when your favourite TV show is ongoing. 
From peanut butter brownie bars and banana split smoothie, to easy fudge and chocolate s'mores mug cake, here are some easy, delicious desserts for all us feeling lazy after a busy day.
This delicious fudge recipe is healthier than most and lighter, too, thanks to oat flour! It tastes like a cross between fudge and no-bake cookies. Feel free to play with the mix-ins to suit your preferences.
INGREDIENTS
¾ cup creamy unsalted almond butter or peanut butter
¾ cup semi-sweet chocolate chips
⅓ cup maple syrup or honey
4 tablespoons butter, sliced into small cubes, or ¼ cup melted coconut oil
¾ teaspoon salt (scale back, to taste, if your nut butter is salted)
½ teaspoon ground cinnamon
1 ½ teaspoons vanilla extract
1 ¾ cups oats ground into flour, see step 1
1 cup whole pecans or other nuts
Optional: Flaky sea salt, for sprinkling on top
Prep work: Preheat oven to 325 degrees Fahrenheit. Cut two strips of parchment paper to fit across the interior of an 8 to 9-inch square baker. Criss-cross the papers at the bottom of the baker and fold the ends up the sides of the baker (see photos). If you need to make your own oat flour, blend 1 and ¾ cups oats in a blender or food processor until ground into a fine flour.
Toast the nuts: Arrange the nuts in a single layer on a small, rimmed baking sheet (I used parchment paper for easy clean-up). Bake for 7 to 10 minutes, until fragrant (7 minutes for thinner/smaller/chopped nuts and about 10 for whole pecans). If you're using large nuts like pecans, transfer them to a cutting board and chop them into small pieces with a chef's knife.
Make the fudge: In a medium-sized, heavy-bottomed pot, combine the nut butter, chocolate chips, sweetener, butter, salt and cinnamon. Warm the pot over medium heat, stirring often, until the mixture is melted throughout. Remove the pot from heat.
Stir the vanilla extract into the pot, followed by the oat flour and finally, the chopped pecans. The mixture will have thickened up at this point, so you might have to put some muscle into it to mix in those pecans. You can do it!
Carefully dump the fudge mixture into your lined square baker. Use the back of a sturdy mixing spoon to push the mixture across the baker so it's roughly evenly distributed. Cover the bottom side of a thick, heavy-bottomed drinking glass or mason jar with parchment paper and press it down on the fudge repeatedly until the fudge is evenly packed. If you're finishing the fudge with flaky sea salt, lightly sprinkle some on top now and gently press it into place with the bottom of your parchment-covered glass.
Cover and freeze the fudge for 30 to 45 minutes, until it's firm to the touch and no longer shiny in the middle. If you're not in a hurry, you can refrigerate the fudge for a couple of hours or longer.
Use a chef's knife to slice the fudge into 1 ¼-inch wide columns and rows. Fudge will keep well for a couple of days at room temperature, or for a few weeks in the freezer, sealed in an air-tight freezer bag.
Note: MAKE IT DAIRY FREE AND VEGAN: Use dairy-free chocolate chips and coconut oil in place of the butter.
MAKE IT GLUTEN FREE: Use certified gluten-free oat flour or oats.
2. Two-layer no-bake peanut butter brownie bars
If you're equally obsessed with peanut butter and brownies, try these no-bake dessert bars with a brownie crust and a peanut butter top. This treat is considered more healthy than your regular brownie.
Ingredients
Brownie Layer
1

 

cup

 

raw walnuts

1/2

 

cup

 

raw almonds

~ 1 cup dates, pitted (medjool or deglet noor)

1/4

 

cup

 

semisweet or dark chocolate chips (non-dairy for vegan)

1/2

 

cup

 

+ 1 Tbsps unsweetened cocoa or raw cacao powder

pinch

 

sea salt
Peanut Butter Layer
1/2

 

cup

 

pitted dates

1/2

 

cup

 

raw almonds

1

 

cup

 

roasted salted peanuts (if unsalted, add salt to taste)

1/2

 

cup

 

natural salted peanut butter (if unsalted, add salt to taste)
Instructions
To make the brownie layer, pulse dates in the food processor until small bits remain. Remove from processor and set aside in a small bowl. Add walnuts, almonds, chocolate chips and cocoa powder in the processor and pulse until well combined. Then, while the processor is running, drop small bits of the dates in until a dough is formed. It should begin to ball up at some point. If it remains too dry, add a couple more whole (pitted) dates until a dough is achieved.

Press into an 8×8 pan (or one of similar size) lined with parchment or plastic wrap. This makes it easier to lift out and cut.

Press until flat using your hands or a spatula. Pop in the freezer.

To make peanut butter layer, process dates until small bits remain. Remove and set aside in a bowl. Then add raw almonds and peanuts and pulse until small bits remain. Add back in peanut butter and the dates and process until well combined. Press on top of brownie layer until smooth. Using plastic wrap or parchment can help get it completely flat.

Freeze for at least 15 minutes before removing from pan and cutting. Cut into about 20 squares (I cut mine too big and would prefer smaller bites). Store in an airtight container to keep fresh. I keep mine in the freezer so they stay fresh for weeks.
Notes
*Nutrition information is a rough estimate for 1 bar
Nutrition Per Serving (1 of 20)
Calories: 204
Fat: 13g
Sodium: 80mg
Carbohydrates: 17g
Fiber: 3.5g
Sugar: 10g
Protein: 6.8g
3. Five-minute chocolate fudge s'mores mug cake
If you find mug cakes a bit plain, give this recipe a go — imagine a biscuit base, rich chocolate fudge cake filling and a golden marshmallow topping. And you can make it in under five minutes.
2-3 tablespoons graham cracker crumbs
3 1/2 tablespoons unsalted butter, melted
2 tablespoons granulated sugar
1 large egg
1/2 teaspoon vanilla extract
1/4 cup whole wheat pastry flour
2 tablespoons unsweetened cocoa powder (mine was dark cocoa, hence the dark color)
1/8 teaspoon baking powder
pinch of salt
1 1/2 ounces milk chocolate (chopped or morsels)
marshmallow fluff, cream or actual marshmallows
Instructions
Combine 3 tablespoons butter and 1 ounce of chocolate in a small bowl, then melt in the microwave for 20-30 seconds. Set aside.
In another bowl, combine remaining melted butter with 2-3 tablespoons of graham cracker crumbs and stir until moistened. Press graham crumbs into the bottom of your mug.
In a bowl. whisk egg, sugar and vanilla until smooth. Add in flour, baking powder, salt and cocoa, stir until a thick batter forms. Stream in melted butter and chocolate, mixing to combine. Fold in remaining chocolate chips. Add half of the mixture on top of the graham crust, then throw on a scoop of marshmallow fluff/cream or a few marshmallows. Add remaining batter on top, then pop in the microwave for 1 minute and 20 seconds to almost 2 minutes.
Remove and top with additional marshmallow if desired. You can pop it back in the microwave for 5-10 seconds to make them melty, or pop them directly under the broiler for about 10 seconds to toast if desired. You can also use a kitchen torch if you have one. Sprinkle with graham crumbs!
Notes
If you don't have whole wheat pastry flour, you can use all-purpose. I would not recommend using regular whole wheat. Additionally, I have made this by substituting coconut butter for the full amount of butter. It was just as delicious, albeit slightly drier. You cannot taste coconut at all. Finally, take into account the power of your microwave. Mine has a mind of it's own and is insanely powerful, so I cooked this on 80% power. Judge accordingly and add/subtract a few minutes of cooking if you know your's is wonky too.
4. Three-ingredient no-churn chocolate ice cream
Keen for ice cream? This healthy version uses frozen bananas, almond butter and cacao powder to create a smooth, creamy and sweet ice cream — without dairy or refined sugar.
Ingredients
2-3

 

medium

 

bananas, frozen and chopped

1-2

 

tbsp

 

almond butter

 

can substitute for any nut or seed butter

1-2

 

tbsp

 

cocoa powder
Instructions
For the soft serve ice cream version-
In a high-speed blender or food processor, add your frozen bananas and blend for 10 seconds to lightly break apart. Add your almond butter and cocoa powder and blend until just blended. Transfer to a bowl and enjoy soft serve style. 

For the hard scoop ice cream version-

Place a small loaf pan in the freezer.

In a high-speed blender or food processor, add your frozen bananas and blend for 10 seconds to lightly break apart. Add your almond butter and cocoa powder and blend until all ingredients are just blended. 

Transfer chocolate ice cream to the loaf pan. To ensure it doesn't become too icy, lightly mix your ice cream ever 20-30 minutes for the first hour.

Thaw for 10-15 minutes before eating. Lightly wet an ice cream scoop before scooping the ice cream into a bowl.   

Note

For a sweeter ice cream, feel free to add 1 tablespoon of maple syrup, agave nectar or coconut syrup.