8 Of The World's Weirdest Beauty Standards Ever!
In some parts of the world, cultures and languages have melted away and history is now the only thing left to illuminate what happened in the past. In some other places, the cultural significance of their traditions is yet to be on the wane.
Many existing cultures might seem interesting and captivating but some of them involve extreme body modifications, terrible beauty standards and weird rituals and traditions. The weird cultures seem so normal to those who practice them but will shock the rest of the world and are frequently viewed as strange by many.
However, it only reminds us of the cultural and traditional diversity around the world and shows how humans interact with different cultures to explain different behaviours they engage in.
Even though we might see these 8 weirdest beauty standards as insane, awkward, extreme and silly, we don't need to despise them for being a little different. After all, there are a lot of modern trends that we are yet to understand likewise.
Long Earlobes – Maasai Tribes of Kenya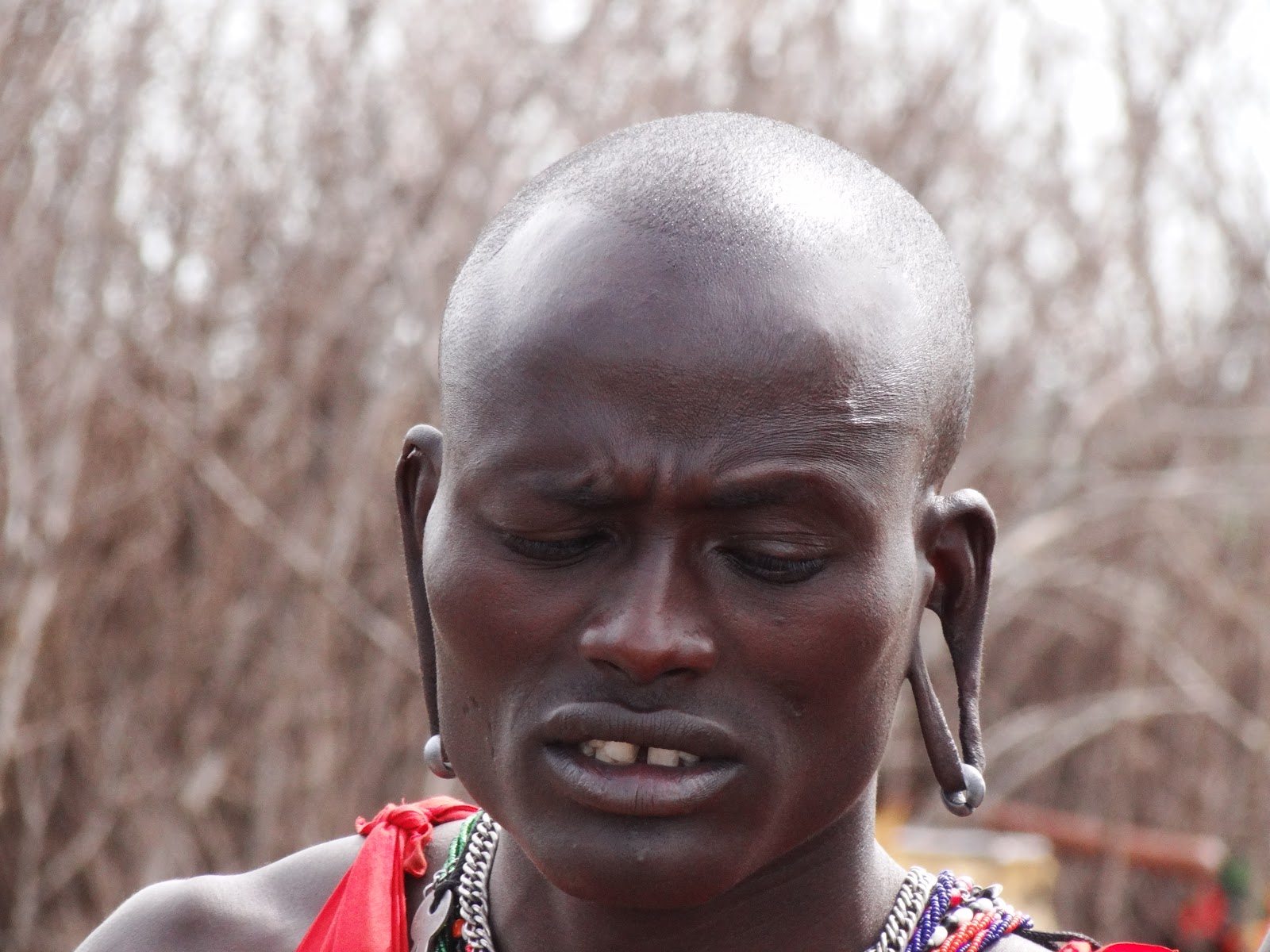 Maasai people pierce long earlobes as pictured above. Known for their long preserved culture, Maasai men, as well as women, see the need to be beautiful and regard beauty as a necessary part of their lives and this seemingly extreme body modification adds to their beauty. After piercing and stretching the earlobes which they do with different materials including thorns for piercing, bundles of twigs, stones, the cross-section of elephant tusks and empty film canisters, the women wear various forms of beaded ornaments in both the earlobes and smaller piercings at the top of the ear. The oldest tribe members have the largest earlobes. Though fewer and fewer Maasai, especially boys, now follow this custom, it is still a common practice and thus, it happens in the region till date.
Yaping Hullo Nose Plugs – The Indian Tribe Apatani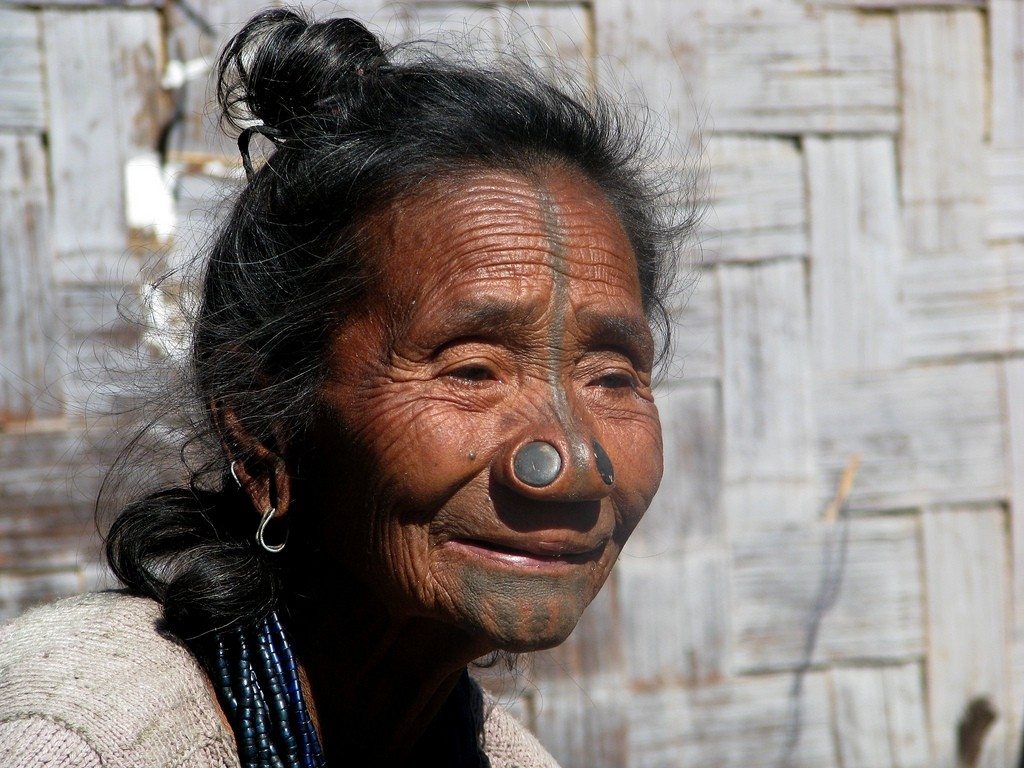 Yaping Hullo is similar to the normal piercing, just that bamboo strips are replaced to make the hole bigger. The moment this nose-hole is big enough, a cane plug is set to be inserted. Many older women still retain this strange fashion thing as a significant part of their roots, but modern women have dropped this practice. However, it is believed that women of the Apatani tribe wore the yaping hullo to appear undesirable to men from other tribes.
Yaeba Teeth (Double Tooth) – Japan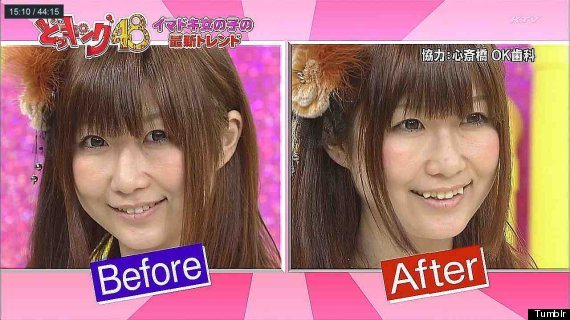 Yaeba which translates literally as the double tooth is a dental method where the upper canines are capped either permanently or temporarily to create a fanged look. Well, you don't have to be scared, it's not a severe dental deformity, and it costs between £130 – £340 for each tooth. This trend was invented by Japanese pop stars and many people in Japan think it's stunning. Plus women with crooked snaggle teeth are considered to be alluring. The whole idea is to turn an unattractive thing into something famous and beautiful.
Stretched Lips – Mursi Women of Southern Ethiopia
This is arguably the most extensive fashion trend worn for centuries in various African and South American communities. Stretching of the lips is common just among women from certain regions (mostly popular among tribal groups of Ethiopia, a tribe in Southern Ethiopia near the border with Sudan). Girls rock these accessories from their teenage years and it is, in fact, a way they mark a girl who's going to be a woman. They begin the process of stretching their lower lip when a girl turns 13 and more. Strangely, the Mursi believe that the size of a dinner plate fits the best.
It's a painful and awful practice but it evolves a girl into a woman. It is a process that starts with an initial piercing done as an incision on the lower lip of about 1 to 2 cm length, and a simple wooden peg is inserted. Following the healing of the wound, they replace one peg with a bigger one, and the stretching process begins all over again.
When the hole becomes big enough, they put the first wooden plate, and it's about 4cm across. But it is the right of the women to choose how long they wish to stretch their lips.
In a case where the plate is more than 20cm, women can opt to remove part of their lower teeth (painful). Each woman takes pride in crafting her own plate and including some ornamentation. The final diameter ranges from about 8 cm to over 20 cm.
This practice has a great significance and is part of their wedding ritual. Plus, married women put some food on their plates when serving their husbands a meal. You might find this practice, awful, awkward, and gross but something tells me these women also find the women who paint their lips just as gross as you find them.
Today, the custom is still maintained but by a few groups in Africa and Amazonia.
Kayan Long-Necks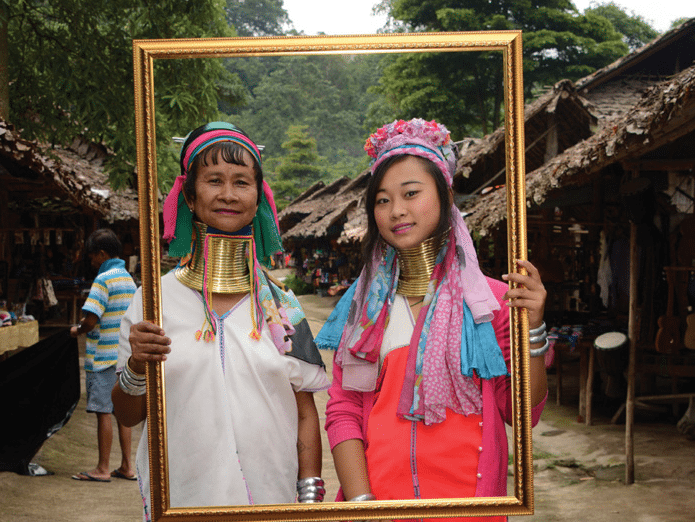 Kayans' live in northern Thailand in villages that are open to visitors. Women in the region put on these insane brass neck coils from their childhood starting from age four or five, replacing it with a longer one and adding more turns. They don't get to remove their rings even while sleeping. These rings are creating the illusion of a longer neck and women wearing these coils are known as "giraffe women" to tourists.
There are many stories surrounding the neck rings including one about a legend who says these rings protect women from a tiger's attack, another one suggests the neck rings protected women against becoming slaves by making them less attractive to other tribes, there's also one that said that the coils give the women resemblance to a dragon, which is an important figure in Kayan folklore and also one that says it's only another beauty tradition.
But in all, women with long necks seem to be more attractive in the region than the ones without neck rings. However, many of the women decline wearing or practising this tradition today.
Lotus Feet – China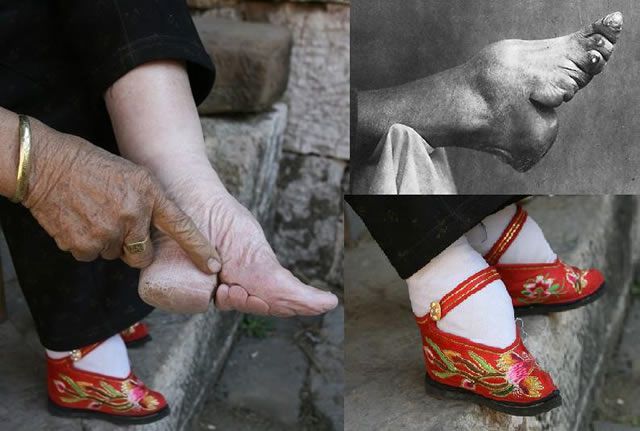 Here is another one of the weirdest beauty standards and extreme body modification practised in the world. In imperial China, people did this painful beauty procedure involving a girl's feet being bound tightly with cotton strips, wrapping them when they hit the age of five.
The wrappings were made as tightly as possible so as not to allow the feet grow. After the entire process, the feet are not able to get their regular shape, making it easier to spot women with lotus feet by the manner of their walk. Girls with lotus feet were regarded as more sexually pleasing than girls without and they had more chances of having a prestigious marriage. This crazy fashion trend was finally banned in 1912.
Face Tattoos – The Maori
While tattoos are still in vogue among the modern people, this unique culture still makes the list of weirdest beauty standards because of the way it's done.
While a smooth, clear face without tattoos is considered a fairly universal standard of beauty, Maori people think otherwise. Maori practices a strange face tattooing, traditionally called Ta Moko.
This face-inking can be done to cover the whole or part of the face. Also, the patterns and positions in which they appear vary (can be curved shapes and spiral-like patterns) depending hugely on rank, social status, power, and prestige. It's not just about getting a face tattoo which can be gotten from anywhere around the globe, the great thing about Maori tattoos is that to this day, no two tattoos are alike.
Maori tattoos are one of a kind and contain a lot of tribal messages although different people tell different stories about the Maori tattoo, including believing it has a direct link to beauty and a sense of belonging. Some say it has deeper myths than the ink on their skin, it sure draws attention to the eyes, lips and creates the illusion of beauty. Moko is about uniqueness, glamour, and beauty, it's like a tattoo masterpiece on their skin till they bid this planet their last farewell.
And they are always highly intricate as well as detailed, displaying the craftsmanship and artistry of not only the artist but of the Maori culture.
Scarification – Ethiopia's Karo Tribe
Most people around the globe often times, use their bodies to express their cultural identity, status or connection to their gods, but scarification process is terribly long, painful and seems somewhat extreme. This is in every sense, one of the weirdest beauty standards in the world.
This process consists of cutting the skin with a sharp instrument, (usually some sort of knife or cut glass) in such a way to control the shape of the scar in order to create certain patterns.The process is believed to be a form of art, like body decoration. Keep in mind that more and more designs or scars could be added throughout the year. Scarification involves opening of the flesh, application of powerful plant juices and dark pigments onto the wound, such as ground charcoal or, sometimes even, gunpowder. So when the scar heals, it is raised and dark which is called keloids. Normally, Karo women among other reasons, scar their chests to look more beautiful, and it's a part of the ancient ritual. In fact, women confess they do it basically to attract men.
While most people would classify the aforementioned cultures as some of the weirdest beauty standards that ever existed, the people who practise them treasure them with everything they have.
Tanzania: officials summons WHO over Ebola claims
Tanzania's government has summoned the World Health Organisation's local representative over claims that they're concealing information on Ebola virus infections in the country.
On Saturday, WHO said in a statement that it had learned of one suspected fatal case in the main city, Dar es Salaam, and two other infections but, despite repeated requests, was given no information.
Government spokesman Hassan Abbasi said on Twitter that the ministry of foreign affairs had summoned the WHO's Tigest Ketsela Mengestu to obtain "in-depth details from the agency on reports circulating in the media".
A short video clip has also been posted on the ministry's Twitter account, showing Dr Tigest clarifying at a meeting with Deputy Minister for Foreign Affairs Damas Ndumbaro that the WHO did not say there was Ebola in Tanzania:
Social embed from twitter
ReportReport this social embed, make a complaint
More than 2,100 people have died during the current Ebola outbreak in neighbouring Democratic Republic of Congo.
@ Anttention Fresh,                
We work hard to ensure that any news brought to you is legitimate and valuable so we leave out the noise. This material, and other digital content on this website, may be reproduced, published, broadcast, rewritten or redistributed in whole or in part BUT give us credit as your source. 
DOWNLOAD ANTTENTION FRESH NEWS ON THE GO APP

JOIN AN ONLINE LEARNING COMMUNITY CLICK IMAGE
WHO accused Tanzania of hiding information on Ebola victims
Ebola virus has cause major loss of life and socioeconomic disruption in Africa.
The number of cases has began to decline gradually, following the commitment of substantial international resources.
The World Health Organization (WHO) has rebuked Tanzania for failing to provide information about possible Ebola virus infections.
The WHO said it had learned of one suspected fatal case in Dar es Salaam and two others but, despite repeated requests, was given no information
Tanzania has said it has no suspected or confirmed cases.
The latest outbreak has killed more than 2,000 in eastern DR Congo, with Uganda battling to stop any spread.