Havana Tornado: Cuba warns citizens to stay off street to avoid more casualties.
A powerful Havana Tornado has hit cuba, crippling the activities of the day, and the authorities have warned the people to stay off the street.
The authorities have been communicating updates on any development to the people through media platforms to keep them aware of the development thou revealing that Part of the capital is completely dark and they heavy winds overturned vehicles, uprooted trees and lamp posts.
A source has confirmed that the firefighters and ambulances rushed about on rescue missions, their flashing lights giving light to blacked out areas.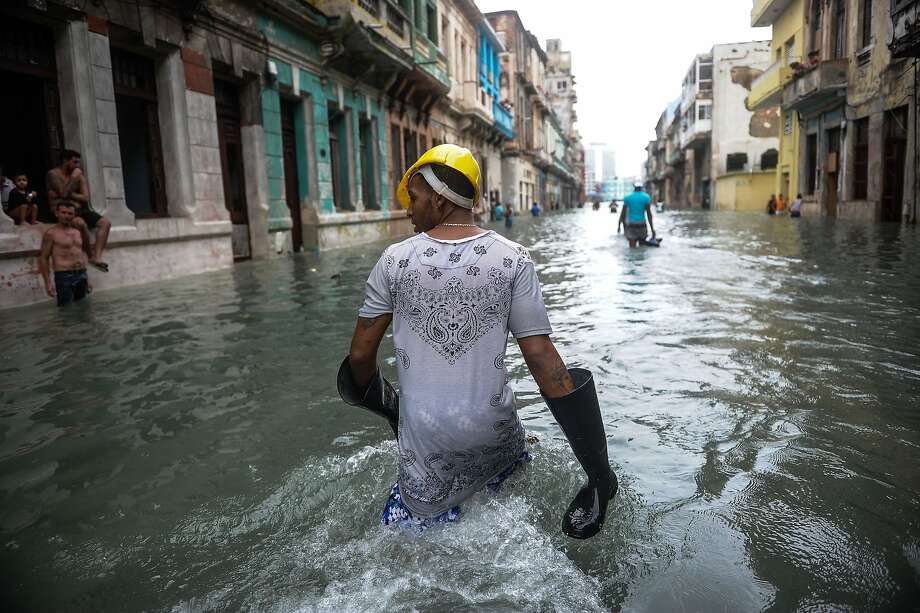 President Miguel Diaz-Canel confirms the incident stating, that the demage is severe, after visiting the cuban capital city.
"As of now we mourn the loss of three human lives. 174 injured people are receiving aid" He added that several emergency teams were working hard to restore power to blacked-out areas.
At the Hijas de Galicia maternity hospital staffs were forced to evacuate the building because of storm damage.
FOLLOW US ON:
The thernado, spawned by a powerful storm that originated in the Gulf of Mexico, hit western Cuba with winds of up to 100 kilometres per hour.
TO DOWNLOAD OUR MOBILE NEWS APP CLICK HERE
As Amazon burns, Brazil's Bolsonaro tells rest of world not to interfere
Amid growing international criticism over the wildfires raging through the Amazon, Brazilian President Jair Bolsonaro on Thursday admitted farmers could be illegally setting the rainforest ablaze but told foreign powers not to interfere.
French President Emmanuel Macron and United Nations Secretary General António Guterres both took to Twitter to express concern about the fires that have reached a record number this year, devastating vast swathes of forest considered a vital bulwark against climate change.
Bolsonaro responded angrily to what he regarded as meddling.
"These countries that send money here, they don't send it out of charity. … They send it with the aim of interfering with our sovereignty," he said in a Facebook Live broadcast.
But earlier on Thursday, he said that Brazil alone lacked the resources to control the fires.
"The Amazon is bigger than Europe, how will you fight criminal fires in such an area?" he asked reporters as he left the presidential residence. "We do not have the resources for that."
Fires in the Amazon have surged 83% so far this year compared with the same period a year earlier, government figures show.
Although fires are a regular and natural occurrence during the dry season at this time of year, environmentalists blamed the sharp rise on farmers setting the forest alight to clear land for pasture.
Farmers may have had at least tacit encouragement from the firebrand right-wing president, who took power in January. Bolsonaro has repeatedly said he believes Brazil should open the Amazon up to business interests, to allow mining, agricultural and logging companies to exploit its natural resources.
On Wednesday, he blamed non-governmental organizations for setting the fires, without providing evidence. He appeared to row back on Thursday, when he said for the first time that farmers could be behind the fires.
California: Residents mop up after strong quake
(Reuters) – A strong aftershock shook Southern California early on Friday as residents were still assessing the damage from the July 4 quake,
the strongest in the region in 25 years, which was felt by more than 20 million people.
The temblor, one of many aftershocks predicted by seismologists, struck the same desert region as Thursday's major earthquake with a magnitude of 5.4 about 11 miles (18 km) west of Searles Valley at 4:07 a.m. local time, the U.S. Geological Survey said.
There had already been more than 80 smaller aftershocks since Thursday's 6.4 magnitude quake near the city of Ridgecrest,
which was felt from Los Angeles to Las Vegas, USGS seismologist Lucy Jones said.
"We should be expecting lots of aftershocks and some of them will be bigger than the 3s we've been having so far," Jones told reporters on Thursday. "I think the chance of having a magnitude 5 … is probably greater than 50-50," she said.
Some residents spent much of their July 4 holiday cleaning up the mess left by the quake.
"I mopped up over 20 gallons (75 liters) of wine that fell over in addition to the beer, soda and the cooler that fell over.
We have several thousand dollars worth of damage," said shopkeeper James Wilhorn.
Only a few injuries were reported, but two houses caught fire from broken gas pipes, officials said. Water gushed from zigzagged cracks in the pavement from busted water lines. Deep fissures snaked across the Mojave Desert, with passersby stopping to take selfies while standing in the rendered earth.
The quake hit the edge of Death Valley National Park about 113 miles northeast of Los Angeles at about 10:30 a.m. on Thursday.
It was very shallow, only 6.7 miles (10.7 km) deep, amplifying its effect, and was felt in an area inhabited by 20 million people, the European quake agency EMSC said.
The Ridgecrest Regional Hospital, where 15 patients were evacuated earlier, appeared intact apart from some new cracks in the walls.
California Governor Gavin Newsom approved an emergency proclamation, and Ridgecrest Mayor Peggy Breeden said she had declared a state of emergency,
a step that enables the town to receive help from outside agencies.
Breeden said she has asked residents to check on their neighbors in the high desert town.
"We're a close-knit community and everybody is working to take care of each other," she told Reuters by telephone.
The quake is the largest in Southern California since the 1994 magnitude 6.6 Northridge earthquake, USGS geophysicist Paul Caruso said.
That quake, which was centered in a heavily populated area of Los Angeles, killed 57 people and caused billions of dollars of damage.