"I'm neither male nor Female, even though my genitalia says i'm female"- Says woman who said she's tired of hiding
Dear Reader, as always, we aim to uplift with our news and hope that any of the accredited institutions that could handle cases like this reach out to her and help.
The Nigerian Twitter user identified as @tillytate20 resorted to the social media platform to declare that she is neither male nor female, saying that she is intersex, a condition which makes her "not fit the typical definitions for male or female bodies".
The worried lady wrote: "I remember the night I found out I was an intersex person.
"Chromosomal, gonadal, and hormonal, I was neither female nor male even though my physical genitalia were female-passing.
"I cried and cried because I wanted to be normal so much.
"Well, this is me coming out."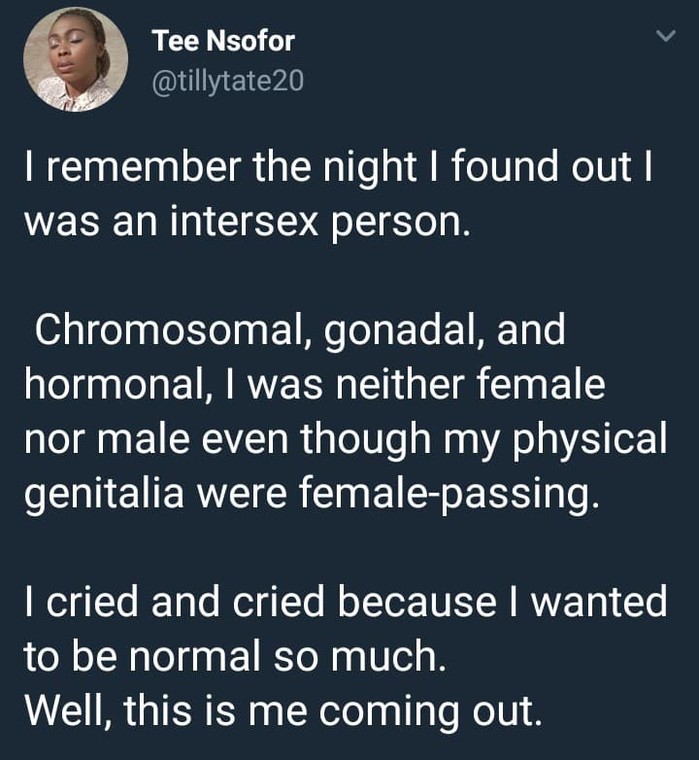 According to Wikipedia, intersex people are individuals born with any of several variations in sex characteristics including chromosomes, gonads, sex hormones, or genitals that, according to the UN Office of the High Commissioner for Human Rights "do not fit the typical definitions for male or female bodies".
Ten and thousands of Hong Kong protesters flood city streets in largest rally in weeks
Source: AFP- A sea of democracy activists flooded the streets of Hong Kong Sunday in a defiant show to the city's leaders that their movement still pulls wide public support, despite mounting violence and increasingly stark warnings from Beijing.
Hundreds of thousands of protesters carrying umbrellas poured across the heart of Hong Kong island defying torrential rain and a police order not to march from a park where they had gathered earlier for a rally.
Weeks of demonstrations have plunged the financial hub into crisis, with images of masked black-clad protesters engulfed by tear gas during street battles against riot police stunning a city once renowned for its stability.
Sunday's action, which organisers the Civil Human Rights Front said drew more than 1.7 million in the largest rally in weeks, was billed as a return to the "peaceful" origins of the leaderless protest movement.
"It's been a long day and we're very tired, but to see so many people out in the rain marching for Hong Kong gives strength to everyone," said Danny Tam, a 28-year-old graphic designer.
The unprecedented political crisis was sparked by opposition to a plan to allow extraditions to the Chinese mainland.
But protests have since morphed into a wider call for democratic rights in the semi-autonomous city.
Anger has been sharpened among protesters by the perceived heavy-handedness of the police who have used tear gas, baton charges and rubber bullets in incidents that have pinballed across social media.
"The police are doing things that are totally unacceptable," said Yim, who like many of the protesters gave only one name.
"They are hurting citizens, they aren't protecting us."
AFP / Manan VATSYAYANATorrential rain failed to dampen the enthusiasm of protesters in Hong Kong
Communist Party-ruled mainland China has taken an increasingly hardline tone towards the protesters, decrying the "terrorist-like" actions of a violent hardcore minority among the demonstrators.
Despite the near-nightly clashes with police, the movement has won few concessions from Beijing or the city's unelected leadership.
Samson Siasia ban for life by Fifa
Former Nigeria coach Samson Siasia has been banned for life and fined $50,000 by Fifa for agreeing to 'the manipulation of matches.'
Siasia was coach of Nigeria between 2010-2011 and for a spell in 2016 but the time period when Fifa believes he committed his infractions is unclear.
He has also served as coach of the country's Under-20 and Under-23 sides.
In a statement, Siasia was found 'guilty of having accepted that he would receive bribes in relation to the manipulation of matches.'
The sanction stems from an ongoing 'large-scale investigation' Fifa is conducting into the behaviour of Wilson Raj Perumal, a convicted match-fixer from Singapore.
He is the third African to be banned by Fifa for his links to Perumal after former Sierra Leone FA official Abu Bakarr Kabba and former Botswana FA official Mooketsi Kgotlele were suspended in July for five years and for life respectively.
A former international, Siasia won the 1994 Africa Cup of Nations with Nigeria, for whom he played over 50 times while scoring 16 goals.