Patience, big signing will soon arrive: Emery
With the new season under a month away, Arsenal coach Unai Emery has assured fans of new signing.
Emery, was appointed as the gunners coach On 23 May 2018, and his first campaign ended with a fifth place and reaching Eroupa League Final.
Arsenal will be aiming to return to top-four in the Premier League, and the coach is keen on adding right players to improve his team.
The club have been linked with Wilfred Zaha, Kieran Tierney and Saint-Etienne defender William Saliba, While they are thought to be close to sealing a season long loan for Real Madrid midfielder Dani Ceballos.
Although to date the only player they have brought in is teenage winger Gabriel Martinelli.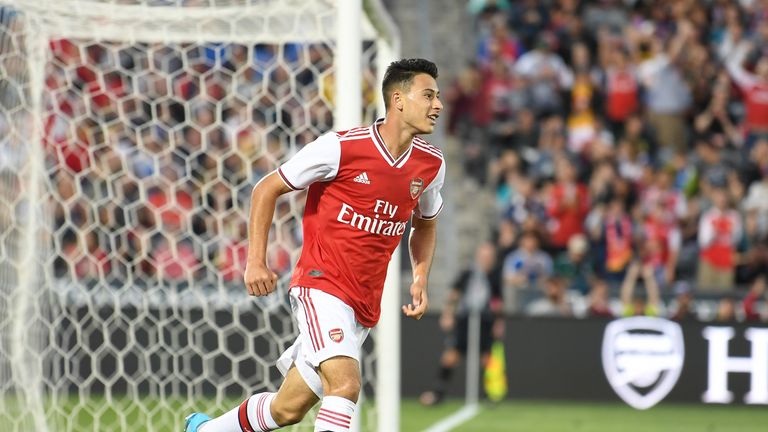 Arsenal supporters are running out of patience amid delays in signing new players, but the Spanish born insists the club will spend big this summer.
KINDLY FOLLOW US ON SOCIAL MEDIA & SHARE THIS STORY
@ Anttention Fresh, We work hard to ensure that any news brought to you is legitimate and valuable so we leave out the noise. This material, and other digital content on this website, may be reproduced, published, broadcast, rewritten or redistributed in whole or in part BUT give us credit as your source.
DOWNLOAD ANTTENTION FRESH NEWS ON THE GO APP
TO UPLOAD & PROMOTE YOUR PRODUCTS CLICK IMAGE
JOIN AN ONLINE LEARNING COMMUNITY CLICK IMAGE
Klopp agrees to contract extension with Liverpool
Liverpool has been a revolutionary team ever since klopp was named the head coach in 2015.
Klopp's masterclass has led liverpool to become a formidable team in all competitions.
Liverpool secured their sixth champions league trophy last season and bags lot of individual awards.
One can boldly say, liverpool is a complete team with the likes of Mohammed Salah, Virgil van Dijk and Allison pening for liverpool.
The phenomenal Reds finished second place last season with a point below  Pep Guardiola's team.
When I see the development of the club and the collaborative work that continues to take place, I feel my contribution can only grow."
"When the call came in autumn 2015, I felt we were perfect for each other; if anything, now I feel I underestimated that.
"It is only with a total belief that the collaboration remains totally complimentary on both sides that I am able to make this commitment to 2024.
"If I didn't I would not be re-signing.
"This club is in such a good place, I couldn't contemplate leaving." klopp says.
It's a massive development for the "kops" as they look indisputable to win the premier league trophy with their current longest club unbeaten run.
Boris Johnson vows to repay electorate after historic election win
Boris Johnson has promised to work "night and day" to repay the trust of voters after he led the Conservatives to an "historic" general election win.
With just one seat left to declare, the Tories have a Commons majority of 76.
Speaking in London, the PM said he had a mandate to take the UK out of the EU next month "no ifs, no buts".
Jeremy Corbyn has said he will not fight another election as Labour leader after the party was swept aside in its traditional heartlands.
With just one constituency – the Cornish seat of St Ives – left to declare, the Conservatives have 364 MPs, Labour 203, the SNP 48, Liberal Democrats 11 and the DUP eight.
Sinn Fein has seven MPs, Plaid Cymru four and the SDLP has two. The Green Party and Alliance Party have one each.
The Brexit Party – which triumphed in the summer's European Parliament elections – failed to win any Westminster seats.
The Conservative Party's Commons majority is its largest since Margaret Thatcher won a third term in 1987.
In his victory speech, Mr Johnson told activists it was a "new dawn" for the country, echoing comments Labour's Tony Blair made when he won the general election of 1997.
He thanked Labour voters, many of whom, he said, had backed the Conservatives for the first time, vowing to lead a "people's government" and fulfil the "sacred trust" placed in him.
"You may intend to return to Labour next time round, and if that is the case, I am humbled that you have put your trust in me, and I will never take your support for granted," he said.
"I will make it my mission to work night and day, flat out to prove that you were right in voting for me this time, and to earn your support in the future."
Mr Johnson said the electorate's "voice" had "been heard", adding: "The people want change… We cannot and we must not let them down."
Labour has suffered its worst defeat since 1935, losing seats across northern England, the Midlands and Wales in areas which backed Brexit in the 2016 referendutm.
Mr Johnson said the Tories' thumping victory had "smashed the roadblock" in Parliament over Brexit and put an end to the "miserable threats" of another referendum on Europe.
He said: "We will get Brexit done on time by 31 January – no ifs, no buts, not maybe."
Mr Johnson will go to Buckingham Palace later this morning to ask the Queen's permission to form a government.
Speaking after he was re-elected as MP for Uxbridge and South Ruislip, he said there had been a "political earthquake".
During the six-week campaign, Mr Johnson – who became prime minister in July after a Tory leadership contest – focused relentlessly on a single message, to "get Brexit done".
Labour primarily campaigned on a promise to end austerity by increasing spending on public services.
Source BBC