Race to Semi Final, Nigeria vs S.A
The Super Eagles of Nigeria will face the Bafana Bafana of South Africa in a crucial encounter as they seek to sail through to the AFCON semi-finals scheduled for today,
South Africa's gaffer Stuart William Baxter, has stated that the encounter will be a tense one but the team are all out to give their best.
The English born gaffer, has made some progress in overhauling the team technically and has had a successful spell since his appointment.
Super Eagles head coach Gernot Rohr expressed optimism that his side will down the South African team.
Although he maintained the match will not be an easy one he stated that victory was sure.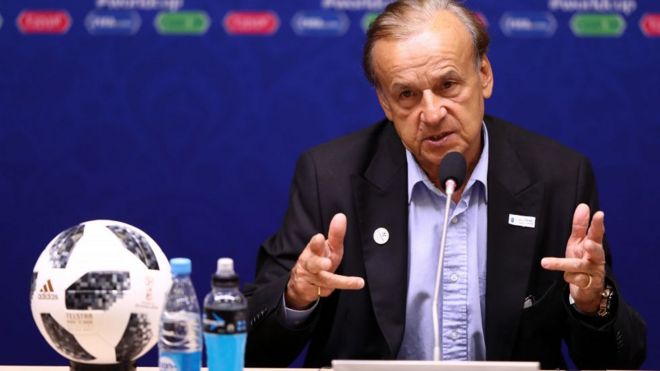 However, he is aware of the counter-attacking football the Bafana Bafana team are known for, which helped them oust the host country,
He lost his first match on 10 June as Nigerian senior coach after a 2–0 home loss to South Africa.
On 7 October 2017, his Nigeria-led team became the first African side to qualify for the 2018 FIFA World Cup after a 1–0 win against Zambia.
KINDLY FOLLOW US ON SOCIAL MEDIA & SHARE THIS STORY
@ Anttention Fresh,We work hard to ensure that any news brought to you is legitimate and valuable so we leave out the noise. This material, and other digital content on this website, may be reproduced, published, broadcast, rewritten or redistributed in whole or in part BUT give us credit as your source.
DOWNLOAD ANTTENTION FRESH NEWS ON THE GO APP
TO UPLOAD & PROMOTE YOUR PRODUCTS CLICK IMAGE
JOIN AN ONLINE LEARNING COMMUNITY CLICK IMAGE
Zimbawe's doctor goes missing after masterminding strike
Fearless Zimbabwe's minister of health has called on the government to address insecurity lapses that has lead to the disappearance Peter Magombeyi, the head of a doctor's union, who disappeared on Saturday.
Fears are rising over the fate of Zimbabwe medical doctor Dr Peter Magombeyi after he sent a message to say he had been abducted in that country by unknown persons – apparently for demanding a "living wage".
An AFP report earlier on Sunday quoted the Zimbabwe Hospital Doctor's Association (ZHDA) as saying Magombeyi had not been heard from since he sent a WhatsApp message on Saturday night saying he had been "kidnapped by three men".
Zimbabwe doctors, who earn a miserly equivalent of about R3 000 are on strike to press for better wages, equipment and medicines in state hospitals.
The ZHDA has reportedly accused state security forces of abducting the doctor because of his role in organising work stoppages.
This week some doctors said the death of deposed Robert Mugabe, 95, in a Singapore hospital on 6 September was an indication of how bad health services in Zimbabwe

"Dr Magombeyi's crime is only to ask for a living wage for his profession. This is a reflection of the troubles born out of refusal to implement Political Reforms."
The Zimbabwe government led by Emmerson Mnangagwa has not publicly commented on the doctor's disappearance
South Africans ask Nigerians for forgiveness as they troop out in masses
Say no to Xenophobia, South Africans troop out in masses carrying banner and asking for forgiveness from Nigerians after weeks of xenophobic attacks.
The south Africans sangs as they marched through the street and also held up a banner which called for unity among Africans, week after the attack which led to destruction of properties and looting of shops owned by foreigners.