Deadly attack leaves scores dead in Burkina Faso.
At least 15 people have been killed and two seriously injured in an attack on a mosque in northern Burkina Faso.
Gunmen entered the Grand Mosque in the village of Salmossi as those inside were praying.
The attack prompted many locals to flee the village which is close to the Malian border.
Hundreds of people have been killed in the country over the past few years, mostly by jihadist groups.
One resident from the nearby town of Gorom-Gorom told AFP news agency: "Since this morning, people have started to flee the area."
He added that there was a "climate of panic despite military reinforcements" put in place following the attack.
No group has admitted carrying out the attack.
Jihadist attacks have increased in Burkina Faso since 2015, forcing thousands of schools to close down.
The conflict spread across the border from neighbouring Mali where Islamist militants took over the north of the country in 2012 before French troops pushed them out.
The UN Refugee agency says more than a quarter of a million people in Burkina Faso have been forced to flee their homes over the past three months.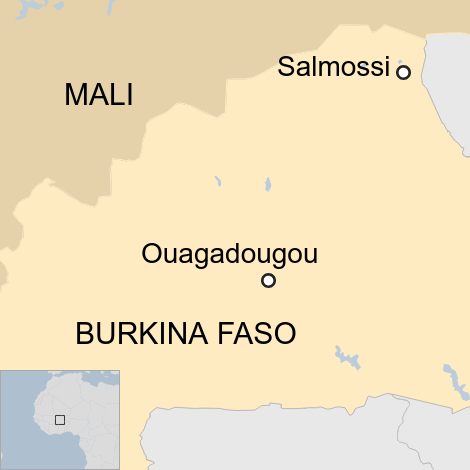 Last week, 20 people were killed in an attack on a gold-mining site in the north.
On Saturday, about 1,000 people protested in the capital Ouagadougou to denounce violence in their country and the presence of foreign military forces in the region.
England dropped Sterling after Gomez altercation
England and Machester city player Raheem Sterling has been dropped ahead of  Euro 2020 qualifer match against Montenegro.
England Football Association took  to social media to confirm that Sterling had been dropped "as a result of a disturbance in a private team area".
Sterling and Gomez had an on-field altercation during the Reds' 3-1 Premier League victory at Anfield on Sunday.
But sterling has qunch the fire via his Instagram account, by stating "Both Joe and I have had words and figured things out and moved on,"
"We are in a sport where emotions run high and I am man enough to admit when emotions got the better of me.
"This is why we play this sport because of our love for it – me and Joe Gomez are good, we both understand it was a five to 10 second thing… it's done, we move forward and not make this bigger than it
"Let's get focus on our game on Thursday," Sterling added.
England boss Gareth Southgate said on Monday: "Unfortunately the emotions of yesterday's game were still raw.
"One of the great challenges and strengths for us is that we've been able to separate club rivalries from the national team.
"We have taken the decision to not consider Raheem for the match against Montenegro on Thursday. My feeling is that the right thing for the team is the action we have taken.
"Now that the decision has been made with the agreement of the entire squad, it's important that we support the players and focus on Thursday night."
Groups criticise Kenya's census figures
Groups has criticised the released Kenya's population census figures stating that the results are not accurate.
It found that the total population of the country is now 47.6 million, nine million more than in 2009.
But some regions have experienced a decrease in population.
These outcomes can be hugely controversial because the size of the local population has important implications for the level of government funding they receive.
Kenya's population is made up of many different ethnic groups, closely aligned to competing political parties.
The government has yet to release all the data on the ethnic composition of the country, but the changes in population in certain regions from this latest census have already caused arguments.
The outcome of such surveys can embolden or weaken claims made by groups for political representation or resources.
In one area of the north-east territories bordering Ethiopia and Somalia, the census indicates a decrease in the population, prompting local political leaders looking to retain funding for their provinces to question the veracity of the survey