Cycling: President Pierre Nkurunziza pedals off Tour du Burundi
Burundi President Pierre Nkurunziza on Tuesday flagged off the country's annual cycling event Tour du Burundi. Nkurunziza himself took part in the first few kilometres of the race which attracted over 30 professional cyclists and 50 enthusiasts.
Cyclists pedaled off at the capital of Burundi's Ngozi Province north of the country where they will cycle a distance of 125 km to the capital Bujumbura.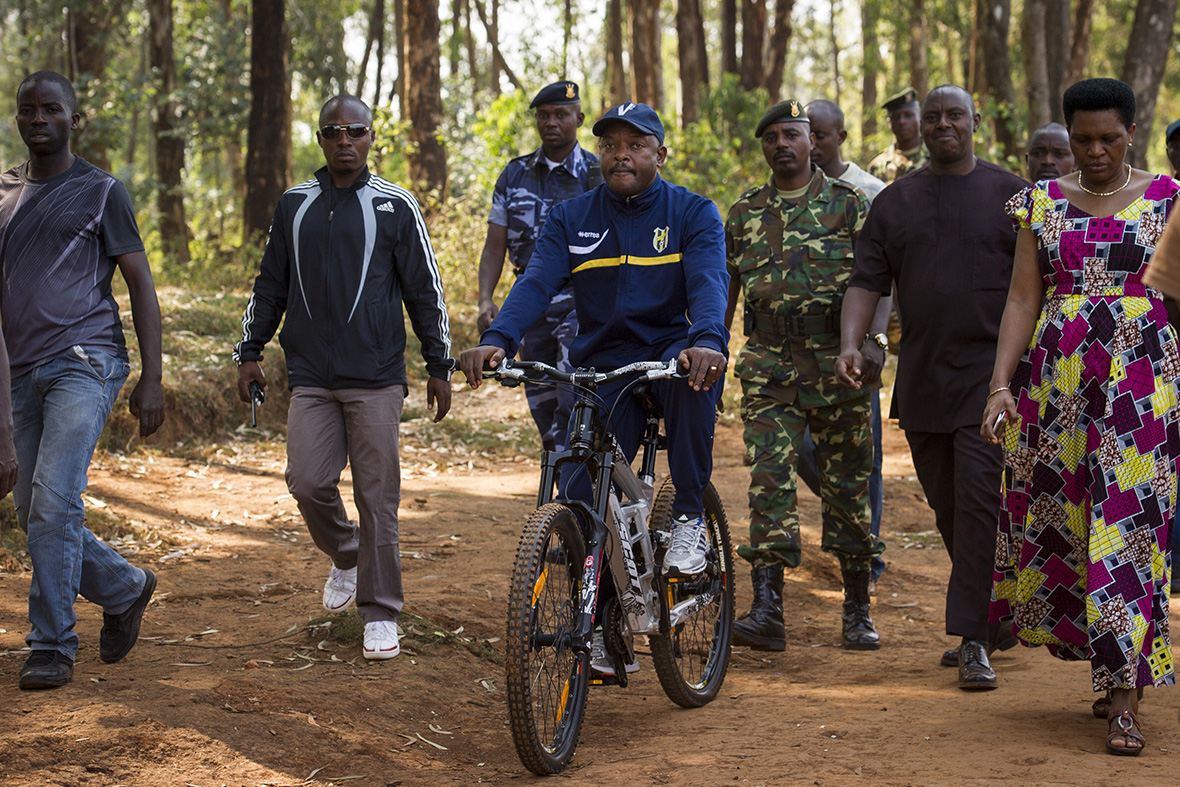 "Where there is peace, there is joy. We thank the organizers of this race for having chosen the holiday season. It is a good opportunity to celebrate Christmas with all Burundians," said President Nkurunziza.
The 527-kilometer race will last five days, where winners will be awarded in Gitega for the top five finishers in the professional and amateur categories, and to three winners in the general classification.
On the second day, cyclists will make 123km from Bujumbura-Nyanza Lac south of the country, where they will leave on December 13 for Bukirasazi in the province of Gitega in central Burundi after having traveled 125 km from Nyanza Lac.
On the 4th day on December 14 the race will make 101 km between Bukirasazi and Cankuzo east of the country.
From Cankuzo, the organizers have planned to move all cyclists and their bicycles in vehicles to the capital of Karusi Province in central Burundi where they will spend a night of rest before making the final leg between Karusi and the main town of Gitenga Province which is the final destination, a distance of 53 km.
However there were safety concerns raised by some cyclists.
"The safety was not assured because there were trucks along the road, and among us there are those who were injured, which is why third place does not satisfy me at all because I was a favorite to win this race," Ciza Obed a cyclist said.
EFF demands the sacking of South Africa's finance minister Nene.
South Africa's political players are headed for a collision course over the fate of the finance minister, who the Treasury on Tuesday said is traveling to Indonesia for an International Monetary Fund (

IMF

) meeting.
Pressure has been piling on finance minister Nhlanhla Nene to resign, following his disclosure to the state-capture inquiry commission, that he had met the Gupta brothers between 2010 and 2013.
The Business Day on Monday reported that Nene had asked president Cyril Ramaphosa to relieve him of his duties as finance minister.
Ramaphosa's office responded and said they were not aware of Nene's request.
And on Tuesday, Treasury spokesman Jabulani Sikhakhane said the finance minister was expected to arrive in Indonesia on Wednesday.
Nene is also expected to read the mid-term budget later this month.
FOLLOW US ON:
The news that Nene is continuing with his duties is likely to anger opposition supporters including the Economic Freedom Fighters (
EFF

), whose leader, Julius Malema on Monday asked Ramaphosa to sack Nene.
In a written letter to Ramaphosa, Malema argued that the country, whose economy is in recession, had very serious challenges that needed a credible finance minister to address them.
''Public servants at all spheres and levels of government will have no obligation to responsibly manage state fiscal resources under a compromised minister of finance,'' Malema said.
He then added that that Nene can no longer inspire much needed confidence to revive the economy.
''The Medium-Term Budget Policy Statement (
MTBPS

)' which is supposed to be a statement to build confidence amongst all important economic role players' cannot' and should not' be delivered by a minister who was part of the Gupta criminal syndicate."
For the 
EFF

, Nene's position as finance minister is no longer tenable and they are determined to win what they are now calling a battle.
Malema had threatened on Sunday that streets protests might be organised to demand for the removal of Nene as finance minister.
The Gupta brothers are accused of using their friendship with former president Jacob Zuma to influence government decisions including unfairly winning state contrcats.
Both Zuma and the Guptas have denied any wrongdoing.
TO DOWNLOAD OUR MOBILE NEWS APP CLICK HERE
South Africa: Ex-minister reveals Zuma's Gupta deals.
South Africa's Finance Minister Nhlanhla Nene said on Wednesday he was fired by former president Jacob Zuma for refusing to approve contracts that would financially benefit the Gupta family, friends of Zuma accused of corruption.
Nene, who was giving testimony at a judicial inquiry into influence-peddling, said the main reason he was he was sacked was for rejecting a proposed plan to build a fleet of nuclear power plants. The project could have cost up to $100 billion.
FOLLOW US ON:
Zuma and the Gupta family deny allegations they colluded to inappropriately divert state funds.
TO DOWNLOAD OUR MOBILE NEWS APP CLICK HERE