More than 30 killed as flooding strikes Durban, South Africa
Heavy rainfall caused deadly flooding and turned roadways into raging rivers in parts of eastern South Africa Monday night into Tuesday.
Durban was one of the hardest-hit areas with more than 150 mm (6 inches) falling on the city within a 12-hour period. Normal rainfall for the entire month of April is only around 90 mm (3.5 inches).
The Department of Cooperative Governance and Traditional Affairs (Cogta) stated on Tuesday that at least 32 people had been killed due to flooding and mudslides, according to Independent Online.
Satellite image showing the storm system that brought deadly flooding to Durban, South Africa on Tuesday, April 23.
The number of deaths may continue to rise as rescue crews work to dig through debris from mudslides and floodwaters continue to surge through the area.
The flooding resulted in damaged homes, collapsed walls and mudslides across the Durban area.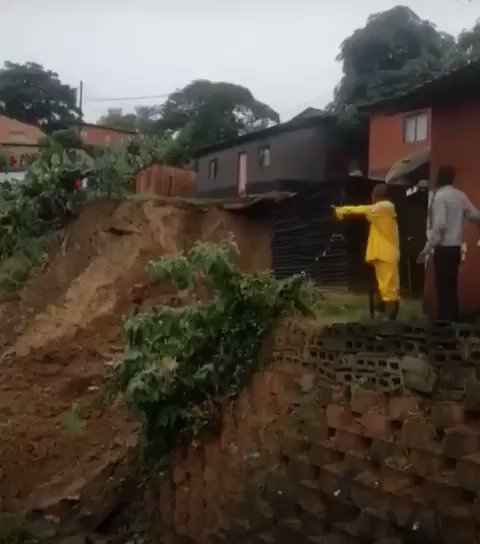 The saddest thing I've seen in a while #DurbanFloods #Durban911
73 people are talking about this
Twitter Ads info and privacy
More than 2,000 emergency calls have been placed since Monday night and numerous power outages have been reported.
The combination of flooding and rough seas has also caused extensive beach damage.
While some additional light rainfall is possible into Tuesday night, flooding downpours are no longer expected for Durban.
A local shower or thunderstorm is possible on Wednesday and Thursday; however, much of the time is expected to be dry both days.
Further dry weather is expected from Friday into Saturday with plenty of sunshine each day.
There will be a renewed chance for rainfall across the area on Sunday.
Iran faces sanction over uranium breach plan
Source: Reuters
Iran said on Monday it would breach internationally agreed curbs on its stock of low-enriched uranium in 10 days — a move likely to worsen tensions with Washington — but it added European nations could still save a nuclear deal that sets those limits.
DOWNLOAD ANTTENTION FRESH NEWS ON THE GO APP

In an indication of concern at Iran's announcement, Germany urged Tehran to meet all its obligations under the 2015 accord. Britain said if Iran breached limits agreed under the deal then London would look at "all options".
Close U.S. ally Israel, Iran's arch foe, urged world powers to step up sanctions against Tehran swiftly should it exceed the enriched uranium limit.
U.S.-Iran tensions are growing following accusations by U.S. President Donald Trump's administration that Tehran last Thursday attacked two oil tankers in the Gulf of Oman, a vital oil shipping route. Iran denies having any role.
Iran's Armed Forces Chief of Staff, Major General Mohammad Baqeri, on Monday denied Tehran was behind the attacks and said if the Islamic Republic decided to block the strategic Strait of Hormuz shipping lane it would do so publicly.
The secretary of Iran's Supreme National Security Council, Ali Shamkhani, said Tehran was responsible for security in the Gulf and urged U.S. forces to leave the region, state TV said.
In an announcement drawing signs of Western unease, Iran's Atomic Energy Organization spokesman Behrouz Kamalvandi said "We have quadrupled the rate of enrichment (of uranium) and even increased it more recently, so that in 10 days it will bypass the 300 kg limit."
"Iran's reserves are every day increasing at a more rapid rate," he told state TV, adding that "the move will be reversed once other parties fulfill their commitments."
Tehran said in May it would reduce compliance with the nuclear pact it agreed with world powers in 2015, in protest at the United States' decision to unilaterally pull out of the agreement and reimpose sanctions last year.
The deal seeks to head off any pathway to an Iranian nuclear bomb in return for the removal of most international sanctions.
The accord requires Iran to curb its uranium enrichment capacity, capping Iran's stock of low-enriched uranium at 300 kg of uranium hexafluoride enriched to 3.67 percent or its equivalent for 15 years.
A series of more intrusive U.N. inspections under the deal have verified that Iran has been meeting its commitments.
Urging European signatories to hasten efforts to salvage the accord, President Hassan Rouhani said its collapse would not be in the interests of the region or the world.
"It's a crucial moment, and France can still work with other signatories of the deal and play an historic role to save the deal in this very short time," Rouhani was quoted as saying during a meeting with France's new ambassador in Iran.
@ Anttention Fresh,                
We work hard to ensure that any news brought to you is legitimate and valuable so we leave out the noise. This material, and other digital content on this website, may be reproduced, published, broadcast, rewritten or redistributed in whole or in part BUT give us credit as your source. 
JOIN AN ONLINE LEARNING COMMUNITY CLICK IMAGE
China backs Hong kong leader
Source: Reuters
China doubled down on its support for Hong Kong leader Carrie Lam on Monday after days of protests in the Chinese-ruled city over a planned extradition bill, and a source close to Lam said Beijing was unlikely to let her go even if she tried to resign.
DOWNLOAD ANTTENTION FRESH NEWS ON THE GO APP

Lam's attempts to pass a bill that would allow people in Hong Kong to be extradited to China to stand trial triggered the biggest and most violent protests in the former British colony in decades.
As the political crisis entered its second week, demonstrators and opposition politicians braved intermittent rain to gather near the government's offices and call for the bill to be killed and for her to step down.
The upheaval comes at a delicate time for Chinese President Xi Jinping, who is grappling with a deepening U.S. trade war, an ebbing economy and regional strategic tension.
Hong Kong has been governed under a "one country, two systems" formula since its return to Beijing in 1997, allowing freedoms not granted to the mainland, including an independent judiciary, but short of a fully democratic vote.
Many residents are increasingly unnerved by Beijing's tightening grip and what they see as the erosion of those freedoms, fearing that changes to the rule of law could imperil its status as a global financial center.
"The Chinese government, the central government, has always fully affirmed the work of chief executive Carrie Lam and the Hong Kong government," Chinese Foreign Ministry spokesman Lu Kang told a news conference.
The comments echoed remarks over the weekend from the government's Hong Kong and Macau policy office.
"The central government will continue to firmly support the chief executive and the SAR government's governing in accordance with the law," he said, referring to the "special administrative region" of China.
@ Anttention Fresh,                
We work hard to ensure that any news brought to you is legitimate and valuable so we leave out the noise. This material, and other digital content on this website, may be reproduced, published, broadcast, rewritten or redistributed in whole or in part BUT give us credit as your source.
JOIN AN ONLINE LEARNING COMMUNITY CLICK IMAGE