Nelson Mandela's family wants funeral looters punished
The Mandela family has expressed dismay that South African officials shamelessly benefited from the anti-apartheid hero's funeral four years ago.
The Royal House of Mandela in the Eastern Cape Province say they were utterly disappointed when they heard that officials misspent about $22m (£16m) allocated to memorial events.
"We find it incredulous that while we, as a family, a nation – and indeed the world – were mourning the loss of our elder, icon, leader and statesman, some people were allegedly conniving to profit financially by shamelessly siphoning off funds or alternatively allegedly not observing good governance in terms of following due protocol, observing delegations or mandates," said Mr Mandela's grandson, Chief Mandla Mandela.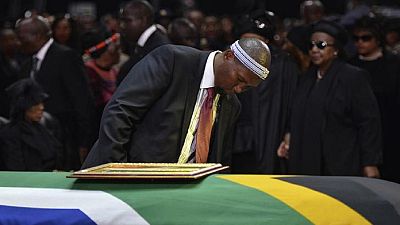 The embezzled funds were meant for the provision of running water, electricity, sanitation, ablution facilities, the replacement of mud schools and refurbishment of hospitals in one of the country's poorest regions.
Nearly two weeks ago, Public Protector, Mr Busisiwe Mkhwebane, released a damning report last week detailing how the Eastern Cape provincial government demanded millions for preparations for the former South Africa leader's burial in his Qunu home.
According to the report, officials inflated several costs and awarded tenders fraudulently.
Chief Mandla, who is also an African National Congress (
ANC

) legislator, said he wants heads to roll.
"The allegations should be tried and tested in a court of law, ensuring that the criminal justice system takes its full course and should the allegations be found to be true' the guilty parties should face the full wrath of the law," he said.
The Public Protector has since directed Finance minister Malusi Gigaba, to request President Jacob Zuma to order the corruption-busting Special Investigating Unit (
SIU

) to probe the alleged unlawful expenditure of public money.
Nelson Mandela died at the age of 95 on December 5, 2013, after battling a recurring lung infection, opening floodgates for officials to misuse the infrastructure development grant.
EFF demands the sacking of South Africa's finance minister Nene.
South Africa's political players are headed for a collision course over the fate of the finance minister, who the Treasury on Tuesday said is traveling to Indonesia for an International Monetary Fund (

IMF

) meeting.
Pressure has been piling on finance minister Nhlanhla Nene to resign, following his disclosure to the state-capture inquiry commission, that he had met the Gupta brothers between 2010 and 2013.
The Business Day on Monday reported that Nene had asked president Cyril Ramaphosa to relieve him of his duties as finance minister.
Ramaphosa's office responded and said they were not aware of Nene's request.
And on Tuesday, Treasury spokesman Jabulani Sikhakhane said the finance minister was expected to arrive in Indonesia on Wednesday.
Nene is also expected to read the mid-term budget later this month.
FOLLOW US ON:
The news that Nene is continuing with his duties is likely to anger opposition supporters including the Economic Freedom Fighters (
EFF

), whose leader, Julius Malema on Monday asked Ramaphosa to sack Nene.
In a written letter to Ramaphosa, Malema argued that the country, whose economy is in recession, had very serious challenges that needed a credible finance minister to address them.
''Public servants at all spheres and levels of government will have no obligation to responsibly manage state fiscal resources under a compromised minister of finance,'' Malema said.
He then added that that Nene can no longer inspire much needed confidence to revive the economy.
''The Medium-Term Budget Policy Statement (
MTBPS

)' which is supposed to be a statement to build confidence amongst all important economic role players' cannot' and should not' be delivered by a minister who was part of the Gupta criminal syndicate."
For the 
EFF

, Nene's position as finance minister is no longer tenable and they are determined to win what they are now calling a battle.
Malema had threatened on Sunday that streets protests might be organised to demand for the removal of Nene as finance minister.
The Gupta brothers are accused of using their friendship with former president Jacob Zuma to influence government decisions including unfairly winning state contrcats.
Both Zuma and the Guptas have denied any wrongdoing.
TO DOWNLOAD OUR MOBILE NEWS APP CLICK HERE
South Africa: Ex-minister reveals Zuma's Gupta deals.
South Africa's Finance Minister Nhlanhla Nene said on Wednesday he was fired by former president Jacob Zuma for refusing to approve contracts that would financially benefit the Gupta family, friends of Zuma accused of corruption.
Nene, who was giving testimony at a judicial inquiry into influence-peddling, said the main reason he was he was sacked was for rejecting a proposed plan to build a fleet of nuclear power plants. The project could have cost up to $100 billion.
FOLLOW US ON:
Zuma and the Gupta family deny allegations they colluded to inappropriately divert state funds.
TO DOWNLOAD OUR MOBILE NEWS APP CLICK HERE