U.S: Judge orders Trump administration to allow abortion for teenage girl who is in the US illegally
A federal judge, Tanya Chutkan, on Wednesday ordered the U.S. government to allow an illegal immigrant 17 year old pregnant teenager in its custody, to have an abortion per her request.
Lawyers for the American Civil Liberties Union, ACLU, which represents the pregnant teenager, praised the judge's ruling as a major victory for abortion and immigrant rights.
Brigitte Amiri, a senior ACLU staff attorney who argued the case on Wednesday said:
"We never should have had to fight this in the first place," said . "It should never have been something that we needed to go to court over."
Late Wednesday, however, the Justice Department appealed the case, asking the U.S. Court of Appeals for the D.C. Circuit to stay District Judge Tanya Chutkan's ruling.
The government asked the appeals court to rule by 9 p.m. on Thursday, to prevent the teenager, identified in court papers as Jane Doe, from having an "irreversible elective abortion" while the appeal is pending.
The government said the teenager, who is in her 15th week of pregnancy, "still has a number of weeks in which she could legally and safely obtain an abortion."
Chutkan had ordered the government to allow the teen to visit the abortion provider located closest to her shelter in Texas on Thursday and undergo state-mandated counseling before terminating the pregnancy either on Friday or Saturday.
According to Texas abortion law, a woman can't have an abortion after 20 weeks of pregnancy.
"Failure to comply with the terms of this Order may result in a finding of contempt," wrote Chutkan, who was appointed by former US President Barack Obama.

Democrats in Congress expressed opposition to the government's stance to refuse the teenage girl abortion, while Texas and seven other states filed a friend-of-the-court brief supporting it.
During the hearing Wednesday, Chutkan asked Justice Department lawyer Scott Stewart whether he thought illegal immigrants had constitutional rights and whether he believes that the 1973 Supreme Court ruling Roe v. Wade , which guarantees a woman's right to an abortion, is still the "law of the land."
Stewart acknowledged the ruling but said the government views this case differently because the teen is an illegal immigrant in federal custody. He said that illegal immigrant minors do not have a constitutional right to an elective abortion in federal custody, unless it is a medical emergency, and also said immigrants here illegally have "minimal" protections in the US..
"I'm not going to give you a concession on that, Your Honor," Stewart said.
The judge laughed. "This is remarkable," she said.
Chutkan said the teen's immigration status was irrelevant and that she still had constitutional rights. She wrote that the teen will "suffer irreparable injury," including health risks, if the government interferes with her abortion plans.
Chutkan also barred the government from forcing the teen to reveal her abortion decision to anyone or retaliating against her or the federally funded shelter housing her in Texas. But she did not respond to an ACLU request to apply her ruling to other minors also in federal custody.
By refusing to allow the girl to be transported to have an abortion, Chutkan said, the government appeared to be offering the teenager two options: voluntarily return to a nation she fled to have an abortion; or carry an unwanted pregnancy to term.
"I am astounded by that position," Chutkan said.
In court filings, the Justice Department said the government has "strong and constitutionally legitimate interests in promoting childbirth, in refusing to facilitate abortion, and in not providing incentives for pregnant minors to illegally cross the border to obtain elective abortions while in federal custody."
All the government had to do, Chutkan said, is process the paperwork to let the girl visit the clinic, just as they would if she needed to have her tonsils removed.
The judge pointed out that the federal workers took the teenager, against her wishes, to a Christian pregnancy facility for counseling aimed at persuading her not to abort, and also informed her mother about the pregnancy. Both steps potentially violated the girl's constitutional protections, Chutkan said.
"The government didn't seem to have any problem facilitating that," Chutkan said.
The teen has been in federal custody since early September, when she was caught illegally crossing the U-Mexico border into the US.
Patience, big signing will soon arrive: Emery
With the new season under a month away, Arsenal coach Unai Emery has assured fans of new signing.
Emery, was appointed as the gunners coach On 23 May 2018, and his first campaign ended with a fifth place and reaching Eroupa League Final.
Arsenal will be aiming to return to top-four in the Premier League, and the coach is keen on adding right players to improve his team.
The club have been linked with Wilfred Zaha, Kieran Tierney and Saint-Etienne defender William Saliba, While they are thought to be close to sealing a season long loan for Real Madrid midfielder Dani Ceballos.
Although to date the only player they have brought in is teenage winger Gabriel Martinelli.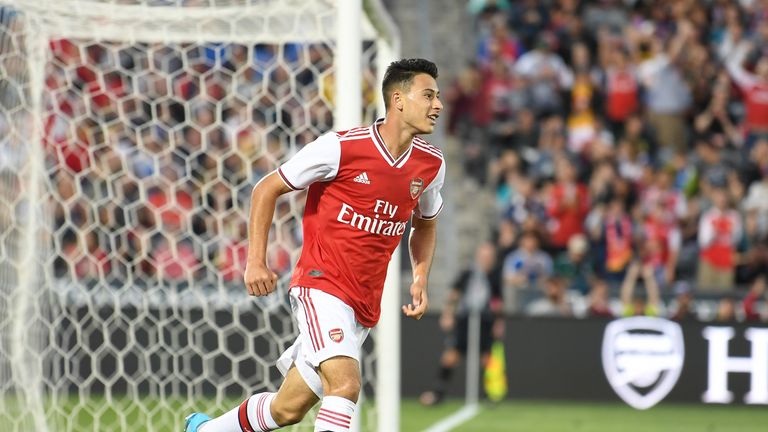 Arsenal supporters are running out of patience amid delays in signing new players, but the Spanish born insists the club will spend big this summer.
KINDLY FOLLOW US ON SOCIAL MEDIA & SHARE THIS STORY
@ Anttention Fresh, We work hard to ensure that any news brought to you is legitimate and valuable so we leave out the noise. This material, and other digital content on this website, may be reproduced, published, broadcast, rewritten or redistributed in whole or in part BUT give us credit as your source.
DOWNLOAD ANTTENTION FRESH NEWS ON THE GO APP
TO UPLOAD & PROMOTE YOUR PRODUCTS CLICK IMAGE
JOIN AN ONLINE LEARNING COMMUNITY CLICK IMAGE
EU to probe Amazon over use of merchant data
Amazon became the target of an antitrust investigation by the European Union on Wednesday over its use of merchants' data, underlining the increasing regulatory scrutiny about how tech companies exploit customers' information.
The European Commission has been seeking feedback from retailers and manufacturers since September into Amazon's dual role as a marketplace for merchants and acting as a competitor following complaints from traders about Amazon's practices.
The Commission said its investigation would focus on Amazon's standard agreements with marketplace sellers and its use of data in choosing winners of the "buy box", which allows consumers to add items from a specific retailer directly to their shopping carts.
European Competition Commissioner Margrethe Vestager, who can fine companies up to 10% of their global turnover, said the issue was crucial as more and more Europeans shop online.
"E-commerce has boosted retail competition and brought more choice and better prices. We need to ensure that large online platforms don't eliminate these benefits through anti-competitive behavior," she said.
Amazon said it would cooperate fully with the EU investigation. The company reached a deal with Germany's antitrust authority on Wednesday to overhaul its terms of service for third-party merchants.
Under its terms of service for Europe here set out on its website, merchants grant Amazon "royalty-free" rights to use in a range of ways their materials, such as technology, trademarks, content and product information.
"There have been concerns around the world that competition authorities have failed to appreciate the market power that comes from ownership of data," he said.
In Amazon's case, he said the Commission needed to show "the standard agreements with retailers were anti-competitive in somehow allowing Amazon to use the data to manipulate market outcomes, or that Amazon had in some way abused its dominance."
The Commission had been struggling to define the market in which Amazon operates in order to identify where the competitive harm could have been, sources said.
This would not be Amazon's first run-in with the Commission. Two years ago, it was told to pay back taxes of about 250 million euros ($280 million) to Luxembourg because of illegal tax benefits. That same year it settled with the regulator over its distribution deals with e-book publishers in Europe.
KINDLY FOLLOW US ON SOCIAL MEDIA & SHARE THIS STORY
@ Anttention Fresh, We work hard to ensure that any news brought to you is legitimate and valuable so we leave out the noise. This material, and other digital content on this website, may be reproduced, published, broadcast, rewritten or redistributed in whole or in part BUT give us credit as your source.
DOWNLOAD ANTTENTION FRESH NEWS ON THE GO APP
TO UPLOAD & PROMOTE YOUR PRODUCTS CLICK IMAGE
JOIN AN ONLINE LEARNING COMMUNITY CLICK IMAGE