Zimbabwe Former President's nephew runs for his life after military takeover
Former Zimbabwe president Robert Mugabe's nephew Patrick Zhuwao, says that he will return to Zimbabwe only if his security is guarantee.
Zhuwao claimed that he ran away from Zimbabwe during the military coup fearing for his life after Mugabe's close allies were being arrested and dragged to courts to face prosecution.
Zhuwao further claimed that his farm was looted and workers beaten by locals in the neighbourhood
"When one looks at attacks launched on my farm and farm workers who were frog-marched and severely beaten just for working for me, it is enough evidence that my safety is not guaranteed," Zhuwao told the private Standard newspaper in a phone interview from South Africa.
"People can say I ran away, yes I did. It's better than to wait to be killed," Zhuwawo was quoted as saying.

He called on the country's religious leaders to "pray for those who are in power to be humane and not persecute people"
Zhuwao said he had no regrets serving under the 93-year-old ruler who was forced to resign by the military on November 21.
"I am proud to have served under President Robert Mugabe," he said in an interview from South Africa at an undisclosed location.
"I was loyal to him during his tenure as president and I even today I am still loyal to him, much than loyalty I could have exhibited as his nephew," Zhuwao added.
"From a personal point of view, I am grateful to those who stood by Mugabe.
"My political life existed for the duration of President Mugabe's tenure.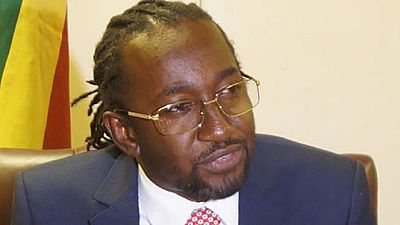 Meanwhile, Zhuwao claimed Zimbabweans will miss his uncle despite thousands of people taking to the streets during his last days as they demanded his resignation.
"If you look at the current political leadership, it's like having gone through a period under a leader who was meticulous and principled and then serving under anybody else will soil my track record," he said.
"I also find it rather awkward for some leaders who want to blame President Mugabe yet when decisions were made, they were part of the collective."
Zhuwao served as labour and social welfare minister under Mugabe's last government. The dreadlocked 50-year-old was a key ally of former first lady Grace Mugabe and a member of the G40 group of younger ruling party officials who had been on the ascendancy just one month ago before the military stepped in to crush their political aspirations.
EFF demands the sacking of South Africa's finance minister Nene.
South Africa's political players are headed for a collision course over the fate of the finance minister, who the Treasury on Tuesday said is traveling to Indonesia for an International Monetary Fund (

IMF

) meeting.
Pressure has been piling on finance minister Nhlanhla Nene to resign, following his disclosure to the state-capture inquiry commission, that he had met the Gupta brothers between 2010 and 2013.
The Business Day on Monday reported that Nene had asked president Cyril Ramaphosa to relieve him of his duties as finance minister.
Ramaphosa's office responded and said they were not aware of Nene's request.
And on Tuesday, Treasury spokesman Jabulani Sikhakhane said the finance minister was expected to arrive in Indonesia on Wednesday.
Nene is also expected to read the mid-term budget later this month.
FOLLOW US ON:
The news that Nene is continuing with his duties is likely to anger opposition supporters including the Economic Freedom Fighters (
EFF

), whose leader, Julius Malema on Monday asked Ramaphosa to sack Nene.
In a written letter to Ramaphosa, Malema argued that the country, whose economy is in recession, had very serious challenges that needed a credible finance minister to address them.
''Public servants at all spheres and levels of government will have no obligation to responsibly manage state fiscal resources under a compromised minister of finance,'' Malema said.
He then added that that Nene can no longer inspire much needed confidence to revive the economy.
''The Medium-Term Budget Policy Statement (
MTBPS

)' which is supposed to be a statement to build confidence amongst all important economic role players' cannot' and should not' be delivered by a minister who was part of the Gupta criminal syndicate."
For the 
EFF

, Nene's position as finance minister is no longer tenable and they are determined to win what they are now calling a battle.
Malema had threatened on Sunday that streets protests might be organised to demand for the removal of Nene as finance minister.
The Gupta brothers are accused of using their friendship with former president Jacob Zuma to influence government decisions including unfairly winning state contrcats.
Both Zuma and the Guptas have denied any wrongdoing.
TO DOWNLOAD OUR MOBILE NEWS APP CLICK HERE
South Africa: Ex-minister reveals Zuma's Gupta deals.
South Africa's Finance Minister Nhlanhla Nene said on Wednesday he was fired by former president Jacob Zuma for refusing to approve contracts that would financially benefit the Gupta family, friends of Zuma accused of corruption.
Nene, who was giving testimony at a judicial inquiry into influence-peddling, said the main reason he was he was sacked was for rejecting a proposed plan to build a fleet of nuclear power plants. The project could have cost up to $100 billion.
FOLLOW US ON:
Zuma and the Gupta family deny allegations they colluded to inappropriately divert state funds.
TO DOWNLOAD OUR MOBILE NEWS APP CLICK HERE