At least 12 killed in California bar shooting
At least 12 people have been killed, including a sheriff  Sargent, at a country music bar in Thousand Oaks, California.
Police reportedly, says the shooting began at 23:20 local time on Wednesday about 40miles (65km) north-west of Los Angeles.
At least 200 people were reportedly inside the Borderline Bar and Grill, which was hosting a university student night, at the time of the attack.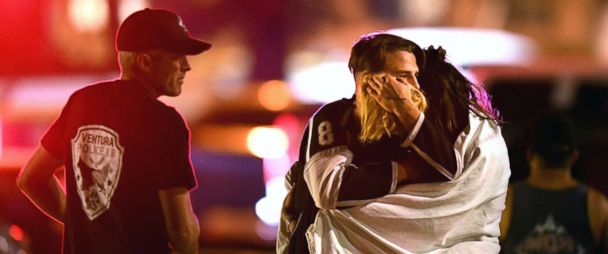 Officials say the gunman, who has not been identified, was found dead inside.
They have not yet confirmed any motive behind the attack.
FOLLOW US ON:
US president have been briefed of the shooting, he condemned the fatality and praise the police officers for the great bravery to stop the act on his twitter handle.
TO DOWNLOAD OUR MOBILE NEWS APP CLICK HERE
Nigerian authorities freed 450 captives in Kaduna
Nigeria police has been commended over their role in  rescuing nearly 450 people from a building in the northern city of Kaduna where they were detained and allegedly tortured.
Those held were all men and boys – some were found chained up.

The detainees, not all Nigerian, said they had been tortured, sexually abused, starved and prevented from leaving – in some cases for several years.
It is not clear how they got there. Some of the children told the police that their relatives had taken them there believing the building to be a Koranic school.
But the police say there is no concrete evidence to suggest that the building was ever a school.
Eight suspects have been arrested.
They were taken to a stadium in Kaduna overnight to be cared for while arrangements are made to find their families.
Nigerian authorities say the nearly 500 freed captives will be given medical and psychological examinations.
Nigeria Football Federation boss Amaju Pinnick under fresh corruption probe
Several properties belonging to top officials of the Nigeria Football Federation (NFF), including its president Amaju Pinnick, have been seized in a fresh corruption probe.
The latest investigation and seizures are being carried out by the country's Independent Corrupt Practices and Other Related Offences Commission's (ICPC).
The ICPC has published a newspaper advertisement about the properties seized – half of which belong to Pinnick.
According to the statement published in the Nigerian papers one of Pinnick's properties is in London.
It comes amidst wide-ranging claims over how money meant for football development allegedly disappeared.
"We can't go into further details beyond the fact that many officials of the NFF are under investigation," ICPC spokesperson, Rasheedat Okoduwa said.
"It's basically because what they have is in excess of what they have earned."
The ICPC has also taken control of properties belonging to the NFF second vice-president Shehu Dikko and the general secretary Muhamed Sanusi among others.
Source: BBC