6 Reasons Why Everyone Needs Clean Drinking Water
When it comes to our basic needs, clean drinking water is among the most important. More than 78 million people on Earth lack access to potable water, as well as the services needed to transport it safely and efficiently. Beyond environmental sustainability, keeping our sources clean can keep us thriving for centuries to come.
In a globalized world full of modern technology, access to clean drinking water is becoming a rarity. From the Flint water crisis in America to oil spills, the issue of potable water is a big problem for each and every one of us. Here are x reasons why everyone needs clean drinking water.
Water is Vital to Environmental Sustainability
As we noted before, water is a fundamental element here on Earth. Every living thing needs it, and it is crucial in keeping ecosystems running. Environmental sustainability is impossible without a good source of clean water. Polluted water can poison the animals that depend on it, while dried-up sources can leave a locale desolate.
The search for untainted sources of water is becoming a big issue, especially in urban environments. In countries where big corporations dump their waste in freshwater sources like rivers and lakes, it's a challenge now to have clean drinking water. With most of the world urbanizing, it's only about time until we're left with no clean freshwater sources.
While the Earth comprises more than 71% water on its surface, only 3% is freshwater. Most of it is enclosed in the polar ice caps as well. The freshwater sources we have on land come from the natural water cycle of the world. Clean drinking water is essential "fuel" to keep forests, trees, and animals alive and continue the world's natural balance.
Drinking Water is Essential For Human Survival
Drinking water is essential for us humans. This clear liquid will help keep you healthy and strong, helping you function throughout your day. While the human body can live without food for three weeks, you can't survive without drinking water for more than three days.
Water replenishes our body, which is made up of more than 70% water. It helps clean out the toxins in our organs, regulates our body temperature, and helps transport vitamins and minerals from our food. Experts recommend drinking two liters of water a day but that's not possible without clean drinking water.
Dirty water is among the leading sources of viruses and bacteria throughout human history. As we need better sources of water, its purity is crucial to our survival. Clean drinking water reduces the risk of bacterial infection and waterborne diseases. It's a fact of life: no water, no life.
Water Consumption Helps Get Rid of Toxins
As we noted, clean drinking water helps you get rid of toxins in your body. In addition, water helps the kidneys filter the waste that comes from the inefficiencies that we have. When you're dehydrated, your kidney tries to conserve as much water as possible, all to keep your waste disposal running.
Water can help your body recover from several digestive issues as well. These include symptoms like indigestion, diarrhea, and even your body's overall calorie intake. However, as the body follows a very tedious process, lack of water or dehydration can also lead to several issues and lead to a weaker immune system.
Water is also a necessary component to burn fat. As you finish eating, your body goes through a process that burns off sugars, carbohydrates, proteins, and fat. This process utilizes water in the process, both as a type of fuel and for nutrient transportation. Without water, you're looking at a weaker toxin removal process, which can lead to weakness.
Proper Hydration Helps Keep Your Skin Healthy
Clean drinking water is not only vital to keeping your insides working like clockwork. Proper hydration will help keep your skin cells healthy and glowing as it helps with the appropriate balance of electrolytes. These electrolytes keep the cells functioning, as well as help them stay supple.
Consistently drinking a good amount of water every day can help keep your skin tight. Water is around 60% of collagen in weight, with collagen being a vital component that keeps your skin's elasticity. So ample water consumption can help keep your collagen count consistent and even help reduce wrinkles and fine lines over time.
Drinking water also helps keep your body moisturized. Your natural water cycle, which includes sweat, will keep your skin hydrated. Together with external cleaning, hydration can keep you free from skin impurities like pimples and acne.
Clean Water Improves Crop Yield
Beyond our personal needs, clean drinking water is a must for good crop yields. Agricultural lands rely on clean water for irrigation, which helps keep crops in good condition. Clean water is vital to food production and helps feed the billions of humans that need to be fed every day.
Many people believe that crops don't need clean water, but the truth is the contrary. Clean water reduces plants' susceptibility to pests, infections, and even oxidative cell damage. In addition, scientific studies show that crops are bigger and more delicious if irrigation comes from potable water.
Clean water helps yield better, healthier crops. But, on the other hand, dirty water makes crops prone to diseases that reduce yields, damage plant cells, and stunt their growth. Clean water for crops means less stress for the plants, which means a better, more bountiful harvest.
Clean Water Is Important For Human Dignity
Humanity depends on clean water, and this goes beyond simply drinking it. We use clean drinking water for our daily activities, from washing our dishes, cleaning our vehicles to the water we use for bathing. Yet, billions of people lack access to clean water, which results not only in malnutrition but also in abject poverty.
Clean water directly ties to our dignity as modern humans. As we came to a point in our civilization where hygiene is a primary source of pride and existence, clean water has a powerful effect on those who can access it. Disease-riddled water can reduce our quality of life, as well as the state of human dignity. Without clean drinking water, modern people feel undignified. They feel their existence as paltry and dramatically affects the human condition.
The Bottom Line
Clean drinking water is a must for all living things on Earth. Without it, no living thing on Earth can survive. If we want to continue living as a species with other organic beings on the planet, we need clean water. Having clean drinking water is not a privilege – it is the birthright of every living thing. 
Grief and Loss, How to Cope with Them
Losing anything of value is never easy. Coping with grief and loss must be done your right way. Sadly, there is no right or wrong way to grieve. Regardless of the type of loss you are faced with, the only thing required is that you understand the stages of grief and where you currently are on them. This understanding will provide you with healthier coping options.
WHAT DOES GRIEF MEAN?
When you lose something of great importance, your natural emotional and painful response to it is grief.  Sometimes it comes with various reactions such as guilt, disbelief, deep sadness, health disruption, insomnia, inability to eat amongst so many things. Everything i mentioned here is normal when you are faced with grief. Your grief could come as a result of losing your health, a job, a relationship, a loved one, a miscarriage, a career dream, a friendship, a safety net after infidelity or even moving homes amongst many other reasons.
I see many couples and individuals sit across me and narrate their experiences with grief. Despite the many responses to grief, one thing that you cannot take away is that the intensity of your grief is always directly proportional to the significance of your loss.
Due to the personal nature of loss, i do not expect you to grieve like any other person. This means that there is no shame with how you decide to grieve. The only thing i want you to understand is that there are stages to grieving and you must understand what stage you are in to enable yourself transition from that stage, get a new perspective on the matter and then begin to move on from the heaviness you feel.
The Sad Honest Truth About Grief
Be it the loss of a parent, child, partner, spouse, relative, friend or colleague at work, It's all pain and you may not ever get over this loss. However, time is what truly does the magic for you because your sorrow eases, you face the loss and then gradually begin to move on from that point.
Now that you understand how unique grieving is to every individual, you must also know that what separates everyone in grief are their beliefs, their faith, previous experiences with grieving, their coping styles and lastly their personality. Do not expect to recover immediately with actual loss of a loved one, or try to heal after replacing the job, house or opportunity you lost with a new one. It takes time. While some start to feel better in weeks and months, the measurement for others grieving is usually in years.
THE PROPER WAY TO GRIEVE
You must understand somethings about grief as this gives you an edge;
A) IF you feel pain, do not pretend it does not exists simply because you want to appear strong. This act will keep you trapped in one stage of grief longer than expected. Weakness or Strength are not the consideration at this point. Pain is.
B) Do not try to grieve the way you have seen a sibling, spouse, parent or someone else go about it. That is their own way. Trying to emulate them in this regard may not work for you and could end up doing more damage than good.
C) It's not time to be alone with yourself and misery. Get the support of your loved ones and others who truly care about your well-being. Staying alone is not the solution to numbing the pain.
D) The feeling of grief will make you laugh, cry, smile, talk to yourself and so on. In extreme cases, clients have mentioned that grief made them romanticize with thoughts around death and suicide. Especially for individuals who lost a spouse.
E) Your emotions are not stable when you are grieving. This is what grief does to you. Forcing yourself to stabilize your emotions is not the key. Recognizing the emotions you feel is the real solution.
Available on Podcast:
Learning about the 5 stages of grief
Denial: This is the phase where an individual hasn't yet come to terms with what has happened. The associated shock or emotional overwhelm dissociates the victim in such a way that the circumstances look like an unfolding movie plot with them as spectators.
Anger: At this point, a realization dawns on the individual. This comes with an intense anger that has the individual lashing out angrily and questioning a lot of things.
Bargaining: The need to have this happen to distance oneself from the flurry of negative emotions suddenly triggers an emotion that wants to pass on the grief to some other person, place etc. With this comes a negotiation where depending on the spiritual beliefs of the individual sees them bargaining , going on a spiritual deep dive all in a bid to reverse the situation.
Depression: This is a phase characterized by intense sadness that comes once you start to understand the situation isn't particularly going anywhere or changing.
Acceptance: After healthily negotiating the first phases of grief, the individual now understands that the situation truly occurred. At this point, you come to terms with the pain and truly start to own the emotions you are feeling. It is from this stage that healing starts.
Despite the fact that I have listed these phases, it would be important to note that not everyone navigates grief by following these exact steps. Kübler-Ross, a Swiss-American psychiatrist who first intimated us with these stages of grief never intended for these stages to be a rigid framework applicable to anyone mourning. I have seen clients who went straight to acceptance from the denial stage and just when everybody else affected was struggling with denial, these individuals were already available to assist their spouse, partner, siblings or friends with their own grief.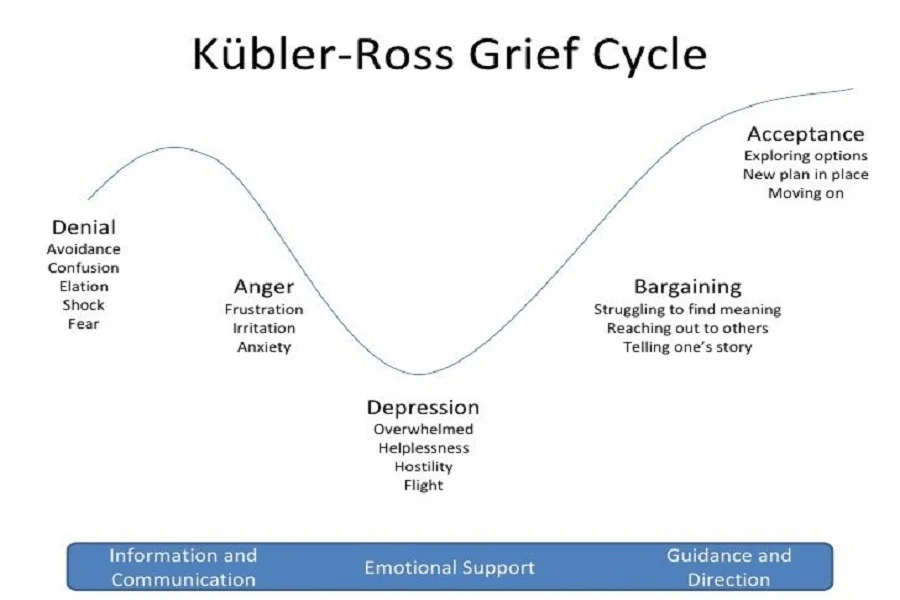 Dear therapist
Grieving and loss is a bespoke experience for everyone. The circumstances may be similar but the effect on the mourner is unique. Hence for younger therapists, there is a need to make clients identify what stage they currently find themselves in. As important as this is, it is better to allow them speak first, tell a story, relive their experiences with the deceased and as you listen with your ears and observe with your entire being, you are bound to start discovering for yourself, where exactly they are with the grieving process (even if it doesn't quite tally with any of the stages.
I truly hope this piece throws a lot more clarity on your current struggles with navigating loss. We are here to support you through your loss and believe that your complete healing is not too far away.

Temple Obike is a licensed marriage and family therapist, speaker, author and psychotherapist who has counseled over one thousand, two hundred clients comprising of couples, individuals, abuse victims (substance, physical, emotional and sexual) and grief-stricken clients. With over 100,000 in-counseling minutes accrued in practice.

He runs his private psychotherapy & counseling practice out of Lagos, Nigeria and has counseling centers in Abuja and Port-Harcourt. His practice also provides options for both online and on-site services. His private practice has positively empowered lives through his online counseling, podcasts, free advisory services and free online materials.  

Readership of his articles also receive a growing number of visitors alongside subscriptions to his email newsletter at templescounsel.com. His passion for empowering and uncovering the secrets to lifelong marriages and personal development led to his new book titled "Soul Bodega" available on amazon and across other online and traditional stores.Never give up on yourself! You are a journey happening through various destinations. Follow us on Facebook, Instagram, LinkedIn, and visit our website for more info!

https://templescounsel.com/how-to-find-your-real-purpose-in-life-stay-authentic/