What is The Best and Worst Sleeping Position?
Original Article by sleepreports.com
Chances are, you've never really given your sleeping position much thought. You may even be wondering if it makes any difference at all to your overall wellbeing.
After all, most of us have been sleeping in the same position since childhood, and it's probably a deeply ingrained habit that comes to us as naturally as breathing. On the other hand, if you're frequently waking up feeling tired, achey or poorly rested, you may have questioned whether your sleeping position has a part to play.
You may be surprised to learn that your sleeping position has the power to either positively or negatively affect your sleep, and your overall health. If you always wake up feeling rested and pain-free, then chances are you are already sleeping in the right position for you.
However, if you're one of the many people who wakes up feeling less than fantastic, your sleeping position is something you may well wish to evaluate. This leads us to an important question: what are the best, and worst, positions to sleep in? We've created an article to answer just that, so read on to discover how to make your sleeping position work for you and your health.
What Makes A Good Sleeping Position?
As unique individuals, there is not one 'magic position' that will work for every person. This depends on you, your health, and what feels comfortable to you personally. However, there are a few key ingredients to a great sleeping position.
1. It Feels Comfortable.
If you want to wake up feeling refreshed in the morning, being able to relax at night is a must. The number one factor in determining a good sleeping position is that it feels comfy and cosy, allowing you to nod off quickly and stay asleep through the night.
2. It Allows Good Airflow And Circulation.
When you're asleep, it's vital that you can breathe deeply and properly, and that blood flow to all parts of your body is unrestricted. There are some positions that facilitate this better than others.
3. Your Neck And Spine Is In Alignment.
In order to avoid pain and discomfort, it's vital that our spine is in healthy alignment. Many of us are familiar with the achey feeling that comes with sleeping in an awkward position. If you're waking up suffering from discomfort in your neck or back, this could be a sign that it's time to reevaluate your sleeping position.
4. Your Joints Are Properly Supported.
A decent sleeping position is one that puts no undue pressure on your joints and supports your body. As you will know if you have read any of our content on mattresses, this partly comes down to your bed. However, your sleeping position also has a part to play in properly supporting your joints.
What Position Should I Be Sleeping In?
As we mentioned above, there is no one perfect position that will work for everyone. Many factors affect which sleeping position, including your weight and any health conditions. When you're thinking about what position you should be sleeping in, you should know about the three main positions and their advantages and drawbacks.
Side Sleeping
If you sleep on your side, then you are like the majority of people. Most people find that nodding off on their side is the easiest way to fall asleep. But is it the best position?
There are several key advantages to sleeping on your side. Firstly, it allows good airflow and deep breathing throughout the night. This means that you consistently get the oxygen that you need all night long.
Also, the blood flow to your organs is unrestricted in this position, making it a healthy choice. Your spine and neck are also likely to be in a healthy alignment, leading to reduced neck and back problems.
However, a major drawback of side sleeping is that it can put pressure on some of your joints. These pressure points can become sore over time, especially if you suffer from a preexisting joint complaint.
Top Tips For Side Sleepers:
If you choose to sleep on your side, you may be wondering if there is anything you can do to improve your position. This is especially likely if you wake up in the morning feeling achey. Here are our handy hints to make your position more healthy.
1. Select a softer mattress. A medium/soft to medium mattress is ideal for side sleepers, as it conforms to the contours of the body, removing pressure on your joints and reducing pain.
2. Consider memory foam. This is particularly useful if you suffer from aches and pains. The special memory foam material hugs your individual shape, reliving pressure and supporting your pressure points.
3. Place a pillow between your knees. If you find yourself waking up with discomfort in your neck and back, this is the tip for you. A pillow between your knees encourages your spine into a more healthy alignment, supporting your neck, back and all of your joints.
Back Sleeping
If you sleep on your back, congratulations! This is an excellent position to sleep in for many aspects of your health. Although few of us choose to sleep on our backs, it is worth considering if you are often waking up in the mornings feeling sore and uncomfortable. Back sleeping allows good airflow, and unrestricted circulation to all parts of your body.
Furthermore, it encourages your spine into a naturally healthy alignment and reduces pressure on your joints. Interestingly, some people even claim that this position reduces wrinkles, as your face isn't scrunched up against a pillow all night!
However, if you are a snorer or suffer from sleep apnea, this position is not the best one for you. As your head is positioned above your chest when you sleep on your back, which can make your symptoms worse.
Top Tips For Back Sleepers:
So you are already a back sleeper or are considering making the switch. Perhaps you're wondering whether you can do anything to make this position even better. Here are our recommendations for those who prefer back sleeping.
1. Think carefully about your mattress firmness. If you sleep on your back, a medium/firm to firm mattress is likely to suit you best, as it provides excellent support to your joints and encourages good alignment.
2. Consider a pocket sprung mattress. Because they are constructed with lots of individual springs, pocket sprung mattresses will spread your weight evenly and reduce any strain on your pressure points.
3. Sleep with one thick pillow. If you place it directly under your head, it will give your neck the ideal amount of support, reducing any pain or stiffness in that area.
Front Sleeping- The Worst Position
If you sleep on your front, we really recommend that you consider switching to a different position. Although sleeping on your front can feel comfy and snuggly, there are several major drawbacks to this position.
Firstly, your neck and spine are forced into an awkward position, which can lead to aches and pains in the morning, and exacerbate any existing joint problems. Secondly, this position does not allow for the best possible airflow during the night. Finally, your organs are constricted, reducing blood flow.
Top Tips For Front Sleepers:
As we explained above, we strongly suggest that you try not to sleep on your stomach. However, if you really can't get to sleep any other way, there are some tips you can follow to improve this position. Here are our recommendations.
1. Instead of placing your pillow under your head as usual, try propping it beneath your hips instead. This will help you to achieve a more natural spinal alignment, which should go some way to reducing those niggling aches and pains in the morning.
2. Select a firm mattress. As this position is not very supportive, a firm mattress will help to give your spine and joints a much-needed helping hand.
3. Opt for pocket sprung. Like back sleepers, a pocket sprung mattress could be the perfect choice for you. The individual springs will spread your weight across your mattress, reducing pressure on your pressure points and supporting your neck and back.
I Snore! Which Position Should I Sleep In?
If you snore, it's likely that you (and your partner) would be glad to find a sleeping position that eases it. Therefore, we suggest that sleeping on your side is the best position for you. This allows the best possible airflow to help with your snoring. Front sleeping is strongly discouraged, as maximum airflow is not possible in this position.
In addition, sleeping on your back is likely to make your snoring worse, as your head is propped up higher than your chest. Finally, if your snoring is caused by sleep apnea, it is even more important that you try to sleep on your side. Consult your doctor if you have any concerns about your sleeping position and sleep apnea.
What's The Best Position For People With Joint Problems?
If you suffer from a painful joint condition like arthritis, you'll be pleased to know that sleeping in the right position can help. For people with painful joints, we recommend sleeping on your back. This position will encourage your neck and spine into the ideal alignment, reducing soreness in the morning. Also, back sleeping reduces pressure on your joints, keeping those achey pressure points free from unnecessary strain.
In conclusion
Now that you've read our handy guide, you'll be aware that sleeping on your front is less than ideal. For many of us, sleeping on our backs may actually be the optimum position for a good night's sleep and reduced pain and soreness in the morning.
However, bear in mind that sleeping positions are highly individual, and you should make your decision based on all the factors mentioned above. Hopefully, you are now able to select a sleeping position that will help you reap maximum benefit from your nightly slumber. Sweet dreams!
Encouraging Employees to Reduce Carbon Footprint
Business operations, from production to transportation, all contribute to a company's environmental impact. Unfortunately, the workplace accounts for a considerable portion of greenhouse gas emissions. The carbon footprint of offices and sites is a major source of greenhouse gases.
As businesses reopen and people resume their daily commutes, now is an excellent opportunity to consider how your company can minimize its carbon footprint. This will not just have a positive impact on the environment but can also lower operational costs and benefit your business.
Fighting climate change through a more carbon-neutral office is attainable with the combined effort and action of your managers and employees. Minimize your carbon footprint at work and encourage your employees to do the same by following these simple measures.
Use energy-saving office equipment
The use of office equipment is a large and growing source of energy consumption. You can help reduce your carbon footprint and other greenhouse gases by utilizing energy-efficient office equipment, appliances, and light fixtures that emit fewer harmful gases into the environment.
Use laptops instead of desktop computers because they consume up to 80% less energy. Choose all-in-one printers, copiers, and scanners that use only half the energy that the individual machines would collectively.
Take advantage of your device's energy-saving settings, which allow you to adjust the display options, screen brightness, and sleep mode timing to save even more energy and extend battery life. Unless they are required to be left on, always switch off computers and monitors at the end of the day.
Using energy-saving light bulbs is another option to minimize your office's energy use. LED and fluorescent light bulbs consume less energy than incandescent light bulbs.
Promote a paperless culture
The manufacturing of paper products emits greenhouse gases, which contribute to deforestation and global warming. Recycling can help mitigate some of the adverse effects on the environment, but only to a certain extent. The vast majority of paper eventually ends up in a landfill. By reducing your reliance on paper, your business may contribute to the environment's health.
Moreover, ink, toners, and ink cartridges contain potentially dangerous compounds that, when incorrectly disposed of, pollute water and soil, contributing to the spread of ecological devastation. It also takes more than three quarts of oil, a nonrenewable energy source, to produce a laser printer and inkjet cartridges.
If you must print, make sure you do it on both sides. Doing so will slash your annual paper consumption by half, as well as the harmful gases produced in the process.
Encourage employees to use note-taking apps to take digital notes. Adopt electronic signatures—make it simple to collect digital signatures on contracts and legal documents instead of printing, signing, faxing, and storing them physically. Use electronic communications such as Google Docs, Microsoft Teams, Slack, and Trello for collaboration, project management, and business notifications.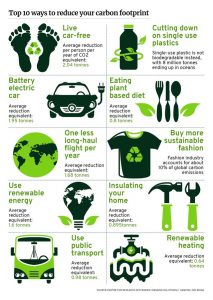 Participate in carbon offsetting
Join the organizations committing to net-zero by 2050 and identify strategies to minimize your company's carbon emissions year after year. It's challenging to reduce your carbon footprint to zero, but there are techniques to offset, or at least try to counteract, any greenhouse gases you do produce.
Various marketplaces provide a wide range of corporate offset options. Your organization can consider financing renewable energy programs and projects that help people in developing countries or tree-planting projects that benefit the environment.
When considering different types of carbon offsets, keep in mind that not all marketplaces and offsets are created equal.
Eat mindfully and reduce office kitchen waste
Food waste and other waste generated in office kitchens contribute significantly to carbon emissions. Wastage also involves squandering all the energy and resources expended to grow, produce, package, and transport food. Furthermore, rotting food that's been thrown out releases methane, another greenhouse gas.
Buy and prepare food conservatively and consciously. Encourage employees to bring a packed lunch to work every day, reduce food waste by eating leftovers from dinner, or buy food with fair trade labels that ensure the environment and workers' rights are protected.
Consider setting up a composting bin, supplying reusable dishes and utensils, buying recycled and compostable napkins and other disposables, and replacing water bottles with a tap water filter.
Take public transportation or carpool
Private vehicles are one of the most significant sources of carbon emissions. If everyone in your workplace drives their own car to work, your company's carbon footprint will increase. Reduce your organization's carbon footprint by encouraging your employees to take public transportation or carpool with colleagues.
Taking public transportation instead of driving will not only save your employees thousands of dollars annually but also brings considerable environmental benefits. Switching to public transit for a 20-mile round trip commute can reduce your carbon footprint by 4,800 pounds each year.
You can also reduce energy use, greenhouse gas emissions, and traffic congestion by carpooling. Employees that carpool may also benefit from less stressful commutes, shared travel costs, and preferential parking at work.
Some (final) thoughts
Sustainable business practices can yield substantial rewards for the environment and your organization. By following the steps outlined above, your business can minimize its carbon footprint, save money and resources, and attract environmentally conscious customers and employees.