Death toll rises to 170 South Sudan tribal fighting
The death toll from inter-communal fighting between two clans in South Sudan's Great Lakes region has reached 170, an official said, up from 45.
"Right now, from both sides, we have 170 plus people who lost their lives.
"Three hundred forty two houses have been burnt and almost 1,800 people displaced," Dharuai Teny, a member of parliament from the region, said.
According to unconfirmed reports 80 people were killed in fresh clashes on Friday involving the rival Dinka clans of Rup and Pakam.
The fight occurred in Chueicok area located in the western part of Rumbek.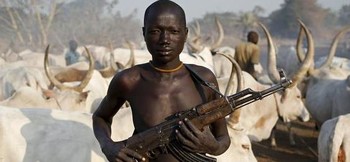 Eyewitnesses said the revenge attack was carried out by the Pakam against Rup section, adding that both sides have lost 89 people and 148 wounded.
Also, local officials confirmed the resumption of the fighting on Friday morning between the two Dinka clans in Chueicok.
Western Lakes Minister of Information Shadrack Machok said the authorities have tried in vain to end through dialogue this inter-communal dispute over land ownership.
In 2014, the Rup were chased out of Malek County by the Pakam.
Now they carry out these revenge attacks since Wednesday attempting to retake the disputed pastures land between the two pastoralist groups.
Machok said the two clans refuse to cooperate with the local authorities adding "some of them insulted us saying let governor Matur Chut come to stop this fight"
The escalation of the fighting coupled with the failure of the local authorities to control the situation triggered a call by two Members of Parliament to President Salva Kiir to deploy the national army after declaring the state of emergency in western Lakes State
"As people representatives, we will be left with nobody to represent in this Country unless your Excellency quickly and decisively act," wrote lawmakers Akol Kordit and Daniel Matuet in a letter to President Kiir seen by Sudan Tribune on Friday.
The two lawmakers requested the president to declare the State of emergency in Western Lakes and Gok States and to immediately deploy an army division to conduct a disarmament operation.
Further, they proposed him to organise an all stakeholders peace conference in Rumbek and that the justice settles all pending court cases related to killings in Western Lakes State.
Nigeria Football Federation boss Amaju Pinnick under fresh corruption probe
Several properties belonging to top officials of the Nigeria Football Federation (NFF), including its president Amaju Pinnick, have been seized in a fresh corruption probe.
The latest investigation and seizures are being carried out by the country's Independent Corrupt Practices and Other Related Offences Commission's (ICPC).
The ICPC has published a newspaper advertisement about the properties seized – half of which belong to Pinnick.
According to the statement published in the Nigerian papers one of Pinnick's properties is in London.
It comes amidst wide-ranging claims over how money meant for football development allegedly disappeared.
"We can't go into further details beyond the fact that many officials of the NFF are under investigation," ICPC spokesperson, Rasheedat Okoduwa said.
"It's basically because what they have is in excess of what they have earned."
The ICPC has also taken control of properties belonging to the NFF second vice-president Shehu Dikko and the general secretary Muhamed Sanusi among others.
Source: BBC
Rwanda ban Burundi,s music star ahead of annual festival
Burundian musician Jean Pierre Nimbona, popularly known as Kidum, has told the BBC he is confused by Rwanda's decision to ban him from playing at the upcoming Kigali Jazz Fusion festival.
Kidum is one of Burundi's biggest music stars and has performed in Rwanda for the past 16 years.
But a police official phoned the musician's manager to warn that he would only be allowed to make private visits to Rwanda.
"[My manager was told] Kidum is not supposed to perform, tell him to leave. If he comes for private visits fine, but no performances," the musician told BBC's Focus on Africa radio programme.
The mayor of Rwanda's capital said that in this instance permission had not been sought from the authorities for him to perform at the festival in Kigali.
Kidum was a leading peace activist during Burundi's civil war between 1993 and 2003 and used his songs to call for reconciliation.
The 44-year-old musician said he had never had problems with Rwandan authorities until recently when three of his shows were cancelled at the last minute – including one in December 2018.
That month Burundi had banned Meddy, a musician who is half-Burundian, half-Rwandan, from performing in the main city of Bujumbura.
Kidum said he was unsure if the diplomatic tensions between Burundi and Rwanda had influenced his ban.
"I don't know, I don't have any evidence about that. And if there was politics, I'm not a player in politics, I'm just a freelance musician based in Nairobi," he said.
He said he would not challenge the ban: "There's nothing I can do, I just wait until maybe the decision is changed some day.
"It's similar to a family house and you are denied entry… so you just have to wait maybe until the head of the family decides otherwise."