More than 30 killed as flooding strikes Durban, South Africa
Heavy rainfall caused deadly flooding and turned roadways into raging rivers in parts of eastern South Africa Monday night into Tuesday.
Durban was one of the hardest-hit areas with more than 150 mm (6 inches) falling on the city within a 12-hour period. Normal rainfall for the entire month of April is only around 90 mm (3.5 inches).
The Department of Cooperative Governance and Traditional Affairs (Cogta) stated on Tuesday that at least 32 people had been killed due to flooding and mudslides, according to Independent Online.
Satellite image showing the storm system that brought deadly flooding to Durban, South Africa on Tuesday, April 23.
The number of deaths may continue to rise as rescue crews work to dig through debris from mudslides and floodwaters continue to surge through the area.
The flooding resulted in damaged homes, collapsed walls and mudslides across the Durban area.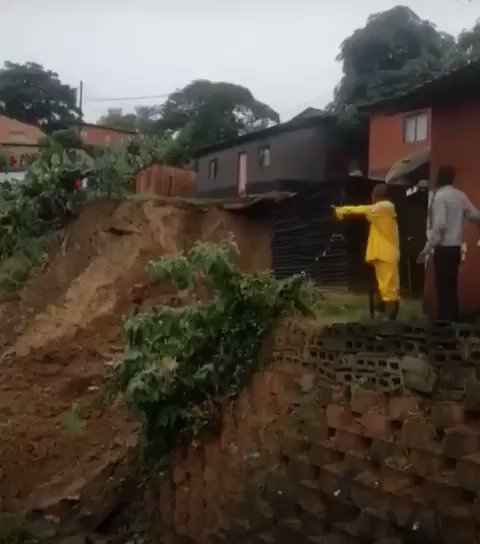 The saddest thing I've seen in a while #DurbanFloods #Durban911
73 people are talking about this
Twitter Ads info and privacy
More than 2,000 emergency calls have been placed since Monday night and numerous power outages have been reported.
The combination of flooding and rough seas has also caused extensive beach damage.
While some additional light rainfall is possible into Tuesday night, flooding downpours are no longer expected for Durban.
A local shower or thunderstorm is possible on Wednesday and Thursday; however, much of the time is expected to be dry both days.
Further dry weather is expected from Friday into Saturday with plenty of sunshine each day.
There will be a renewed chance for rainfall across the area on Sunday.
Ghana draws African-American tourists with 'Year of Return
US preacher Roxanne Caleb blinked away the tears as she emerged from a pitch-dark dungeon where African slaves were once held before being shipped across the Atlantic to America.
"I wasn't prepared for this. I'm heartbroken," she told AFP as she toured the Cape Coast slave fort on Ghana's ocean shore.
"My mind still can't wrap around the fact that a human being can treat another worse than a rat."
Caleb is among the African-American visitors flocking to Ghana as it marks the "Year of Return" to remember the 400th anniversary of the first slave ship landing in Virginia.
The West African nation is banking on the commemorations to give a major boost to the number of tourist arrivals as it encourages the descendants of slaves to "come home".
Cape Coast Castle, 150 kilometres (90 miles) from the capital Accra, is a major magnet for those visiting
The white-washed fort lined with cannons was one of dozens of prisons studding the Atlantic coast where slaves were held before their journey to the New World.
A string of prominent African-Americans have headed to the site this year to mark the anniversary since the first slave landing in 1619.
Among them was a delegation of Congressional Black Caucus led by House Speaker Nancy Pelosi that toured last month.
– 'Can't forget history' –
For those visiting it is an emotional rite of passage.
"This has been understanding my history and my roots where I came from," Caleb said.
"I am very thankful I came here as part of the Year of Return."
Sampson Nii Addy, a corrections officer with the Montgomery police department in Alabama, said he and his family had found the tour an "education".
"I think every black person needs to come around to learn history; how people were treated," the 52-year-old told AFP.
"We can't forget history but we can always learn something from it."
Ghana, one of the continent's most stable democracies, has long pitched itself as a destination for African-Americans to explore their heritage and even settle permanently.
In 2009 President Barack Obama visited with his family and paid homage at the Cape Coast Castle.
The "Year of Return" has added fresh impetus and the country is hoping it will increase visitor numbers from 350,000 in 2018 to 500,000 this year, including 45,000 African-Americans.
Kojo Keelson has spent nine years guiding tour groups around the Cape Coast Castle and says 2019 has seen a surge in interest as Ghana looks to rake in tourism revenue of $925 million (830 million euros).
"It's like a pilgrimage. This year we've a lot more African-Americans coming through than the previous year," he told AFP.
"I'm urging all of them to come home and experience and reconnect to the motherland."
– 'Love to come again' –
Akwasi Awua Ababio, the official coordinating "Year of Return" events, pointed to high hotel occupancy rates as he said "enthusiasm is very high and we've got huge numbers coming from the US and Caribbean".
He insisted that beyond the major economic boost, Ghana was also looking to use the new connections it is forging to convince the descendants of slaves to resettle for good and help the country develop.
"Human resource is always an asset and we need to see how we can welcome them home to utilise their expertise and networks," the director for diaspora affairs at the presidency said.
The African American Association of Ghana brings together those who have moved to West Africa and offers help to integrate them into their new surroundings.
President Gail Nikoi praised the "Year of Return" initiative by Ghanaian leader Nana Akufo-Addo and said the country was "setting the stage for future engagements and involvement of African-Americans and other Africans from the diaspora in the development of this country."
But she said the authorities could still be doing more to help attract arrivals and convince them to stay.
"Dialogue and engagement is the first step," she said.
While most of those visiting Cape Coast were not thinking about settling back permanently — they said the trip had opened their eyes to both their own history and what Ghana has to offer.
"It has broadened my horizons about how we came to be here and what our ancestors went through," said William Shaw, 57, from Montgomery.
"I would love to come again. There is a lot more to see here in Ghana… at least once in a year I'd advise African-Americans to come back to their native land and learn about their history."
Frontline protesters make case for violence in Hong Kong protests
Reuters – Pun sees himself as a peaceful, middle-class Hong Kong student. Yet since the beginning of June, he has been building barricades and throwing bricks at police, risking his own liberty to fight, as he sees it, for the city's freedoms.
In one of the world's safest cities, the idea of violence as a legitimate form of political expression – hand-in-hand with peaceful protest – is becoming increasingly mainstream in the evolving tactics of a decentralized pro-democracy movement that has disrupted Chinese-ruled Hong Kong for 11 weeks.
"I know violence cannot fight violence, but sometimes aggression is needed to attract the attention of the government and others," 22-year-old Pun said last week, speaking at the city's airport after overnight clashes with police.
"I have thrown rocks, I have acted as a shield with umbrellas for others, I have been helping to build barricades, to bring supplies, to take injured people to a safe zone. I have also been hit by police with batons. We're all slowly getting used to this. We have to."
Protests in the former British colony erupted in early June over a now-suspended bill that would have allowed criminal suspects to be extradited to mainland China for trial.
But the unrest has been fueled by broader worries about what many say has been an erosion of freedoms guaranteed under the "one country, two systems" formula put in place when Hong Kong returned to China in 1997.
Unlike the Umbrella movement in 2014, when a largely peaceful 79-day occupation of Hong Kong's financial area failed to achieve its aim of universal suffrage, a more confrontational stance from some of the protesters was evident from the start.
They came equipped with helmets, masks and goggles, and well-studied plans for supplying the protest frontlines with gear and mitigating the effects of tear gas.
And it seemed to yield some results. Within days, Hong Kong leader Carrie Lam, while not formally withdrawing the extradition bill, as protesters demanded, suspended the measure and declared it "dead", a word she repeated on Tuesday.
Emboldened, the protest movement has since morphed into a broader, increasingly creative and sophisticated push for greater democracy, posing the biggest political challenge yet for Chinese President Xi Jinping.
Protesters escalated their aggressiveness, playing cat-and-mouse with the police all over the territory. While a giant march on Sunday was peaceful, activists have not ruled out further violence.
"We learned a lot from our mistakes in the Umbrella revolution," said Pun, wearing a new set of clothes after ditching in an airport washroom the all-black protest attire he had worn the night before.
"Definitely more people accept there will be some violence now. They may not like it, they may not want to be a part of it, but they don't condemn us. We are joined together as a force."
@ Anttention Fresh,                
We work hard to ensure that any news brought to you is legitimate and valuable so we leave out the noise. This material, and other digital content on this website, may be reproduced, published, broadcast, rewritten or redistributed in whole or in part BUT give us credit as your source. 
DOWNLOAD ANTTENTION FRESH NEWS ON THE GO APP

JOIN AN ONLINE LEARNING COMMUNITY CLICK IMAGE