More than 30 killed as flooding strikes Durban, South Africa
Heavy rainfall caused deadly flooding and turned roadways into raging rivers in parts of eastern South Africa Monday night into Tuesday.
Durban was one of the hardest-hit areas with more than 150 mm (6 inches) falling on the city within a 12-hour period. Normal rainfall for the entire month of April is only around 90 mm (3.5 inches).
The Department of Cooperative Governance and Traditional Affairs (Cogta) stated on Tuesday that at least 32 people had been killed due to flooding and mudslides, according to Independent Online.
Satellite image showing the storm system that brought deadly flooding to Durban, South Africa on Tuesday, April 23.
The number of deaths may continue to rise as rescue crews work to dig through debris from mudslides and floodwaters continue to surge through the area.
The flooding resulted in damaged homes, collapsed walls and mudslides across the Durban area.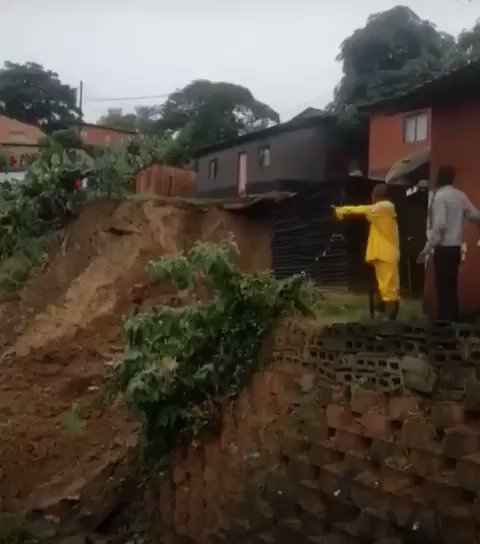 The saddest thing I've seen in a while #DurbanFloods #Durban911
73 people are talking about this
Twitter Ads info and privacy
More than 2,000 emergency calls have been placed since Monday night and numerous power outages have been reported.
The combination of flooding and rough seas has also caused extensive beach damage.
While some additional light rainfall is possible into Tuesday night, flooding downpours are no longer expected for Durban.
A local shower or thunderstorm is possible on Wednesday and Thursday; however, much of the time is expected to be dry both days.
Further dry weather is expected from Friday into Saturday with plenty of sunshine each day.
There will be a renewed chance for rainfall across the area on Sunday.
Tunisia: former President Ben Ali confirmed dead
All time, former Tunisia's President Zine el-Abidine Ben Ali has died in exile aged 83, his family says.
Ben Ali led the country for 30years and was credited with delivering stability and some economic prosperity.
But he received widespread criticism for suppressing political freedoms and for widespread corruption.
In 2011, he was forced from office following mass street protests. This triggered a wave of similar uprisings across the Arab world.
At least half a dozen countries in the region saw their president fall or conflicts break out in the wake of the former Tunisian leader's downfall, in what became known as the Arab Spring.
Gantz refuse's Netanyahu offer on unity government
After a vote tally showing Prime Minister Benjamin Netanyahu tied with his main rival.
Israel's weakened Prime Minister Benjamin Netanyahu saw his offer on Thursday for a coalition with his strongest political rival,  Gantz, swiftly rebuffed after failing to secure a governing majority in a tight election.
Netanyahu's surprise move was an abrupt change of strategy for the right-wing leader. Its rejection could spell weeks of wrangling after Tuesday's election, which followed an inconclusive national ballot in April.
Gantz's centrist Blue and White party emerged from the second round of voting this year slightly ahead of Netanyahu's Likud, but also short of enough supporters in the 120-member parliament for a ruling bloc.
Netanyahu, Israel's longest-serving leader, said in a video clip in which he urged Gantz, the country's former military chief, to meet him "as soon as today", that he had pledged during the election campaign to form a right-wing, Likud-led government.