9 Top Foods To Stop Premature Ejaculation And Foods To Avoid
Are you not able to hold the erection earlier than you and your partner would like? Beware! You likely suffer from premature ejaculation. Sex, therefore, may not be fulfilling for your partner and you. Although it is not corporally threatening, couples felt disappointed and humiliated.
Besides, in men, it can also contribute to low self-esteem. You may experience erectile dysfunction if you feel nervous, depressed, recovering from an injury, or have a hormonal imbalance. 1 out of 3 men may encounter this condition at some stage in their lives, according to studies.
You should see your andrologist and receive adequate care. You will improve low libido by avoiding feeling shy or ashamed and reaching out for professional sexologist support as soon as possible.
There can be many causes of premature Ejaculations. It can be biological, psychological, or even because of an injury in your penile. If you have just started seeing the symptoms of premature ejaculation and you are at an early stage of sexual disease, then there are some natural ways to cure it.
Following the proper food guide and indulging in a few sets of exercises has helped many to cure certain dysfunction. Premature Ejaculation can also be cured if you follow a healthy diet and include aphrodisiac food in your daily routine.
You may start with a super premature ejaculation foods i.e. Garlic; it is filled with aphrodisiac properties and will assist you in expanding the length of your intercourse without premature ejaculation. Thanks to this anti-bacterial and anti-inflammatory plant that will help improve your blood circulation. Try to eat one clove of garlic daily, but don't go overboard.
9 Premature Ejaculation Foods You Must Eat
Taking asparagus, carrots, and food rich in vitamin A and C in your daily diet can help curb premature ejaculation. Below is the list of food items that have helped many to cure early climax problems. These premature ejaculation food items maintain the blood flow and hormonal level, which helps you to take control of the excitement and ejaculation.
1. Have asparagus in your diet
food for Premature ejaculation , especially asparagus, is jam-packed with high vitamin A, which is essential for testosterone control. Vitamin C is also abundant in asparagus, which can allegedly increase your sperm count and raise your blood pressure. You should boil the plant's roots in milk and drink it. Doing so will help you in a better way to regulate your penile muscles.
2. Load up on carrots
Carrots are filled with antioxidants and beta-carotene, which, during intercourse, can increase blood flow to the genitals. Thus, when you eat boiled carrots with honey and egg, you could curb premature ejaculation. Do not forget to give this remedy a try!
You can opt for Oatmeal.
When you add Oatmeal to your diet, you will increase the testosterone levels in the bloodstream. No other premature ejaculation food is better than Oatmeal at calming your penis muscles and strengthening you and energizing you.
3. You can opt for watermelon.
A phytonutrient called citrulline is borne by watermelons, which can help improve your libido. You may eat slices of watermelon or add this premature ejaculation food to your fruit salad, and you can see beneficial effects.
4. You can combine ginger and honey.
We consider ginger and honey to be aphrodisiacs, and they can increase libido and boost your performance when they are combined. You can grate the ginger and apply it to something homely. Have this mixture, then, and you will soon be able to see the difference.
5. Go for green onions.
In nature, green onion seeds are aphrodisiac and can assist in reducing premature ejaculation. The seeds will increase your sexual capacity, power, and stamina. So, with water, mix some crushed green onion seeds and drink the magical solution.
6. Go Bananas!
Bananas are potassium-rich. This refers to the management of blood flow. They also produce an enzyme called bromelain, which helps to increase libido and minimize premature ejaculation.
Not only does eating bananas regularly increase your endurance, but it also raises your levels of stamina and low testosterone. Boosting the sperm count is also known.
7. Opt for Avocado
We also know the avocado as the miracle fruit and is very helpful for your wellbeing. It is rich in vitamins that assist in blood flow regulation.
Avocado also comprises several healthy fats that give you an energy boost, as well as folic acid. It also helps with metabolic processes.
This PE food also helps to cure retrograde ejaculation problems, Delayed ejaculation problems, and painful ejaculation problems.
8. Load Up on Walnuts
Walnuts are excellent and nutritious. They are high in fat, nutrition, vitamins, and minerals that are good for you. They have high antioxidant, anti-inflammatory, and omega-3 properties. To boost your general wellbeing, this profile helps. They help alleviate male infertility, erectile dysfunction, and men's penis problems.
As a snack between your meals, eating walnuts frequently can also help increase sperm and mobility quality.
9. Eat Dark Chocolate
American author E. Lockhart referred to dark chocolate as "white chocolate." Sweet, intense. Not deep though. Okay, but not to get serious about prom dates or flings. Milk chocolates are like guys you might date for a couple of months, and dark chocolates are for love.
The Dark Chocolates are also for passion. They are filled with micronutrients that make them a potent aphrodisiac. Munching on them will make you feel good about yourself and feel sensual. It releases endorphins that lower the levels of stress and anxiety.
It doesn't stop there alone. Dark chocolate can positively influence you're well being. This is one of the most potent sources of antioxidants.
Food to Avoid to Cure Premature Ejaculation
Premature Ejaculation occurs when you cannot control the excitement, and you come quickly. We can assume it is a very high sex drive and high level of testosterone or low libido and low testosterone levels, responsible for it. In both cases what we require is an optimal level of testosterone. To maintain erection we should stop the following food items
Avoid sugar and starchy food
Avoid smoking and drinking
Avoid Junk Food
Avoid stress and depression.
Pelvic bones with no strength and control can also contribute to the quick release of cum. In such cases, we suggest avoiding huge intakes of food that increase testosterone levels and sexual drive.
Take Away
Premature Ejaculation Treatment At IASH
Treatment for premature ejaculation usually depends upon the man's relationship status and the cause of the condition (whether it is lifelong or acquired). There are several treatments available for premature ejaculation including SEX THERAPY, BEHAVIORAL TECHNIQUES, PELVIC FLOOR REHABILITATION PROGRAM( PELVIC GYM), TOPICAL THERAPY (use of lignocaine based sprays over the penis), ORAL MEDICINES, and SURGERIES.
Grief and Loss, How to Cope with Them
Losing anything of value is never easy. Coping with grief and loss must be done your right way. Sadly, there is no right or wrong way to grieve. Regardless of the type of loss you are faced with, the only thing required is that you understand the stages of grief and where you currently are on them. This understanding will provide you with healthier coping options.
WHAT DOES GRIEF MEAN?
When you lose something of great importance, your natural emotional and painful response to it is grief.  Sometimes it comes with various reactions such as guilt, disbelief, deep sadness, health disruption, insomnia, inability to eat amongst so many things. Everything i mentioned here is normal when you are faced with grief. Your grief could come as a result of losing your health, a job, a relationship, a loved one, a miscarriage, a career dream, a friendship, a safety net after infidelity or even moving homes amongst many other reasons.
I see many couples and individuals sit across me and narrate their experiences with grief. Despite the many responses to grief, one thing that you cannot take away is that the intensity of your grief is always directly proportional to the significance of your loss.
Due to the personal nature of loss, i do not expect you to grieve like any other person. This means that there is no shame with how you decide to grieve. The only thing i want you to understand is that there are stages to grieving and you must understand what stage you are in to enable yourself transition from that stage, get a new perspective on the matter and then begin to move on from the heaviness you feel.
The Sad Honest Truth About Grief
Be it the loss of a parent, child, partner, spouse, relative, friend or colleague at work, It's all pain and you may not ever get over this loss. However, time is what truly does the magic for you because your sorrow eases, you face the loss and then gradually begin to move on from that point.
Now that you understand how unique grieving is to every individual, you must also know that what separates everyone in grief are their beliefs, their faith, previous experiences with grieving, their coping styles and lastly their personality. Do not expect to recover immediately with actual loss of a loved one, or try to heal after replacing the job, house or opportunity you lost with a new one. It takes time. While some start to feel better in weeks and months, the measurement for others grieving is usually in years.
THE PROPER WAY TO GRIEVE
You must understand somethings about grief as this gives you an edge;
A) IF you feel pain, do not pretend it does not exists simply because you want to appear strong. This act will keep you trapped in one stage of grief longer than expected. Weakness or Strength are not the consideration at this point. Pain is.
B) Do not try to grieve the way you have seen a sibling, spouse, parent or someone else go about it. That is their own way. Trying to emulate them in this regard may not work for you and could end up doing more damage than good.
C) It's not time to be alone with yourself and misery. Get the support of your loved ones and others who truly care about your well-being. Staying alone is not the solution to numbing the pain.
D) The feeling of grief will make you laugh, cry, smile, talk to yourself and so on. In extreme cases, clients have mentioned that grief made them romanticize with thoughts around death and suicide. Especially for individuals who lost a spouse.
E) Your emotions are not stable when you are grieving. This is what grief does to you. Forcing yourself to stabilize your emotions is not the key. Recognizing the emotions you feel is the real solution.
Available on Podcast:
Learning about the 5 stages of grief
Denial: This is the phase where an individual hasn't yet come to terms with what has happened. The associated shock or emotional overwhelm dissociates the victim in such a way that the circumstances look like an unfolding movie plot with them as spectators.
Anger: At this point, a realization dawns on the individual. This comes with an intense anger that has the individual lashing out angrily and questioning a lot of things.
Bargaining: The need to have this happen to distance oneself from the flurry of negative emotions suddenly triggers an emotion that wants to pass on the grief to some other person, place etc. With this comes a negotiation where depending on the spiritual beliefs of the individual sees them bargaining , going on a spiritual deep dive all in a bid to reverse the situation.
Depression: This is a phase characterized by intense sadness that comes once you start to understand the situation isn't particularly going anywhere or changing.
Acceptance: After healthily negotiating the first phases of grief, the individual now understands that the situation truly occurred. At this point, you come to terms with the pain and truly start to own the emotions you are feeling. It is from this stage that healing starts.
Despite the fact that I have listed these phases, it would be important to note that not everyone navigates grief by following these exact steps. Kübler-Ross, a Swiss-American psychiatrist who first intimated us with these stages of grief never intended for these stages to be a rigid framework applicable to anyone mourning. I have seen clients who went straight to acceptance from the denial stage and just when everybody else affected was struggling with denial, these individuals were already available to assist their spouse, partner, siblings or friends with their own grief.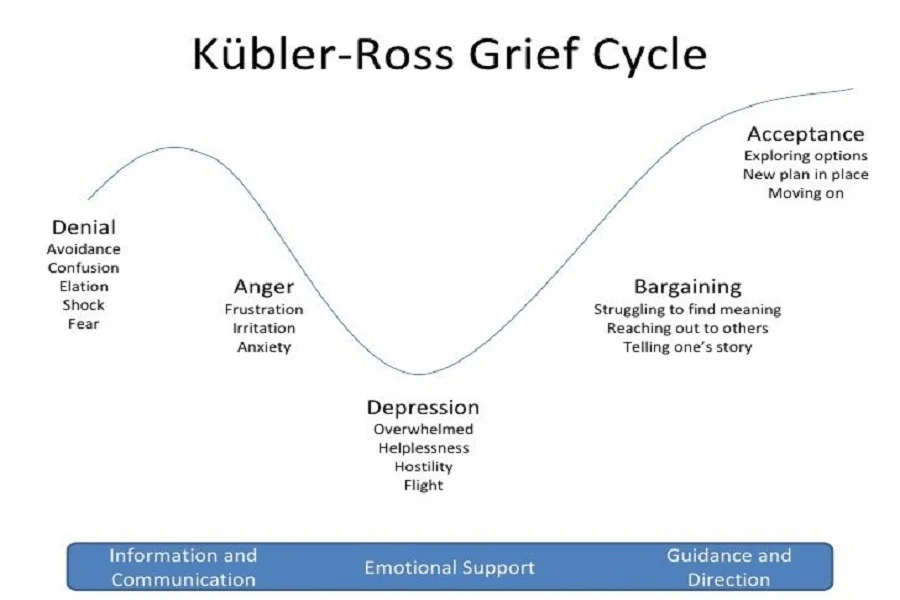 Dear therapist
Grieving and loss is a bespoke experience for everyone. The circumstances may be similar but the effect on the mourner is unique. Hence for younger therapists, there is a need to make clients identify what stage they currently find themselves in. As important as this is, it is better to allow them speak first, tell a story, relive their experiences with the deceased and as you listen with your ears and observe with your entire being, you are bound to start discovering for yourself, where exactly they are with the grieving process (even if it doesn't quite tally with any of the stages.
I truly hope this piece throws a lot more clarity on your current struggles with navigating loss. We are here to support you through your loss and believe that your complete healing is not too far away.

Temple Obike is a licensed marriage and family therapist, speaker, author and psychotherapist who has counseled over one thousand, two hundred clients comprising of couples, individuals, abuse victims (substance, physical, emotional and sexual) and grief-stricken clients. With over 100,000 in-counseling minutes accrued in practice.

He runs his private psychotherapy & counseling practice out of Lagos, Nigeria and has counseling centers in Abuja and Port-Harcourt. His practice also provides options for both online and on-site services. His private practice has positively empowered lives through his online counseling, podcasts, free advisory services and free online materials.  

Readership of his articles also receive a growing number of visitors alongside subscriptions to his email newsletter at templescounsel.com. His passion for empowering and uncovering the secrets to lifelong marriages and personal development led to his new book titled "Soul Bodega" available on amazon and across other online and traditional stores.Never give up on yourself! You are a journey happening through various destinations. Follow us on Facebook, Instagram, LinkedIn, and visit our website for more info!

https://templescounsel.com/how-to-find-your-real-purpose-in-life-stay-authentic/