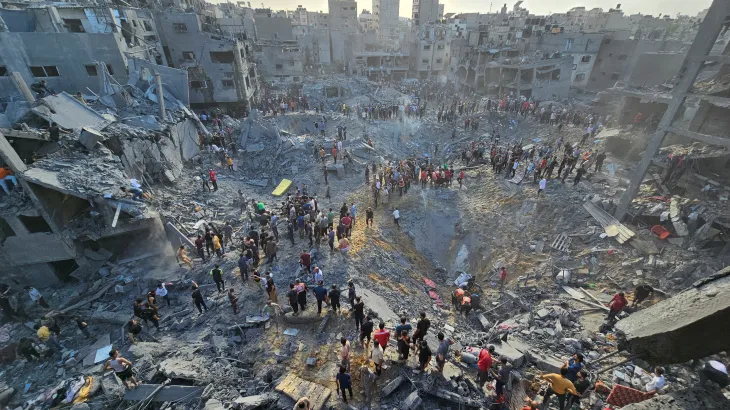 Israel will control Gaza security after war ends, Netanyahu says. Here's what else to know.
Israeli Prime Minister Benjamin Netanyahu has hinted at future plans for Gaza, saying that Israel is aiming to control the security situation in the enclave when the current conflict ends.
Elsewhere, a total 105 Palestinians have been evacuated to Egypt with serious injuries caused by Israeli airstrikes.
Here's what else to know:
The future of Gaza: Israel will have the "overall security responsibility" in Gaza for an "indefinite period" after the war ends, Netanyahu claimed in an interview with ABC News. Gaza should be governed by "those who don't want to continue the way of Hamas," the prime minister said, adding, "I think Israel will, for an indefinite period, will have the overall security responsibility because we've seen what happens when we don't have it."
Strikes near hospital: The Israel Defense Forces (IDF) said it had struck a building adjacent to the Al-Quds hospital in Gaza City, after locating Hamas "terrorists" in the building. In an earlier statement, the Palestine Red Crescent Society (PRCS) had accused the Israeli military of conducting airstrikes near the hospital on Monday night. "(Israel) targeted the vicinity of Al-Quds hospital in the Gaza Strip with two missiles, approximately 50 meters away from the hospital gate," the group said.
Further medical evacuations: Four wounded Palestinians have been evacuated from Gaza to Egypt for treatment through the Rafah border crossing on Tuesday, an Egyptian border official told CNN. According to a CNN tally, this brings the total number of wounded Palestinians with severe injuries sustained from Israeli airstrikes in Gaza who have been transferred to Egypt to 105.
Antisemitic acts spike in France: French authorities have recorded about 1,100 antisemitic acts since the October 7 Hamas attacks on Israel, French Interior Minister Gerald Darmanin said Tuesday, more than three times the number reported earlier in October. Darmanin said France was witnessing "an explosion of antisemitic acts" and that the new figure represents "double of all antisemitic acts in all of 2022."
Slow trickle of aid arriving in Gaza: At least 569 aid trucks have entered Gaza since October 21, the United Nations humanitarian office (OCHA) said in its regular update Monday. Some 93 trucks primarily carrying food items, medicines, health supplies, bottled water and hygiene products crossed from Egypt into Gaza on Monday, OCHA said. Prior to the start of the hostilities an average of 500 truckloads entered Gaza every working day, it noted.
UN official visiting Middle East: The UN High Commissioner for Human Rights, Volker Türk, began a five-day visit to the Middle East on Tuesday "amid Israel's escalation in Gaza," his office said. "Human rights violations are at the root of this escalation and human rights play a central role in finding a way out of this vortex of pain," he added.
UK hostages still in Gaza: Three British citizens are believed to be still being held in Gaza, said UK Justice Secretary Alex Chalk on Tuesday, after they were taken hostage by Hamas during its attack on Israel on October 7.
Rising Gaza death toll: The death toll in Hamas-controlled Gaza has risen to 10,305 since October 7, with more than 70% being children, women, and the elderly, according to a report published by the Palestinian Ministry of Health in Ramallah on Tuesday. It's unclear how many combatants are included in the total. CNN cannot independently verify the numbers.