Other Types of Intimacy that can Improve Your Relationship Asides the Sexual Type
Years ago, i remember a question in social psychology class on intimacy. We were supposed to describe this phenomenon  and what it meant to us in just 3 words. 99.99% of the class came up with just 3 words. Sex, physical touch and kisses. Maybe we were a bunch of walking talking bottled-up hormones? No we were just like everyone else programmed by the powerful media.
Today i want us to talk about this topic of intimacy because social media has gone rife with all sorts of misguided opinions on intimacy. Actors, wannabes and even well-meaning therapists have given us perspectives on intimacy that is skewed. A mistake that is affecting the younger generations looking up to them. Try googling the word intimacy and switching to the image search option. The deluge of pictures showing heteroseual, gay and gender fluids in all shades of compromise will lend credence to my point of view.
What is intimacy? The Oxford dictionary defines it as the "inmost thoughts or feelings; proceeding from, concerning, or affecting one's inmost self: closely personal."
Intimacy has always been associated with marriage and dating but there are other forms of intimacy that are not getting as much attention as they ought to. An oversight that is eating up marriages and relationships on a regular. The word intimacy is a derivative of a Latin word intimus" which means innermost or inner core. Not too long ago, the word "intimate" was used to describe the inner qualities of a person before the media took over that job of re-defining things.
One of the amazing things about intimacy is that it provides the opportunity for bonding. This is a healthy component of most relationships that are working around us. However, the secret here is that the more you can include other types of intimacy in your relationship, the healthier it will become.
Intimacy Types in Relationships
Let me quench your thirst by beginning with the popular types.
Physical Intimacy
That touch, body contact, PDA all point towards physical intimacy. We also reference this intimacy type whenever we talk about sex. However good people, you mustn't always have sex once physical intimacy is initiated. You could heighten expectation by simply kissing, cuddling or even holding hands.
These gestures may not seem satisfying to the one who is so used to sex as the highest most potent form of intimacy but believe me when i tell you this. If you do not invest in these sex may loose it's flavour and intensity over time".  Temple Obike
Emotional
When you share personal feelings with your spouse it points towards emotional intimacy. Emotional intimacy elicits understanding, care, concern, constant reaffirmation and empathy from your partner. This intimacy type is singlehandedly one of the most important aspects of any relationship destined to survive. You can nurture this aspect of your relationship by becoming a person who listens to your partner daily and is vulnerable enough with them to share as well. Bring our time and make them feel special during the day just so they know you think of them. You can also invest in this intimacy time by sharing your thoughts and being available for them when they do the same,
Intellectual
This is not about bickering on textbook topics. It really doesn't have to be that serious. This is simply that mind-building yet stimulating conversation that leaves you feeling smarter and thinking "Wow, it was one helluva great choice having (insert partners name) as my other half. This becomes even more interesting if you both have different career paths and take delight in teaching each other. A good place to really build this level of intimacy is with topical issues or via google search.
Investing in this intimacy type keeps your relationship interesting and sustains the excitement.
Experiential
Nothing keeps the excitement in a marriage or relationship going as the experiences both couples have together in the journey of life. Remember that 9 out of 10 times relationships are ignited due to an experience between two people. This makes me wonder why couples are now eager to forget the exact same things that began their relationships. Look for intimate experiences that can keep things nostalgic and exciting for both of you. I am not referring to making out on the balcony of your house facing 10 other homes thats risky sexual behavior , plain and simple.
Go to a park and sit down together, plan a trip to somewhere new with the kids or without them or visit your parents and go somewhere that both of you used to meet if you've been dating that long or simply recreate a scene from your past.  You get my drift.
Spiritual
I am quite the number one God-fan (household included) but whenever i mention spirituality, i am in no way referring to religion.
Religion is what happens on Sunday and Wednesday evening but Spirituality is what happens every other hour day or time when you aren't asleep. – Temple Obike
Share the deepest values that drive you as an individual with your partner and listen to them as they share the same with you. Talk about how these will be applied in raising your children , building your respective careers etc.  If you're itching to ask me what happens if your partner is not a spiritual person then i might need to mention that you may have failed one of the essentials to consider pre-marriage (visit this article) and if they stopped being spiritual after marriage maybe they were pretending to get you or are genuinely going through something. A pastor, imam or a good session could assist you with all of this.
Proven Ways to Build Intimacy in Your Relationship
You can never invest too much in your intimacy level. For any marriage or relationship that intends to go the long haul, it is important that you invest into this aspect of your relationship. I am going to provide practical ways through which couples could build their intimacy with real life situations.
A) An article like this is a great way to improve what you and your partner have. Share insightful articles and build on your intellectual intimacy.
B) Go to somewhere that neither both of you have ever visited before and soak in the experience at the same time, This will help build your experiential intimacy levels.
C) Sex may not be o your agenda at the moment but rather than an all-out refusal, cuddling with your partner or just holding hands is equally as intense. This builds your physical intimacy. Let's be honest, you may not be predisposed to having sex all the time and i am definitely not of the opinion that you must give your body anytime a partner requests for it because a partner who requests for sex without considering your state of mind, mood etc may just be guilty of marital rape (yep it's a thing).
D) The mobile phone is becoming an issue all by itself. With as many benefits and uses as it has, its destructive tendencies are a dime and a dozen. Put down your device and look for an activity that helps both of you bond. A movie, a game of monopoly (i love this one) or chess etc. The less time you spend on a device, the more your chances of bonding better. Even beyond building a relationship with the significant other, this improves the quality of general family time.
Well i believe that the best advice are usually he shortest. I hope this article would really assist you in making your decisions on how best to build up the intimacy levels in your relationship.
Written by Obike Temple.
Temple Obike is a licensed marriage and family therapist, speaker, author and psychotherapist who has counseled over one thousand, two hundred clients comprising of couples, individuals, abuse victims (substance, physical, emotional and sexual) and grief-stricken clients. With over 70,000 in-counseling minutes (1,000+ hours) accrued in practice. He runs his private psychotherapy & counseling practice out of Lagos, Nigeria and has counseling centers in Abuja and Port-Harcourt. His practice also provides options for both online and on-site services.
His private practice has positively empowered lives through his online counseling, podcasts, free advisory services and free online materials.  Readership of his articles also receive a growing number of visitors alongside subscriptions to his email newsletter at templeobike.com. His passion for empowering and uncovering the secrets to lifelong marriages and personal development led to his new book titled "Soul Bodega" available on amazon and across other online and traditional stores.
Never give up on yourself! You are a journey happening through various destinations.
Follow us on Facebook, Instagram, LinkedIn, and visit our website for more info!
'Trading is gambling, no doubt about it' – Does cryptocurrency dealing fuel addiction?
'Trading is gambling, no doubt about it' – Does cryptocurrency dealing fuel addiction? This is a question coming up and asked on therapy couches as a new trend is beginning to emerge.
Raised on the remote Shetland archipelago, he left school at 13 to become a trawlerman before moving into construction, eventually earning £85,000 a year digging tunnels for Crossrail.
Despite his self-made success, compulsive cryptocurrency trading, alcohol and drug use took over his life.
In the fog of multiple addictions, he lost the "addresses" of between five and 10 bitcoins, rendering his digital buried treasure – worth up to £300,000 today – impossible to retrieve.
Steven spotted the potential of bitcoin early and he had a talent for trading. But even if he had that money now, his addiction means it would soon be squandered.
"Trading is gambling, there's no doubt about it," he says.
"I studied and studied. I taught myself how to be a good trader and tried really hard to manage my accounts and stick to a set of rules.
"But my mind would twist and I'd go all in, like a poker player that thought he had the perfect hand. I was convinced I was going to be a bitcoin millionaire."
Now in recovery at the Castle Craig residential treatment clinic in Scotland, Steven fears that legions of young people are being lured into high-risk trading and potentially addiction, based on the same misguided quest for untold riches.
"A whole generation think that with a little mobile phone they can win, that they can … beat the market," he says.
"It scares the bejesus out of me."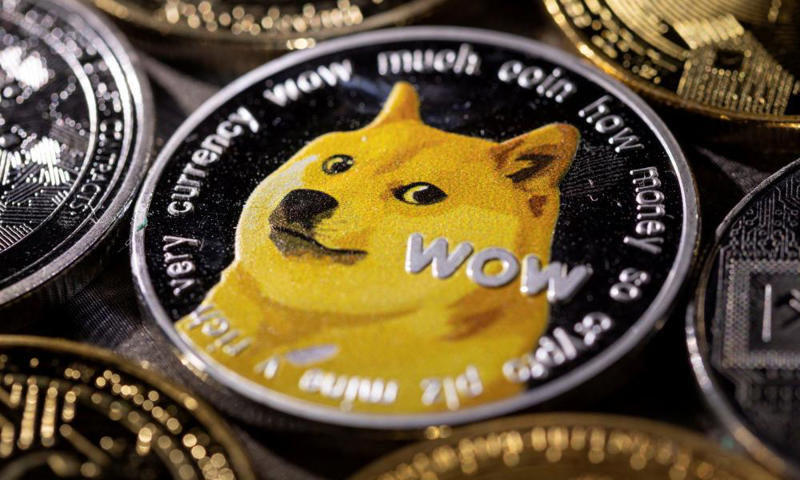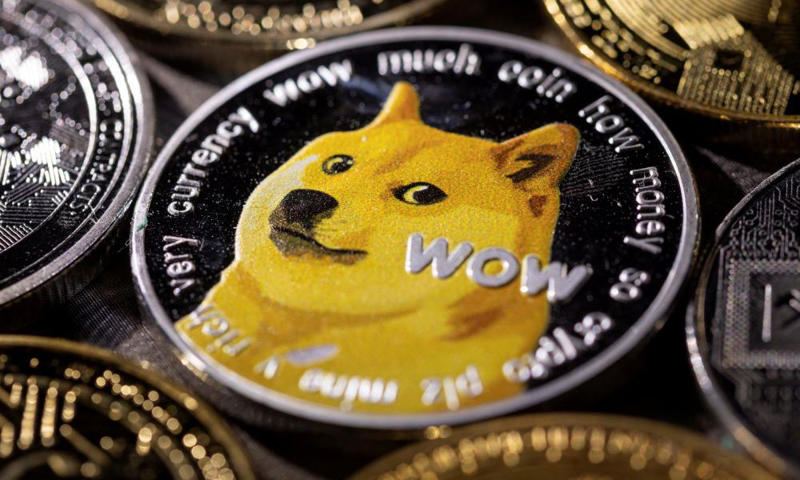 © Provided by The Guardian Representation of cryptocurrency dogecoin. Photograph: Dado Ruvić/Reuters
Steven's fears are founded partly on crypto's rapid emergence into the mainstream.
When he started investing in 2015, digital currencies meant nothing to most people.
Now, they are being touted as a more democratic alternative to a monopolistic and exploitative global financial system.
As the Guardian revealed on Friday today, crypto firms launched a record-breaking promotional push in London last year, targeting millions of commuters with 40,000 adverts on billboards, at tube stations, in carriages and across the side of double decker buses.
Advertisers included relatively obscure names such as Hex, Kraken and Puglife about whom consumers know little, if anything.
Meanwhile, football clubs and players, not to mention globally recognised celebrities, tout crypto investments on a daily basis via social media.
This week, reality TV star Kim Kardashian West and boxer Floyd Mayweather Jr were named in a lawsuit alleging that they helped promote crypto firm EthereumMax, as it made "false and misleading" statements that left investors nursing heavy losses.
An Instagram post about EthereumMax, to Kardashian's 250 million followers, may have been the most widely seen financial promotion of all time, according to the head of the UK's Financial Conduct Authority (FCA).
Yet despite their ascendancy – and warnings that governments could suffer "limitless" losses – cryptoassets remain unregulated in the UK, pending a Treasury review.
That means that the FCA, the UK's financial regulator, is all but powerless to influence how the industry behaves.
While some trading platforms that offer digital assets are regulated – because they also offer more traditional financial instruments – crypto coins and tokens are not.
Cryptoasset executives do not have to prove that they are fit and proper people to take people's money. The companies they run are not required to hold enough cash to repay investors if they go bust. Nor must they worry about the FCA's stipulation that financial promotions, such as those splashed across public transport in London, are fair, clear and not misleading.
Amid the marketing blitz, the Advertising Standards Authority is the only watchdog that has bared its teeth. It is investigating one advert by the cryptocurrency Floki Inu and has already banned one for Luno Money.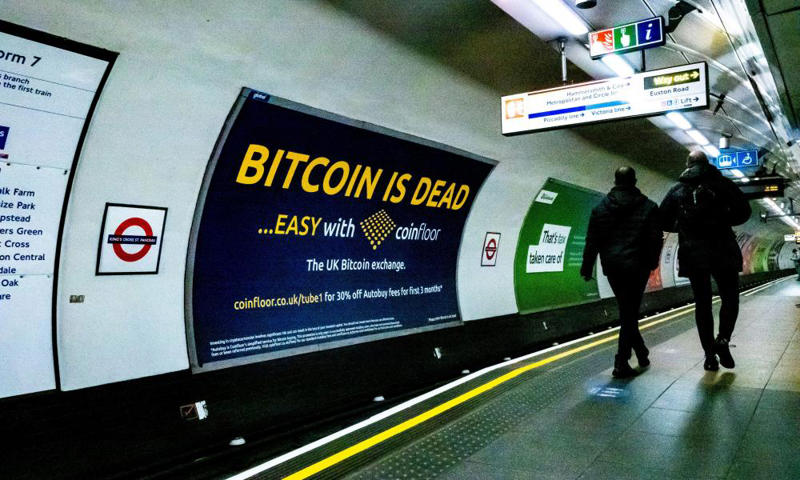 © Provided by The Guardian A cryptocurrency poster advert at a London tube station. Photograph: Gavin Rodgers/Alamy
"If you're seeing bitcoin on a bus, it's time to buy," the Luno advert insisted, contrary to prevailing investment wisdom.
Luno Money told the Guardian it would welcome an "effective regulatory framework".
But in the ongoing vacuum of oversight, experts fear that cautionary tales of addiction, such as the one told by Steven, are being drowned out by powerful, overwhelmingly positive messages.
To monitor the type of messaging sent out by marketing teams, the Guardian created an experimental cryptocurrency portfolio – holding a mixture of bitcoin, ether and Shiba Inu.
As bitcoin slumped towards the end of 2021 and into 2022, having reached all-time highs just weeks earlier, the Twitter account of smartphone trading app eToro remained doggedly optimistic.
"Is bitcoin on its way to a new high?," it asked, as the slide began. "We've seen bitcoin rally before. But could this be the one to take it to the MOON?"
The answer, for the time being at least, was "No". But holders of crypto portfolios were encouraged to stay positive.
"Your account gained 1.87% yesterday," one app notification read, as the slump abated. "You had a good day. Share the news with everyone."
No such invitation appeared on the far more frequent days when the value of the Guardian's portfolio went down.
"It's a very strategic marketing ploy," says Dr Anna Lembke, one of the world's foremost addiction experts, professor of psychiatry at Stanford University School of Medicine and author of the book Dopamine Nation.
"They're encouraging you to amplify the wins and ignore the losses, creating a false impression there are more wins."
Asked about this, eToro says that it is "committed to helping retail investors engage with each other and foster an environment of learning and collaboration", adding that its platform is not "gamified".
According to eToro's UK managing director, Dan Moczulski, some users make their account public so that "all investments are visible to others, whether they are profitable or not".
The company said it also provides educational tools, performs know-your-customer checks and encourages long-term, diversified investing.
But Dr Lembke is concerned by the potential for the social media element to fuel compulsive behaviour in crypto trading, an activity she says bears the hallmarks of addictive gambling products but without the acknowledged risk.
"When you mix social media with financial platforms, you make a new drug that's even more potent," she says.
Social media posts pushing crypto frequently refer to Fomo – the fear of missing out – fuelling an urge to participate.
"You get this herd mentality where people talk to each other about what the market is doing, they have wins together, losses together, … an intense shared emotional experience."
"We get a little spike in dopamine, followed by a little deficit that has us looking to recreate that state."
This, she says, echoes characteristics of gambling but with a crucial difference.
"It's less stigmatised," she says. "It has this socially sanctioned status as something that maverick smart people do."
Parallels with gambling are becoming harder to ignore.
GamCare, which runs the National Gambling Helpline, said it fields about 20 calls a week related to crypto. Callers reported trading for 16 hours a day, making huge losses and struggling to cope with the guilt.
As with gambling, where every one addict is estimated to harm seven other people, many were suffering at the hands of someone else's habit.
One recounted how her partner's trading obsession was leading them to spend time away from the family. Another said their partner had taken to trading while in recovery from alcoholism, spending every waking hour making trades.
GamCare has even dealt with young patients who bought digital coins in a desperate attempt to make enough money to get on to the property ladder, only to lose life-changing sums.
At Castle Craig, where Steven is receiving treatment, the first crypto addict arrived at the clinic in 2016, followed by more than 100 since then.
"More and more people are isolated and are doing this [trading], especially since Covid," says Tony Marini, the senior specialist therapist at the clinic and a recovering gambling addict himself.
"It's tenfold already since 2016, so what's it going to be like in the next five years?"