The Pacific island of Tonga hit by Tsunami
The Pacific island of Tonga experienced a large volcanic eruption Saturday followed by a tsunami that flooded parts of the capital, Nuku'alofa.
The surge wave reached a height of 80 centimeters (31 inches), according to the New Zealand climate website Harukai Gulf Weather, citing sea level monitoring data. There is no information yet on property damage or casualties.

Images posted on social media from Tonga showed the tsunami breach the shoreline, and move into the town.

The US based Pacific tsunami warning center said tsunami waves measuring 2 feet in height were observed by sea-level gauges in the capital of the US territory of American Samoa, around 940 kilometers (580 miles) from Tonga.

Officials there initially issued a tsunami warning, and told residents to "immediately" evacuate to higher ground. The warning was cancelled shortly thereafter.

New Zealand, more than 2,000 kilometers away from the site of the eruption, has also issued a tsunami advisory.

New Zealand's National Emergency Management Agency said parts of the country could expect "strong and unusual currents and unpredictable surges at the shore."
Undersea volcano erupts
The eruption Saturday was the latest in a series from the undersea Hunga Tonga, Hunga Ha'apai volcano. Saturday's eruption is the second in only two days.
A previous eruption on Friday sent plumes of ash and smoke into the air, with smoke clouds extending up to 20 kilometers (12 miles) into the atmosphere.
The volcano had showed some intermittent activity through December last year. On Friday, people were advised by officials to stay home and protect drinking water and resources.
Lagos Floods Carry Away Individuals, SUVs and more
Lagos Floods Carry Away Individuals, SUVs and more. The National Emergency Management Agency (NEMA) has said that the flooding that occurred in Lagos last weekend claimed seven lives.
The Zonal Coordinator, South West, NEMA, Ibrahim Farinloye, made the disclosure in a statement issued in Lagos on Wednesday.
"The post-emergency phase assessment after the unprecedented rainfall of Friday, 8th July and Saturday, 9th July, 2022 has revealed that about seven people – three children of same parent and four adults – died.
Encouraging Employees to Reduce Carbon Footprint
Business operations, from production to transportation, all contribute to a company's environmental impact. Unfortunately, the workplace accounts for a considerable portion of greenhouse gas emissions. The carbon footprint of offices and sites is a major source of greenhouse gases.
As businesses reopen and people resume their daily commutes, now is an excellent opportunity to consider how your company can minimize its carbon footprint. This will not just have a positive impact on the environment but can also lower operational costs and benefit your business.
Fighting climate change through a more carbon-neutral office is attainable with the combined effort and action of your managers and employees. Minimize your carbon footprint at work and encourage your employees to do the same by following these simple measures.
Use energy-saving office equipment
The use of office equipment is a large and growing source of energy consumption. You can help reduce your carbon footprint and other greenhouse gases by utilizing energy-efficient office equipment, appliances, and light fixtures that emit fewer harmful gases into the environment.
Use laptops instead of desktop computers because they consume up to 80% less energy. Choose all-in-one printers, copiers, and scanners that use only half the energy that the individual machines would collectively.
Take advantage of your device's energy-saving settings, which allow you to adjust the display options, screen brightness, and sleep mode timing to save even more energy and extend battery life. Unless they are required to be left on, always switch off computers and monitors at the end of the day.
Using energy-saving light bulbs is another option to minimize your office's energy use. LED and fluorescent light bulbs consume less energy than incandescent light bulbs.
Promote a paperless culture
The manufacturing of paper products emits greenhouse gases, which contribute to deforestation and global warming. Recycling can help mitigate some of the adverse effects on the environment, but only to a certain extent. The vast majority of paper eventually ends up in a landfill. By reducing your reliance on paper, your business may contribute to the environment's health.
Moreover, ink, toners, and ink cartridges contain potentially dangerous compounds that, when incorrectly disposed of, pollute water and soil, contributing to the spread of ecological devastation. It also takes more than three quarts of oil, a nonrenewable energy source, to produce a laser printer and inkjet cartridges.
If you must print, make sure you do it on both sides. Doing so will slash your annual paper consumption by half, as well as the harmful gases produced in the process.
Encourage employees to use note-taking apps to take digital notes. Adopt electronic signatures—make it simple to collect digital signatures on contracts and legal documents instead of printing, signing, faxing, and storing them physically. Use electronic communications such as Google Docs, Microsoft Teams, Slack, and Trello for collaboration, project management, and business notifications.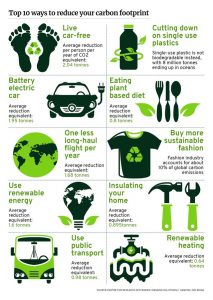 Participate in carbon offsetting
Join the organizations committing to net-zero by 2050 and identify strategies to minimize your company's carbon emissions year after year. It's challenging to reduce your carbon footprint to zero, but there are techniques to offset, or at least try to counteract, any greenhouse gases you do produce.
Various marketplaces provide a wide range of corporate offset options. Your organization can consider financing renewable energy programs and projects that help people in developing countries or tree-planting projects that benefit the environment.
When considering different types of carbon offsets, keep in mind that not all marketplaces and offsets are created equal.
Eat mindfully and reduce office kitchen waste
Food waste and other waste generated in office kitchens contribute significantly to carbon emissions. Wastage also involves squandering all the energy and resources expended to grow, produce, package, and transport food. Furthermore, rotting food that's been thrown out releases methane, another greenhouse gas.
Buy and prepare food conservatively and consciously. Encourage employees to bring a packed lunch to work every day, reduce food waste by eating leftovers from dinner, or buy food with fair trade labels that ensure the environment and workers' rights are protected.
Consider setting up a composting bin, supplying reusable dishes and utensils, buying recycled and compostable napkins and other disposables, and replacing water bottles with a tap water filter.
Take public transportation or carpool
Private vehicles are one of the most significant sources of carbon emissions. If everyone in your workplace drives their own car to work, your company's carbon footprint will increase. Reduce your organization's carbon footprint by encouraging your employees to take public transportation or carpool with colleagues.
Taking public transportation instead of driving will not only save your employees thousands of dollars annually but also brings considerable environmental benefits. Switching to public transit for a 20-mile round trip commute can reduce your carbon footprint by 4,800 pounds each year.
You can also reduce energy use, greenhouse gas emissions, and traffic congestion by carpooling. Employees that carpool may also benefit from less stressful commutes, shared travel costs, and preferential parking at work.
Some (final) thoughts
Sustainable business practices can yield substantial rewards for the environment and your organization. By following the steps outlined above, your business can minimize its carbon footprint, save money and resources, and attract environmentally conscious customers and employees.
Zimbabwe Braces For Second Cyclone A Week After Devastating Ana
Zimbabwe is bracing for another devastating tropical cyclone, christened Batsirai expected to hit the country Tuesday February, barely a week after its precessor, Ana left a trail of destruction.
The warning, which has been communicated by the Southern Africa Development Committee's (SADC) Climate Services Centre, indicates that Zimbabwe, Namibia, Malawi, Tanzania, the Comoros Islands, Mauritius, South Africa, Mozambique, Angola, Zambia and the DRC are set to receive abnormally heavy rainfall until February 3.
Homes, bridges, power lines and health facilities have been swept away by Cyclone Ana in affected Manicaland and Masvingo provinces.
The impending tropical cyclone could mean further crisis for the affected, some of who fell victim to Cyclone Idai in 2019.
"The TC BATSIRAI is evolving in a favourable environment and is expected to intensify further into an Intense Tropical Cyclone and affect main island Mauritius between 01 and 02 February 2022. Additionally, active weather systems are influencing other parts of SADC.
"There is a possibility that Batsirai may also affect central parts of Madagascar, however, the level of uncertainty at present is relatively high.
"Other parts of the SADC region that will experience increased rainfall during the next couples of days include Comoros, Seychelles, northern Malawi, Namibia, whole United Republic of Tanzania, Zambia, Democratic Republic of Congo, east Angola, and parts of South Africa, Botswana and Zimbabw," the SADC Climate Services Centre said in a statement Monday.