The Toxic Dark-Side of The Hustle Culture
Seated in a cool family-friendly joint, it was time for our cheesy delight. As the waiter arrived with the creamy, stretchy beauty it's aroma had my stomach churning with expectancy, the kids were all excited and their mum too. Just as we were about to dig in, my 13-year old daughter dropped the bomb. "So daddy, why do people waste their time on a 9 to 5 job rather than become successfully self-employed?" This was quickly supported by an "I Know Right" from her 10-year old sister as their younger ones all turned to listen to the "mage-o-ages" speak. (crickets) I froze.
I got defensive and retorted with an "Who said a 9 to 5 was a waste of time?" but madam's timely intervention made me relax as she laughed and squeezed my hands under the table. Yes, she knew my unwavering stance on due process in relation to the newer breeds who wanted everything now but who would give a teenager this flawed perspective of 9 to 5? Maybe my face asked the question in my head because she continued. "I heard someone on a business radio programme encouraging people to drop their jobs and start something" she continued very unperturbed. I okaye'd this radio station, their songs and programmes were always family-friendly but how come? I knew this was a defining moment in parenting for me. I muttered a quick prayer of angelic support and went in deep.
Just before i get into my answer, i believe it would be a good time to explain the various generations currently in existence and the time range that qualify them to be in their groups;
The Greatest Generation (GI Generation): Born 1901–1924.
The Silent Generation: Born 1928–1945.
Baby Boom Generation: Born 1946–1964.
Generation X: Born 1965–1980.
Millennial Generation or Generation Y: Born 1981–1996.
Generation Z or iGen: Born 1997–2010.
This piece is mainly for the Generation Z and a sub-section of the Millenial Generation/ Gen Y whom it may apply to. I know many amazing and intelligent individuals who fall into these two generations but the information on this piece are for those who may not have caught up with some realizations.
Let's Begin…
The Gen Z's obsession with quitting their jobs to start that big business that pays thousands of dollars monthly is almost unbelievable. Ask them of one thing which they've done is the recent past that gave them a measure of fulfillment and they wouldn't be able to remember. Instead they could give a load of examples on their worst job experiences. Most authority figures in their lives are almost certainly tagged "evil or a buzz-kill" with little or no attention to what it took for them to have attained their current status (May not seem like it now but please be patient with me as i gradually unravel my position. This is not one of those articles aimed at mal-aligning a generation).
In their world, some of the biggest hero's ever are the CEO's who dropped out of university to pursue their dreams. If you pushed a bit further on their heroes list, you could also notice names of some flamboyant neighbourhood gangster, a celeb activist or a flashy baby-girl down the street. The haste to buy dreams and hopes makes them prime clients for the online motivational speakers, Girl-power groups and more. The sad fact is that some of their decisions are based on ill-researched facts. For instance, a Mark Zuckerberg who dropped out of Harvard to start a business got to Harvard. Firstly, not everyone gets into Harvard and secondly, Mark Zuckerberg's dad gave him two options at the onset "Go to Harvard or begin a McDonald's Franchise". A Big Mac franchise isn't cheap either! Mark had options, so if you want to make life changing decisions like dropping out of school or quitting your job for the big entrepreneurial dream, You had better have options. Don't do it on the hard-earned cash your parents suffered to put together in a bid to give you a real chance at something.
Available on Podcast:
For the Gen Z explorer who has already dropped out of school or quit that job, they now decide to buy courses, learn digital skills, join programming bootcamps or everything else that excites them. The effect of this deciscion never really surfaces for most until that cash from home stops coming in. The side hustle, solopreneurship, passive-income dream or any other name you may decide to call it suddenly looks like fool's gold. At this point, many start looking for career counselors, a few succeed at getting low-paying jobs (usually less than 5%) while the rest go dark-side using those same skills they learnt.

At the pace life currently moves most of these Gen Z'ers do not even get a chance to tell their story. Now for the one's who see it all going to ruins but still have an ounce of resilience in them, they become another group. They become content creators. Content creation though an amazing thing when backed up with real experience and creativity becomes a problem without prior experience or depth. This is responsible for the deluge of good, bad and down-right ugly content that has permeated our social media space. Sultry dance troupes, irrelevant recordings with hopes of catching a trend wave, comedy displays with no real plots, insta-famous micro celebs flashing skin, looks or both and so on. These groups are the ones who quickly discovered that you could make money by telling other people things they are too lazy to discover for themselves. So they get camera's, ring-lights and begin.

Soon, they discover relevance given to them by a group who identifies with their ideologies and mantras. Now with this newfound super-relevance, their key targets become either the less than 5% who managed to get a decent job or the ones still on track to becoming professionals by giving them fancy names or channeling their hostile crowds on them while hiding under the "activism" umbrella. They come online with "Go make your money" and "F**k 9 to 5 mantras". They tell you stories of how if you aren't like them then you are not on the path.
"Hey, not everyone grew up under your exact conditions and sometimes sticking to a secure path is the best deciscion while you are still struggling to understand yourself or your gifts". – Temple Obike
This sh** takes time to figure out. It took me hitting my thirties to see it. You may be smarter than i was and figured it out earlier but there's a Gen Z in your life about to make a life-altering deciscion due to the glitz of the "Toxic Hustle Culture". I believe it's in your place to provide them some guidance especially if you've played an important role in their life till date or have their trust.

Everyone has an opinion these days. With data and a decent smartphone they could sit and advice with little or no knowledge or education to back up their converse. Today programming is the future, tomorrow blogging, by next week it's data analytics and just before Christmas, it could be Emotional Intelligence. While there is nothing wrong in learning new things, how long are you going to jump towards society's "next big thing" that has no incline to your life's true calling?
Young one, relax and understand your gift first. Let your gift drive you, your choice of fun activities, course, associations, career and more. That is the path to true happiness. It may not begin with loads of "odogwu-like spending" but give yourself time. Understand your natural area of giftedness. Then turn the gift into a talent we all can see. After this add some education/courses so it becomes a marketable skill. That's the time money comes. Passive money that comes while you are both asleep and awake. Money that comes with peace of mind that has you strolling around both during the day and at night. MONEY YOU CAN REPLICATE IN YOUR's & ANOTHER PERSON's LIFE. 

– TEMPLE OBIKE
If you become the man or woman that allows this toxic culture to dictate the pace of your life, you will be hit by DEMOTIVATION at some point. the gym, loads of drinks, multiple affairs/relationships, activism or even cash in bank may not help.

This culture could make you;
Become depressed with severe panic attacks
Want to remain in an eternal busy bubble because once you stop, you will see how unproductive you truly are
Guilt trip others by making them feel they aren't doing enough
Become the poster-child for the "busy going nowhere association"
Join the "Fake It" Gang
Feel guilty when you take time-outs to spend time with friends and loved ones
Lose valuable relationships
Constantly blame yourself for lost opportunities
Conclusion
Dear Gen Z'er and Gen Y'er (who may have decided to hide in the bubble), do not allow the glamourized idea of hustling override your logic. Better to get a 9 to 5 job that gives you free learning experiences or trainings rather than killing yourself as a solopreneur making peanuts and not growing. Humble yourself and stay at the feet of someone who has gotten it right (even if you are older than they are or agemates). This is the ultimate soap and "show-me-the-way strategy". That's one of the fewest short-cuts life can allow you take. Study to pass exams unaided because a bulk of your self-confidence as an individual will come from this action. Take your health seriously because if you lose it drinking/smoking/having sex unprotected you will pay for it down the line somehow. If you're so caught up in the teaching hype, become a motivational hero on your social media timeline while seated on your office desk at lunch-break.

For everyone who has been made to feel like crap for choosing to keep a 9-5 keep going, success is not a one-way street. Popsi was not a multi-millionaire but he passed on a content happy man. I took a bit of him in that regard and added a little self-paced motivation to keep me progressing daily. Don't allow any influencer, celeb, friend, classmate, ex-colleague or even PARENT make you ashamed for the choice. When it's truly time to join the entrepreneurs, you will feel it and be at peace about your decision.
---
Well, the story ended and the food had gotten cold not just for me but for everyone else. "Waiter, please pack these up as take-away please". The smiling waiter was done and we were enroute home as I wondered if I had just messed up everyone's meal. The car was uncomfortably quiet but it took a gentle encouraging squeeze from madam to let me know all was fine.

Temple Obike is a licensed marriage and family therapist, speaker, author and psychotherapist who has counseled over one thousand, two hundred clients comprising of couples, individuals, abuse victims (substance, physical, emotional and sexual) and grief-stricken clients. With over 100,000 in-counseling minutes accrued in practice.

He runs his private psychotherapy & counseling practice out of Lagos, Nigeria and has counseling centers in Abuja and Port-Harcourt. His practice also provides options for both online and on-site services. His private practice has positively empowered lives through his online counseling, podcasts, free advisory services and free online materials.  

Readership of his articles also receive a growing number of visitors alongside subscriptions to his email newsletter at templescounsel.com. His passion for empowering and uncovering the secrets to lifelong marriages and personal development led to his new book titled "Soul Bodega" available on amazon and across other online and traditional stores.Never give up on yourself! You are a journey happening through various destinations.Follow us on Facebook, Instagram, LinkedIn, and visit our website for more info!

https://templescounsel.com/how-to-find-your-real-purpose-in-life-stay-authentic/
Grief and Loss, How to Cope with Them
Losing anything of value is never easy. Coping with grief and loss must be done your right way. Sadly, there is no right or wrong way to grieve. Regardless of the type of loss you are faced with, the only thing required is that you understand the stages of grief and where you currently are on them. This understanding will provide you with healthier coping options.
WHAT DOES GRIEF MEAN?
When you lose something of great importance, your natural emotional and painful response to it is grief.  Sometimes it comes with various reactions such as guilt, disbelief, deep sadness, health disruption, insomnia, inability to eat amongst so many things. Everything i mentioned here is normal when you are faced with grief. Your grief could come as a result of losing your health, a job, a relationship, a loved one, a miscarriage, a career dream, a friendship, a safety net after infidelity or even moving homes amongst many other reasons.
I see many couples and individuals sit across me and narrate their experiences with grief. Despite the many responses to grief, one thing that you cannot take away is that the intensity of your grief is always directly proportional to the significance of your loss.
Due to the personal nature of loss, i do not expect you to grieve like any other person. This means that there is no shame with how you decide to grieve. The only thing i want you to understand is that there are stages to grieving and you must understand what stage you are in to enable yourself transition from that stage, get a new perspective on the matter and then begin to move on from the heaviness you feel.
The Sad Honest Truth About Grief
Be it the loss of a parent, child, partner, spouse, relative, friend or colleague at work, It's all pain and you may not ever get over this loss. However, time is what truly does the magic for you because your sorrow eases, you face the loss and then gradually begin to move on from that point.
Now that you understand how unique grieving is to every individual, you must also know that what separates everyone in grief are their beliefs, their faith, previous experiences with grieving, their coping styles and lastly their personality. Do not expect to recover immediately with actual loss of a loved one, or try to heal after replacing the job, house or opportunity you lost with a new one. It takes time. While some start to feel better in weeks and months, the measurement for others grieving is usually in years.
THE PROPER WAY TO GRIEVE
You must understand somethings about grief as this gives you an edge;
A) IF you feel pain, do not pretend it does not exists simply because you want to appear strong. This act will keep you trapped in one stage of grief longer than expected. Weakness or Strength are not the consideration at this point. Pain is.
B) Do not try to grieve the way you have seen a sibling, spouse, parent or someone else go about it. That is their own way. Trying to emulate them in this regard may not work for you and could end up doing more damage than good.
C) It's not time to be alone with yourself and misery. Get the support of your loved ones and others who truly care about your well-being. Staying alone is not the solution to numbing the pain.
D) The feeling of grief will make you laugh, cry, smile, talk to yourself and so on. In extreme cases, clients have mentioned that grief made them romanticize with thoughts around death and suicide. Especially for individuals who lost a spouse.
E) Your emotions are not stable when you are grieving. This is what grief does to you. Forcing yourself to stabilize your emotions is not the key. Recognizing the emotions you feel is the real solution.
Available on Podcast:
Learning about the 5 stages of grief
Denial: This is the phase where an individual hasn't yet come to terms with what has happened. The associated shock or emotional overwhelm dissociates the victim in such a way that the circumstances look like an unfolding movie plot with them as spectators.
Anger: At this point, a realization dawns on the individual. This comes with an intense anger that has the individual lashing out angrily and questioning a lot of things.
Bargaining: The need to have this happen to distance oneself from the flurry of negative emotions suddenly triggers an emotion that wants to pass on the grief to some other person, place etc. With this comes a negotiation where depending on the spiritual beliefs of the individual sees them bargaining , going on a spiritual deep dive all in a bid to reverse the situation.
Depression: This is a phase characterized by intense sadness that comes once you start to understand the situation isn't particularly going anywhere or changing.
Acceptance: After healthily negotiating the first phases of grief, the individual now understands that the situation truly occurred. At this point, you come to terms with the pain and truly start to own the emotions you are feeling. It is from this stage that healing starts.
Despite the fact that I have listed these phases, it would be important to note that not everyone navigates grief by following these exact steps. Kübler-Ross, a Swiss-American psychiatrist who first intimated us with these stages of grief never intended for these stages to be a rigid framework applicable to anyone mourning. I have seen clients who went straight to acceptance from the denial stage and just when everybody else affected was struggling with denial, these individuals were already available to assist their spouse, partner, siblings or friends with their own grief.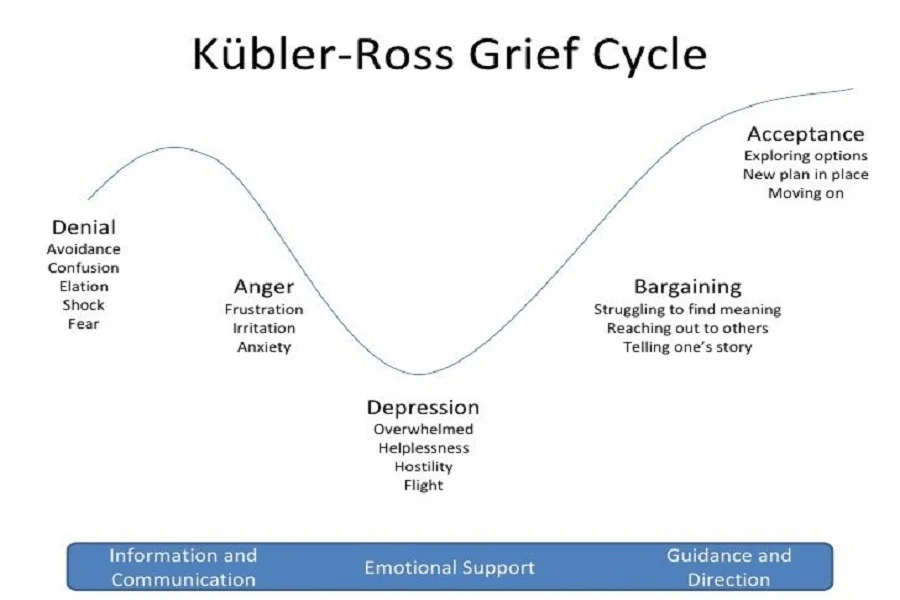 Dear therapist
Grieving and loss is a bespoke experience for everyone. The circumstances may be similar but the effect on the mourner is unique. Hence for younger therapists, there is a need to make clients identify what stage they currently find themselves in. As important as this is, it is better to allow them speak first, tell a story, relive their experiences with the deceased and as you listen with your ears and observe with your entire being, you are bound to start discovering for yourself, where exactly they are with the grieving process (even if it doesn't quite tally with any of the stages.
I truly hope this piece throws a lot more clarity on your current struggles with navigating loss. We are here to support you through your loss and believe that your complete healing is not too far away.

Temple Obike is a licensed marriage and family therapist, speaker, author and psychotherapist who has counseled over one thousand, two hundred clients comprising of couples, individuals, abuse victims (substance, physical, emotional and sexual) and grief-stricken clients. With over 100,000 in-counseling minutes accrued in practice.

He runs his private psychotherapy & counseling practice out of Lagos, Nigeria and has counseling centers in Abuja and Port-Harcourt. His practice also provides options for both online and on-site services. His private practice has positively empowered lives through his online counseling, podcasts, free advisory services and free online materials.  

Readership of his articles also receive a growing number of visitors alongside subscriptions to his email newsletter at templescounsel.com. His passion for empowering and uncovering the secrets to lifelong marriages and personal development led to his new book titled "Soul Bodega" available on amazon and across other online and traditional stores.Never give up on yourself! You are a journey happening through various destinations. Follow us on Facebook, Instagram, LinkedIn, and visit our website for more info!

https://templescounsel.com/how-to-find-your-real-purpose-in-life-stay-authentic/