Encouraging Employees to Reduce Carbon Footprint
Business operations, from production to transportation, all contribute to a company's environmental impact. Unfortunately, the workplace accounts for a considerable portion of greenhouse gas emissions. The carbon footprint of offices and sites is a major source of greenhouse gases.
As businesses reopen and people resume their daily commutes, now is an excellent opportunity to consider how your company can minimize its carbon footprint. This will not just have a positive impact on the environment but can also lower operational costs and benefit your business.
Fighting climate change through a more carbon-neutral office is attainable with the combined effort and action of your managers and employees. Minimize your carbon footprint at work and encourage your employees to do the same by following these simple measures.
Use energy-saving office equipment
The use of office equipment is a large and growing source of energy consumption. You can help reduce your carbon footprint and other greenhouse gases by utilizing energy-efficient office equipment, appliances, and light fixtures that emit fewer harmful gases into the environment.
Use laptops instead of desktop computers because they consume up to 80% less energy. Choose all-in-one printers, copiers, and scanners that use only half the energy that the individual machines would collectively.
Take advantage of your device's energy-saving settings, which allow you to adjust the display options, screen brightness, and sleep mode timing to save even more energy and extend battery life. Unless they are required to be left on, always switch off computers and monitors at the end of the day.
Using energy-saving light bulbs is another option to minimize your office's energy use. LED and fluorescent light bulbs consume less energy than incandescent light bulbs.
Promote a paperless culture
The manufacturing of paper products emits greenhouse gases, which contribute to deforestation and global warming. Recycling can help mitigate some of the adverse effects on the environment, but only to a certain extent. The vast majority of paper eventually ends up in a landfill. By reducing your reliance on paper, your business may contribute to the environment's health.
Moreover, ink, toners, and ink cartridges contain potentially dangerous compounds that, when incorrectly disposed of, pollute water and soil, contributing to the spread of ecological devastation. It also takes more than three quarts of oil, a nonrenewable energy source, to produce a laser printer and inkjet cartridges.
If you must print, make sure you do it on both sides. Doing so will slash your annual paper consumption by half, as well as the harmful gases produced in the process.
Encourage employees to use note-taking apps to take digital notes. Adopt electronic signatures—make it simple to collect digital signatures on contracts and legal documents instead of printing, signing, faxing, and storing them physically. Use electronic communications such as Google Docs, Microsoft Teams, Slack, and Trello for collaboration, project management, and business notifications.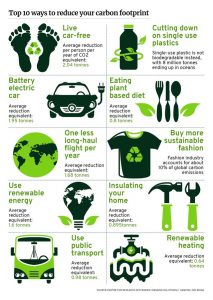 Participate in carbon offsetting
Join the organizations committing to net-zero by 2050 and identify strategies to minimize your company's carbon emissions year after year. It's challenging to reduce your carbon footprint to zero, but there are techniques to offset, or at least try to counteract, any greenhouse gases you do produce.
Various marketplaces provide a wide range of corporate offset options. Your organization can consider financing renewable energy programs and projects that help people in developing countries or tree-planting projects that benefit the environment.
When considering different types of carbon offsets, keep in mind that not all marketplaces and offsets are created equal.
Eat mindfully and reduce office kitchen waste
Food waste and other waste generated in office kitchens contribute significantly to carbon emissions. Wastage also involves squandering all the energy and resources expended to grow, produce, package, and transport food. Furthermore, rotting food that's been thrown out releases methane, another greenhouse gas.
Buy and prepare food conservatively and consciously. Encourage employees to bring a packed lunch to work every day, reduce food waste by eating leftovers from dinner, or buy food with fair trade labels that ensure the environment and workers' rights are protected.
Consider setting up a composting bin, supplying reusable dishes and utensils, buying recycled and compostable napkins and other disposables, and replacing water bottles with a tap water filter.
Take public transportation or carpool
Private vehicles are one of the most significant sources of carbon emissions. If everyone in your workplace drives their own car to work, your company's carbon footprint will increase. Reduce your organization's carbon footprint by encouraging your employees to take public transportation or carpool with colleagues.
Taking public transportation instead of driving will not only save your employees thousands of dollars annually but also brings considerable environmental benefits. Switching to public transit for a 20-mile round trip commute can reduce your carbon footprint by 4,800 pounds each year.
You can also reduce energy use, greenhouse gas emissions, and traffic congestion by carpooling. Employees that carpool may also benefit from less stressful commutes, shared travel costs, and preferential parking at work.
Some (final) thoughts
Sustainable business practices can yield substantial rewards for the environment and your organization. By following the steps outlined above, your business can minimize its carbon footprint, save money and resources, and attract environmentally conscious customers and employees.
#GiveitaShot Challenge – A Campaign to Boost Covid-19 Vaccines in Africa
Cape Town — As coronavirus cases surge in Africa, the United Nations Children's Fund (UNICEF) kicked off an eight-week campaign to help boost Covid-19 vaccinations across Africa.
UNICEF said the first-ever U-Report Challenge calls on all 13.3 million U-Reporters in Africa to help get vaccines to the unvaccinated.
According to UNICEF, the #GiveitaShot challenge aims to activate young people in motivating those eligible in their communities to get vaccinated. It is estimated that about 10 percent of the adult population on the continent are vaccinated.
UNICEF said the campaign will initially focus on six countries on the continent, Cote d'Ivoire, Ghana, Kenya, Nigeria, South Africa, and Zimbabwe. It added that weekly messages will be sent on U-Report to encourage young people to learn about Covid-19 vaccines. They will be engaged in community actions (both online and offline).
Fake news on the Covid-19 pandemic has led to vaccine hesitancy worldwide. "We're not just fighting an epidemic; we're fighting an infodemic," Tedros Adhanom Ghebreyesus, the Director-General of the World Health Organization said, referring to fake news that, he said, spreads faster and more easily than the Covid-19 virus.
However, concern about safety, side effects, and effectiveness contribute to vaccine hesitancy in Africa. According to the Africa CDC study, people with high levels of hesitancy were more likely to use social media and to be exposed to disinformation.
U-Report is a messaging tool that empowers young people around the world to engage with and speak out on issues that matter to them via  SMS, Facebook Messenger,  WhatsApp, and other communication channels. It is active in 88 countries worldwide, with 19.3 million U-Reporters all over the world. According to UNICEF, Covid-19 information and advocacy messages is packaged and disseminated to U-Reporters users.
Nigerian and South African celebrities and U-Report supporters, Kate Henshaw and Maps Maponyane, are teaming up with the global agency on the initiative.
"Africa has been battling Covid-19 for two years now," Kate Henshaw said. "At a time of Omicron, it is more important than ever to get vaccines to the unvaccinated." "If we want to combat misinformation, it is key to mobilize the continent's U-Reporters and provide much-needed information on Covid-19 vaccines to save people's lives", Maps Maponyane added in a UNICEF report.
AllAfrica's Andre van Wyk spoke with South African TV and media personality and UNICEF South Africa Advocate Maps Maponyane on the #GiveItAShot challenge.
What was the main motivation for you to become a supporter of U-Report Challenge? 
I am a supporter of the U-Report Challenge because I believe it will play a pivotal role in ensuring that all youth are well informed about the Covid-19 vaccine and will be encouraged to engage in the challenge on the platform. If we have as many youths as possible who have more knowledge about the Covid-19 pandemic and vaccines, this will help to curb infection and transmission rates and U-Report is at the centre of this solution.
How will the U-Report Challenge counteract vaccine misinformation on social media? 
The #GiveItAShot challenge is about providing factual information about Covid-19 vaccines to improve confidence in the vaccine and in turn to motivate young people to vaccinate and to encourage those eligible in their community to get vaccinated. The challenge packages and disseminates Covid-19 information and advocacy messages via U-Report, Goodwall (an app) , social media and broadcast media channels, amplified by UNICEF ambassadors and other influencers. decision-makers. Counteracting misinformation on social media also relies on young people themselves to share factual information and the challenge will mobilise youth to become agents of change in their communities promoting vaccinations, raising awareness on Covid-19 and providing learning opportunities.
Do you think influencers/celebrities have a greater role to play in promoting vaccine acceptance? 
I think influencers and celebrities have a greater role to play in promoting vaccine acceptance because young people turn to them for inspiration and to be part of the impactful work and initiatives that they engage in. It's important that we use our platform for accurate and positive messaging regarding vaccines. Ultimately if everyone is better protected from Covid-19, livelihoods will also be protected as we return to more normality and that's beneficial to everyone. So many of us have been affected one way or the other by the effects of Covid-19, and using our platforms and influence to advocate for vaccine acceptance is so crucial in creating a safer environment and community for ourselves and our loved ones.
What is more important or effective: infection-acquired immunity or vaccine-acquired immunity? 
We are still learning about how long immunity to Covid-19 lasts from natural infection, and from vaccination. We are now starting to see evidence that the immunity you get after having Covid-19 can be strong. However, the type of immunity that's developed after infection varies from person to person, making it less predictable than immunity after vaccination. Scientists are working hard to understand this better. * What we do know is that COVID-19 is a life-threatening disease that can have long-term consequences. We also know that the WHO-authorised Covid-19 vaccines have been safely given to billions of people. It is much safer to get vaccinated than it is to risk getting Covid-19. Get vaccinated as soon as it's your turn and keep doing everything you can to protect yourself and others.
Do you think the government has made progress in the past year in the fight against Covid-19? 
The deaths of more than 95,000 people in South Africa is a tragedy for every family affected. But progress in tackling Covid-19 is being made. More than 30 million people, nearly half the population, have now received a Covid-19 vaccine dose, and UNICEF and partners continue to work to increase that number, particularly among young people, which is why the Give It A Shot challenge is so important.
Does Africa's lower rate of access to the Internet risk the continent having a long struggle against the pandemic?
UNICEF and partners have worked on behavior change and vaccination campaigns in countries across Africa for many years. Routine childhood immunization has saved millions of young lives from preventable but deadly diseases, such as measles and polio. The Internet provides extraordinary opportunities to reach people with factual and accurate information but can also breed mis- and dis-information, which in turn needs to be tackled and overcome. However, getting accurate information about how to protect yourself against Covid-19 and getting shots into arms also relies on traditional and community media, as well as primary healthcare centers and mobile health services. Through such services, we continue to work to tackle the Covid-19 pandemic and broader health issues.